One fun thing about being a dividend investor is how market declines can give us what must appear to others as a somewhat perverse pleasure. As others bemoan their capital losses, visions of higher dividend yields light up our eyes. Our recent flirtations with bear territory have offered up some nice valuations and I am not here to dissuade you from enjoying them but rather asking you to be careful.
This short article is not intended for highly experienced dividend investors but rather is more aimed at their less seasoned comrades, to whom I would like to remind that rising yields are also a first sign of danger. Buying or averaging down into companies that are falling with an irrational market is very wise; however, purchasing stocks of companies with deteriorating fundamentals is a different beast altogether and requires much more forethought and a careful risk/reward analysis.
I fear that the current market volatility is masking some distressed stocks and that naïve investors may get burned. To make my example, I am going to pick on Omega Healthcare Investors Inc. (NYSE:OHI) which is a real estate investment trust that owns income producing health care facilities. The yield briefly kissed 10% before this week's market melt up and is now appearing in articles with titles like "high yield" and "dividend scorcher". After hearing many excited comments about this stock from friends, coworkers and here on Seeking Alpha, I am concerned that investors may be too focused on the dividend yield and are not noticing those previously mentioned deteriorating fundamentals.
The occupancy rates of assisted living homes have been in a steady decline since 2007. Facilities have responded by cutting rates but this has failed to stop the bleeding.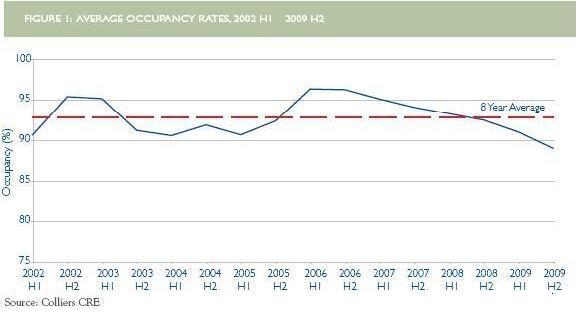 The combination of lower rental rates and declining occupancy rates has devastated health care REITs' profits the last two years. Below is a chart showing the average profit margin for OHI since 2007: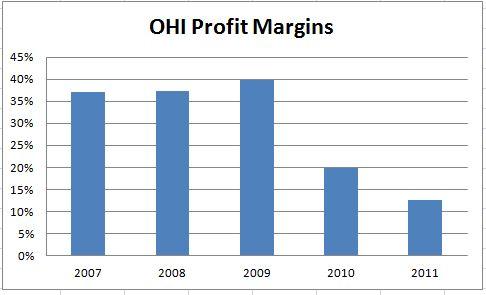 The federal government also decided to kick this stock when it was down by announcing last August that it will cut Medicare payments to skilled nursing homes by 11.1% next year. With the failure of the so-called "Super Committee" to come up with a budget deal there will be more Medicare cuts in the future, starting with an additional 2% cut piled on in January 2012. With customers already unable to afford their rents and steep cuts in funding coming, the industry may be facing a bleak future.
Below is the one-year chart of OHI along with its 50 and 200 day moving averages, compared with the Dow Jones Industrial Average and the much larger Health Care REIT (NYSE:HCN).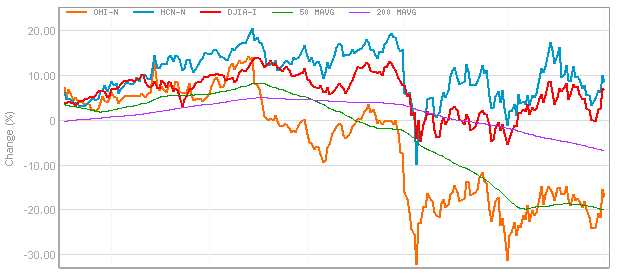 You can clearly see the impact of the August 1st rate reduction announcement in the chart and given the fundamental headwinds discussed above it should be no surprised that OHI is in a strong downtrend, although it may be putting in a near term bottom. What is more surprising is that large cap competitor HCN has held up relatively well given the headwinds faced by the industry. Investors should recall the result of the last round of Medicare cuts in the 90's: large nursing home companies were able to consolidate and survive while most of their smaller brothers and sisters were forced to declare bankruptcy. The market is clearly concerned that the small cap OHI may not be able to survive this round of cuts.
That concludes my lesson on looking before you leap into high dividend yields. Sadly, OHI's mega-yield is not a gift from the market gods but rather the mark of a distressed company facing an existential threat.
Disclosure: I have no positions in any stocks mentioned, and no plans to initiate any positions within the next 72 hours.