In an article titled, "Retirement Portfolio for Do It Yourselfers," Norman Tweed wrote:
Recently, a friend who is still working sent me a list of dividend growth stocks, which has had a good income growth since 2006. He asked me to present the results and here they are.

The portfolio consists of 10 dividend growth stocks: Abbott Labs (ABT), Colgate (CL), Johnson & Johnson (JNJ), Coca Cola (KO), Procter & Gamble (PG), AT&T (T), Exxon Mobile (XOM), Kimberly Clark (KMB), McDonald's (MCD), and Wall-Mart Stores (WMT). An initial investment (01/04/2006) of $100,000 was divided equally into 10 positions and the dividends were not re-invested. These are all Dividend Champions with 25 or more years of dividend increases. The results are as of 12/31/2010. Although this portfolio grew over the 5-year period through price appreciation, the point of interest is the income and income growth over the period.
Overview:
The article generated a lot of conversation, for a number of reasons.
First, many people found it surprising that these particular 10 stocks would have been picked as a portfolio. Others complained that the portfolio in question was "cherry picked" by Norman to make his point. The truth of the matter is, however, that this is a real portfolio and one that was put together by my son, Matt and I as a 3 month project.
This portfolio was put together with money that was inherited by my kids. Each of them received $30k from an aunt, who had no children, but thought of them as her own. When they found out about the inheritance they came to me and asked me if they could invest the money. I told them it was fine with me and that's what started this project. I contributed another 10k to round the portfolio up to 100k of cash to be invested.
Norman's article leaves the portfolio as of 12/31/2010. What was of particular interest to Norman was the dividend growth that the portfolio generated. Here is a chart, by year and company, starting in 2006 and running through 2010. Click to enlarge: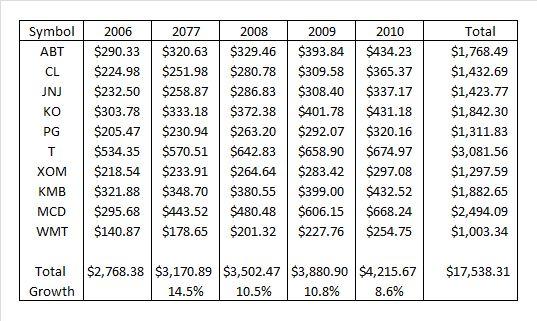 Over a five year period, this 10 stock portfolio delivered dividends of $17,538 dollars. Being Dividend Champions, these companies continued to raise their dividends, every year, during the last 5 years.
As DG investors, we normally reinvest our dividends. This portfolio was no exception to the notion of reinvestment and the dividends earned were, in fact, reinvested in additional shares of each of the 10 holdings. I am including this chart, to show you what happened with the reinvested dividends. Click to enlarge: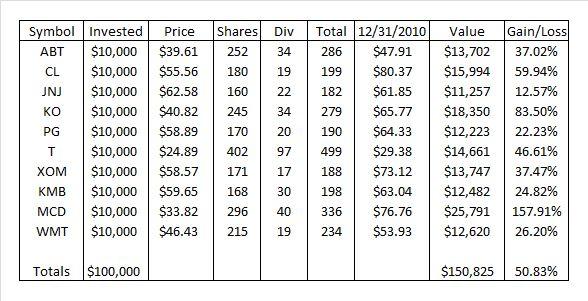 With dividends reinvested, the portfolio grew from $100,000 to $150,825 in five years. The best performer in the group with total return was MCD and JNJ grew the least.
Updated Information:
As the year 2011 comes to a close (it will be here faster that we realize), I wanted to discuss what the portfolio has accomplished this year and to give you some idea as to what our plans are moving forward.
In 2011, dividends were not reinvested. Instead, they were set aside to a cash account, in order to raise money for investments into 2012. In January of 2012, the 10 stock portfolio will be rebalanced and monies raised from restructuring the portfolio will be added to the dividends already captured this year and the portfolio will have some trimming, as well as, additions of new investments. The children have been itching to make some changes and they have some great ideas. From this point on, I will be allowing the three of them to be making all the decisions concerning the portfolio and all I will be doing is tracking the results.
Here is a "year end" look at the portfolio that was created 6 years ago. As you can see, the total value of the portfolio is $165,395. Again, the biggest gains have come from MCD, KO, and CL. The three "laggards" in this portfolio are JNJ, PG, and WMT. At this point in time, I have no idea as to what the portfolio will consist of in January, but I promise to keep you informed. Click to enlarge: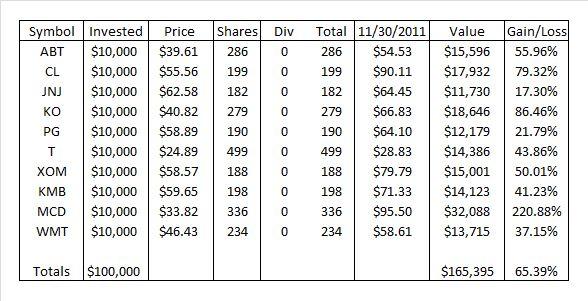 Conclusion:
Investing in dividend growth stocks as a strategy can be an effective one. At the current rate of growth, with dividends reinvested during the first five years of operation, the value of the portfolio has grown nicely, considering that no new money has been added, outside of dividends reinvested.
This is a great portfolio concept for older investors as well as younger investors. The portfolio is relatively low risk and has delivered good, steady returns, with good "sleep at night" companies.
Very soon, I will be discussing the investments changes that we will be making to the portfolio. Those may very well be selling of certain positions, trimming certain positions, and adding completely new dividend growth stocks to the portfolio. As I said earlier, I will update this portfolio on a regular basis. The plan is to keep the investments in this portfolio very transparent and to be open to discussion as to the strategies moving forward.
I think it will be a lot of fun and I would hope that you would like to come along for the ride--and present your own ideas as well.
Disclosure: I am long ABT, CL, JNJ, KO, PG, T, XOM, KMB, MCD, WMT.