On the year, shares of Clearwire Corporation (CLWR) are down 60.5% and yesterday's closing price of $2.03 is 71.25% below it's 52-week high of $7.06.
CLWR Chart
Click to enlarge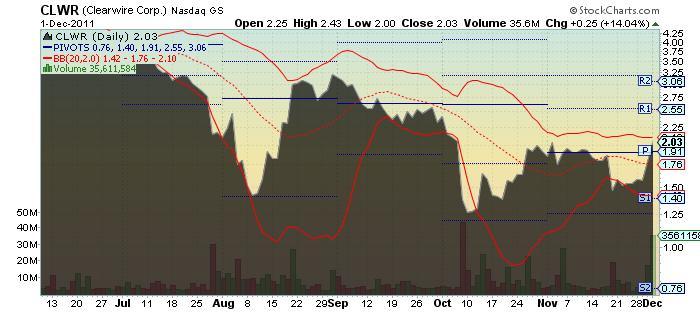 It seems as though there are two negative developments for every positive-seeming piece of news the company puts out. Since this summer, the stock has been on a mostly downward moving roller-coaster ride, rising and dropping sharply at the drop of a hat.
In early October, shares of Clearwire took a huge hit after its largest business partner, Sprint (NYSE:S), detailed plans to move forward with its 4G network development plans and said it expected to upgrade to LTE-Advanced in the first half of 2013 and suggested that it would launch its LTE network ... without Clearwire. As most familiar with the company already know, the possibility of a prosperous future for Clearwire without Sprint is pretty much non-existent.
Over the last week there were growing concerns that the company may default on interest payments totaling $237M on its first-priority, second-priority and exchangeable notes that were due yesterday. Those concerns, however, were alleviated in dramatic fashion as Clearwire announced that the interest payments were made as its seemingly confused and also struggling symbiotic partner, Sprint, swooped in at the last minute like a disheveled-looking Superman in a cheap Halloween costume and saved the day by bailing the company out.
Here are the finer details of Sprint's recently inked bailout plan:
Offers Clearwire up to $1.6 billion in conditional aggregate revenues and funding
Clearwire to receive total of $926 million from Sprint for unlimited 4G WiMAX services in 2012 and 2013; WiMAX network to operate through at least 2015
Sprint to provide support for future LTE services
Companies agree on parameters for additional Sprint equity investment
Clearwire to pay $237 million total interest for first-priority, second-priority and exchangeable notes as scheduled
Clearwire CEO Erik Prusch on the new deal with Sprint:
Today's announcement further cements the mutually beneficial relationship between our two companies. It is an important step toward meeting Clearwire's key goals of extending our current 4G network arrangement, securing a commitment to our future LTE advanced-ready network, and funding the business. We continue to move closer to realizing the full value of our deep spectrum resources as we are uniquely positioned to meet the rapidly growing demand for 4G mobile broadband.
While Prusch and Clearwire investors may be breathing a deep sigh of relief in light of recent events, Moody's has made clear that the above positive news will not change/improve the company's poor ratings.
Valuation Measures:
| | |
| --- | --- |
| Market Cap (intraday): | 506.90M |
| Enterprise Value (Dec 2, 2011): | 3.89B |
| Trailing P/E (ttm, intraday): | N/A |
| Forward P/E (fye Dec 31, 2012): | N/A |
| PEG Ratio (5 yr expected): | 0.03 |
| Price/Sales (ttm): | 0.47 |
| Price/Book (mrq): | 0.58 |
| Enterprise Value/Revenue (ttm): | 3.58 |
| Enterprise Value/EBITDA (ttm): | -3.71 |
Balance Sheet:
| | |
| --- | --- |
| Total Cash (mrq): | 697.81M |
| Total Cash Per Share (mrq): | 2.80 |
| Total Debt (mrq): | 4.09B |
| Total Debt/Equity (mrq): | 113.28 |
| Current Ratio (mrq): | 1.80 |
| Book Value Per Share (mrq): | 3.50 |
Abbreviation Guide: K = Thousands; M = Millions; B = Billions
mrq = Most Recent Quarter (as of Sep 30, 2011)
ttm = Trailing Twelve Months (as of Sep 30, 2011)
yoy = Year Over Year (as of Sep 30, 2011)
lfy = Last Fiscal Year (as of Dec 31, 2010)
fye = Fiscal Year Ending
Though I don't see CLWR as a short at these levels, with further dilutive financing on the horizon, I plan to steer clear of the stock as a long-term hold. It should be noted that the ticker has made for a fantastic day-trading vehicle over the last few months and I will keep my eye on it for that reason alone.
Disclosure: I have no positions in any stocks mentioned, and no plans to initiate any positions within the next 72 hours.