I've been bullish on Cato Corporation (NYSE:CATO), a mid-market retailer of women's fashions, for most of the year. In October I argued strongly for a buy near long-term support at $22.56; I've been proven right (so far), as the stock closed Thursday at $25.69, up nearly 14% in the two months since the article was published.
The bull case for Cato is pretty simple: the company has a strong dividend (yield of 3.58% as of this writing, based on a 23 cent quarterly payment), a fortress of a balance sheet ($7.66 per share in net cash, nearly 30% of market cap), and has grown earnings steadily, if slowly (up about 35% from their levels of 2011 on a per-share basis). Add in a share buyback with 1.9 million shares remaining (about 8% of outstanding class A shares) and the fundamentals look strong.
The stock made a strong bull run through the first half of the year, hitting an all-time high of $30.48, before being tripped up by weak same-store sales figures for June: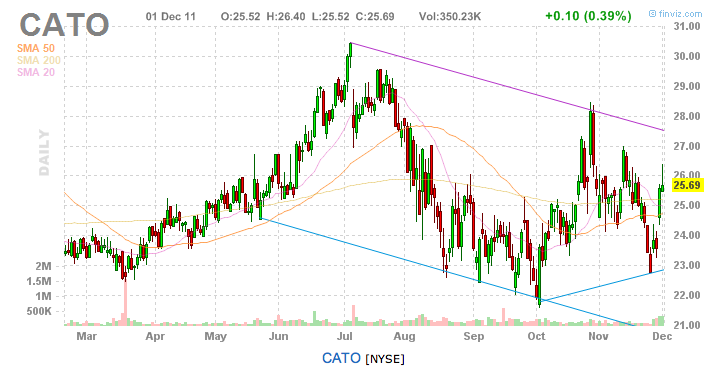 Click to enlarge
(Click to enlarge)
Chart courtesy finviz.com
Since then, the stock has largely ridden the volatility in the broader market; but the company has struggled. Weak same-store sales have continued:
| | |
| --- | --- |
| Month | Same Store Sales Change |
| January | (4%) |
| February | 5% |
| March | 1%* |
| April | 1%* |
| May | (3%) |
| June | 1% |
| July | (3%) |
| August | (3%) |
| September | (3%) |
| October | (3%) |
| November | (5%) |
* -- Combined for March/April; actual figures were (9%) for March, 17% for April, due to movement of Easter into April 2011 from March 2010. Data from company releases.
Same-store sales for the year are now down more than one percent; net sales are up just one percent, thanks to the net addition of 16 stores. The company is still guiding for full-year (fiscal year ending in January) earnings of $2.18-$2.21, ahead of $2.00 in the year prior. But the earnings increase has been derived from lower SG&A (mostly due to lower incentive compensation) and lower tax rates, as revenues are flat and margins down slightly year-over-year.
None of this is to say that Cato is on its way to failure; but future earnings growth may be difficult to come by. The company has used share repurchases and modest growth in square footage to double EPS over the past four years (including guidance for the year ending January 2012). The additional share buyback authorization should have a positive effect on EPS next year; but continued struggles on the top-line, combined with higher merchandise costs mean that another $2-plus year could be in jeopardy.
The problem for Cato is that the headwinds causing the current 3-5% comp declines look unlikely to abate. The company is based out of North Carolina, and its largest base is in the economically struggling Southeast. Cato has 302 stores -- nearly one-quarter of its locations -- in the Carolinas, Georgia, and Florida, all of whom are currently facing double-digit unemployment rates. In addition, middle-class customers -- the company's traditional base -- have struggled in the recession. Many have traded down to dollar and discount stores, creating the so-called "hourglass effect" discussed by the Wall Street Journal a few months ago.
CATO still looks like a solid stock; the dividend yield remains over 3.5% as noted, and the forward P/E under 12 (at the low end of guidance) may still offer some opportunity. But over the next few quarters, investors must wonder whether the company's earnings growth can continue. Management has already guided the January quarter toward the low end of previous guidance; might a weak holiday season cause an earnings miss? CATO's recent bounce off its lows seemed well-deserved, but it looks like it will be difficult for the company to maintain that momentum.
Disclosure: I have no positions in any stocks mentioned, and no plans to initiate any positions within the next 72 hours.