After a brief absence due to work on my brother's political campaign in Central Saanich, British Columbia, Canada, it gives me great pleasure to return to writing for SeekingAlpha.com. It has been an exciting 2 months since my last post, with the European situation continuing to grab headlines as it unfolds.
This past summer I was at a Stone Investment Group investor relations event held at the Vancouver Club and the founder, Richard Stone, brought up a great analogy for the European situation; he thought of it as a play with many acts, the first being Greece, followed by each of the remaining countries. The twist in this production is that the first acts will have a large impact on the following, more influential, acts, which accurately reflects what is transpiring.
There is opportunity amongst this hysteria, opportunity I began looking for in banks in the United Kingdom. Much like Canada, there is a "Big 5" in the U.K., those being:
HSBC (HBC) – Mrkt Cap 122 billion
RBS (NYSE:RBS) – Mrkt Cap 50 billion
Lloyds Banking Group (NYSE:LYG) – Mrkt Cap 44 billion
Barclays (NYSE:BCS) – Mrkt Cap 38 billion
Standard Chartered – Mrkt Cap 37 billion
Of these 5, the U.K. government has an ownership stake of 82% in RBS and a 41% stake in Lloyds. Naturally, these two banks have been the worst performing of the lot over the past 10 years:

Click to enlarge
(Click to enlarge)
Standard Chartered has outperformed substantially, whereas HSBC and Barclays have returned -31.67% and -64.20% respectively. I often hear figures like this roll off the tongues of commentators, but consider working hard, saving and investing $10,000 for 10 years and leaving with less than $5,000; the market can be a harsh place.
With HSBC and Barclays price action, there is a large divergence between the two that is worth investigating. After a quick review of each of their latest financial statements, it becomes clear that these are two very different banks; most notably in where their revenues come from, as well as how they earn their revenues.
In terms of where in the world they derive their revenues from, HSBC has been rewarded for its Asian exposure, while Barclays has been punished for its European exposure: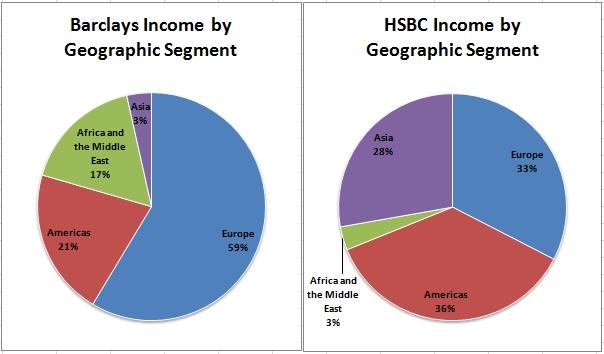 Click to enlarge
(Click to enlarge)
Of this European exposure for Barclays, 73% is specific to the U.K., thus when Europe is segregated Barclays European risk is less than what appears at first glance: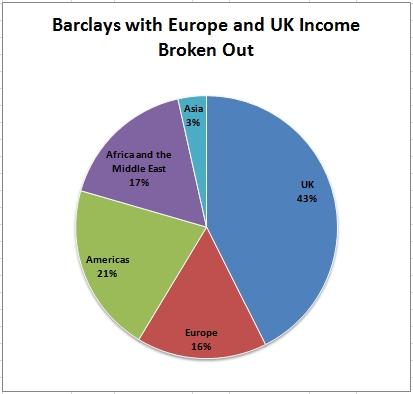 Unfortunately HSBC doesn't segregate out its European income, but assuming a similar breakout to Barclays means that of HSBC's European exposure, only 9.9% of their income comes from outside of the U.K.
In terms of how they derive their revenues, this is also markedly different: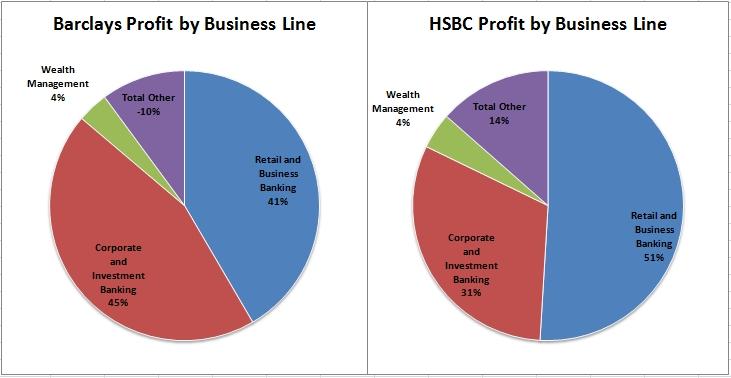 Click to enlarge
(Click to enlarge)
Majority of Barclays profit comes from its Corporate and Investment Banking division. With the regulatory uncertainty currently facing the investment banking business, Barclays share price is likely being punished in part for its business model. Conversely, HSBS derives over half its revenue from Retail and Business Banking, a more reliable business with less regulatory uncertainty facing it.
This difference in each type of business banking model is apparent in year over year comparisons between the two banks. The Retail and Business Banking has rebounded much stronger than Corporate and Investment Banking. And even though Barclays relative performance in both Retail and Investment Banking has been superior, the sheer size of HSBC's Retail and Business Banking division has made for a larger rebound in profit in absolute terms.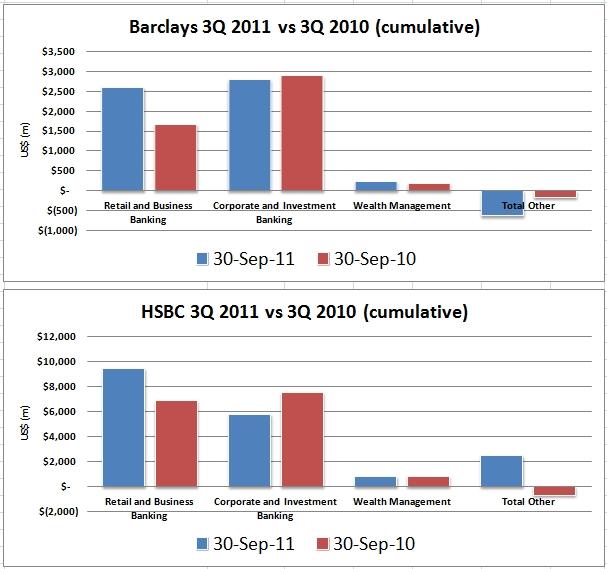 Click to enlarge
(Click to enlarge)
Head to head, Barclays outperformance is clearer: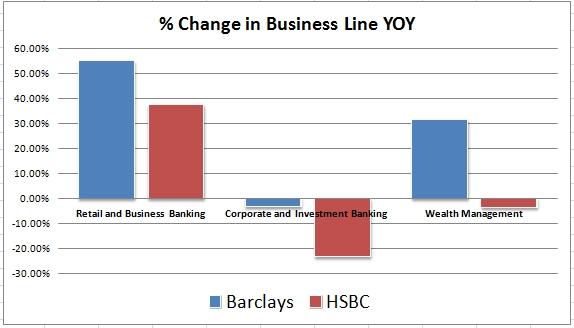 Click to enlarge
(Click to enlarge)
The question becomes what is the future for investment banking in the U.K., and for that matter the world. If regulation comes down heavy handed, Barclays share price should underperform HSBC, if less, Barclays share price should outperform. This leads to the recently released Independent Commission on Banking Report. Within it, it has 3 stated goals of the measures to be implemented (pg 8):
Make banks better able to absorb losses.
Make it easier and less costly to sort out banks that still get into trouble.
Curb incentives for excessive risk-taking.
Looking at the report broadly, to accomplish these goals, there are apparently 10 ways banking in the UK will change, of which I've copied and pasted the first sentence of each line below (use link to see detailed explanation).
Retail and wholesale activities will be ring fenced.
Banks will be forced to go beyond Basel minimum.
Banks will be set up to absorb losses of 17% to 20%.
Capital measures will need to be completed by 2019.
Banks will have flexibility in determining what sits inside, and outside, the ring-fence.
The cost of funding will increase.
The Commission wants increased competition.
The measures will improve London's position as a financial centre.
The costs to the economy will be worth it.
The market will decide the best way to setup a bank with new constraints.
Reading through this list, it baffles me how the commission misses the solution to these problems. Essentially all of these goals can be accomplished with less, rather than more, regulation. And although I'm sure their intentions are noble, this idea that "ring-fencing" will be effective is unbelievably misguided. It's demonstrably apparent, regardless of whether retail banking is a third party subsidiary with a "different culture" or not, that if Investment Banks around the world blow up, the ring fence will collapse quicker than an Occupy Wall Street protestors who has been pepper sprayed. But alas, this is a topic for another article.
Back to the Barclays HSBC analysis, I see Barclays offering excellent upsides in two forms.
The first, due to its large exposure to investment banking, it essentially functions as a call option on the future of the industry, a future that I am optimistic of. Despite all of the political rhetoric, it's important to remember that a politician's bark can be much worse than their bite. Even in the ICB Report, it is clear that the goal is to continue to have a successful, profitable financial industry in London, and I expect them to be cognizant of this as they move forward with a largely misguided regulatory overhaul. In addition, investment banking is a critical function of our modern economy that plays a valuable role in society. That is the reality, which public perception usually catches up with over time.
And secondly, it has tremendous opportunity to grow its business in Asia. Being based in Singapore, I see firsthand the work Barclays is doing to promote its brand and build its business in Asia. This includes sponsoring the Singapore Open, a professional golf tournament, as well as more community minded events such as the Singapore Traders Trophy which pits the top university students against one another in an international stock trading competition.
The play in the U.K. is Barclays, and although this is a risky trade, remember fortune and love favour the brave.
Disclosure: I have no positions in any stocks mentioned, and no plans to initiate any positions within the next 72 hours.