AutoZone (NYSE:AZO) has benefited handsomely from the Great Recession and the resultant tepid economy. AutoZone's success, at least partially, is a result of automobile owners repairing their old vehicles in lieu of purchasing new ones. But, once the economy recovers -- if it ever does -- can the company continue to perform at such a high level?
From small beginnings in Forest City, Ark., in 1979, AutoZone has grown to become the largest retailer of aftermarket automotive parts and accessories in the United States, as well as operating a commercial business distributing parts and services to automotive repairers. It now has more than 4,800 stores in the US, Puerto Rico and Mexico, and an annual turnover in excess of $8 billion. Sales and earnings have increased steadily every year for the past five years. The company model is built around the old-fashioned merits of putting the customer first, knowledgeable staff, attractive stores and value for money.
The 2011 chairman's letter to stockholders paints a picture of a conservative organization trying not to get carried away by its own success. It speaks of the need to "prudently pace our new store openings in Mexico," of the "consistent strategic plan," of saying "no to some ideas," taking "measured, contained risks" and "being more about evolution than revolution." This is not a company whose vision is likely to become blurred by over-achievement.
FY 2011 (which ended August 27) saw AutoZone reporting record sales of $8.1 billion, a 10% increase on 2010, while earnings per share grew by 30% to $19.47. Both the retail and commercial sectors increased sales and market share, and 188 new stores were opened during the year. Store inventory efficiency is maximized by using Hub stores as distribution centers to smaller stores nearby. 2012 will see the company expand into the Brazilian market by opening a few stores to test the water.
The company website is currently viewed primarily as a research tool for customers to use before they visit a store. Internet sales are growing rapidly, however, and the company plans future extensive investment in e-commerce in order to grow this potential market
AutoZone currently has only a 1.9% share of a commercial parts market estimated to be $50 billion annually. Autozon's commercial parts sales program distributes parts and associated products to dealerships, repair garages and other businesses. This is seen by the company as an area offering tremendous opportunities, so future expansion initiatives for this section of the business can be expected.
The AutoZone subsidiary ALLDATA provides dedicated software for the automotive repair industry, covering factory-correct diagnostic, repair and collision information, business tools and support services. More than 80,000 repair facilities are current subscribers, and expansion into the European market was launched in October 2011.
AutoZone operates with significantly fewer employees than its direct competitors. Using recent financials, Advance Auto Parts (NYSE:AAP) and O'Reilly Automotive (NASDAQ:ORLY) achieve approximately $116,000 of sales per employee. Pep Boys (NYSE:PBY) score better with $162,000. AutoZone tops the league with $218,000 of annual sales per employee.
The Q4 2011 earnings conference call on September 20 2011 saw AutoZone's CEO William C Rhodes hammering home the key points of the company's strategy: consistency linked with constant improvement, good-looking stores, hub stores and staff training. He stated his belief that high new and used car prices, gas prices and unemployment have contributed to AutoZone's success, as consumers look for ways to save money by maintaining, repairing and improving their existing vehicle. At the same time, fluctuations in gas prices appear to have had a short-term impact on the consumer's ability to spend. While refraining from a commitment to another year of across-the-board growth in 2012, his note was one of cautious optimism.
CFO William Giles elaborated on the theme of older vehicles on the road, remarking that the continuing trend for increasing numbers of plus 7-year-old vehicle ownership, with its higher maintenance requirements, assists the spare parts industry. He also set a date for the opening of the first store in Brazil, in late calendar 2012.
Can a persistence of economic gloom continue to operate apparently in AutoZone's favor, or will high gas prices tip the balance in the opposite direction? You can be sure that these are questions that will be exercising the minds of the company's executives as well as those of investors. A company which believes in 'measured, contained risks', and has seen plenty of economic cycles in its 30+ year history, may well have some counter-strategies up its sleeve. But, inevitably, a health economy returns, automobile owners will trade in those old cars for newer ones, AutoZone's stellar revenues will subside and the company's stock price will take a hit.
An investor in AutoZone for the last two years has more than doubled his investment, as shown below: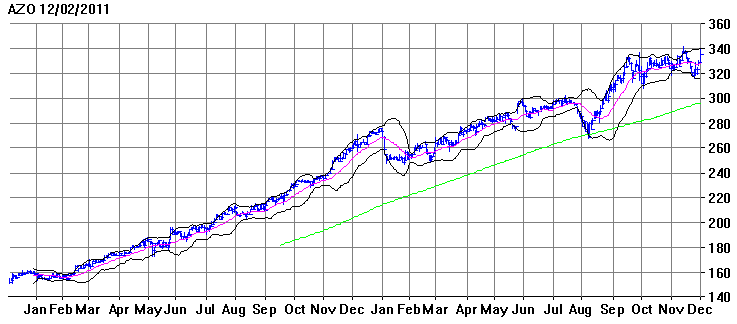 An investor in the company might be considering an exit the position, but this could result in a taxable event. As an alternative, an investor might consider entering a collar position instead. A collar can be entered by selling a call option against the stock and using some of the proceeds from selling the call option to purchase a put option for protection.
As an example, using PowerOptions search capabilities, a collar position was found for AutoZone with a potential return of 1.8% and a maximum potential loss of 8.6%. The time frame for realizing the potential profit is 50 days. The specific call option to sell is the 2012 Jan 340 at $8.50 and the specific put option to purchase is the 2012 Jan 300 at $2.65. If the price of AutoZone's stock is unchanged at January expiration, the position will return 1.8% and if the stock takes a nosedive, the maximum potential loss is 8.6%. And, if the price of the stock is equal to or greater than the $340 strike price of the call option at expiration, the position will return 3.6%. A profit/loss graph for the collar is shown below: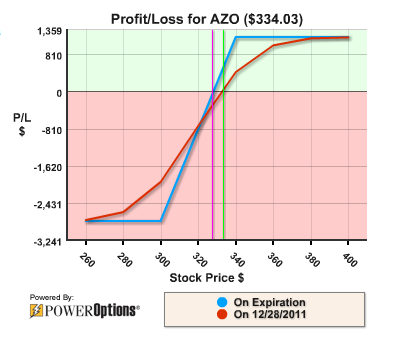 An investor using a collar position for AutoZone can potentially generate monthly income while simultaneously protecting the position from a dramatic drop in price.
Disclosure: I have no positions in any stocks mentioned, and no plans to initiate any positions within the next 72 hours.