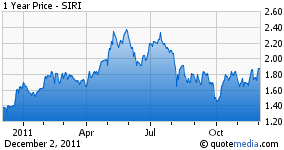 As Sirius XM (NASDAQ:SIRI) continues to run on all cylinders it seems there are many who still refuse to give it its proper due. Investors are all familiar with renowned bears such as Jim Cramer, Seeking Alpha contributors Rocco Pendola, Ian Bezek and short enthusiast Robert Weinstein. We can also throw in anyone closely tied to the NAB. Each of these bears have offered reason for their pessimism toward Sirius. Like it or not, it is hard to say that they have been wrong since the stock reached a recent bottom of $1.27.
As the stock now demonstrates clear signs of recovery, here comes Marek Fuchs who suggests that investors sell the stock "against the grain." While it is not the first time that I have seen these videos, it is the first time that I feel annoyed enough to talk about it. Before I continue, I want to first say that I respect Marek Fuchs and all of the wonderful people at the Street.com. But I just completely disagree with the timing of these videos.
It's great to play contrarian and there is often value in the information – whether it is purposeful or not. But I rarely find objectivity from Marek (when it comes to Sirius). I say this because while he does a decent job in playing the bear it is never followed with a bullish call – to this point I have not been able to find one.
This is in contrast to some of his other calls, such as Apple (NASDAQ:AAPL), where though he issued sell recommendations, he has often balanced it out with buy calls. This is the same situation for Starbucks (NASDAQ:SBUX), McDonald's (NYSE:MCD) and Even Ford (NYSE:F). Remarkably, unlike the latter four companies, there has never been a right time to buy Sirius XM – not even from the depths of 5 cents three years ago to its recent high of $2.44 earlier this year. Not even on the heels of its recent record quarter.
How do you assess a performance where profits surge 54%? It seems that the perceived stagnation in auto sales has been exaggerated as it was a boost in sales that spurred the growth in subscriptions. If that was not enough, not only did the company beat analysts' estimates by earning 2 cents per share, its revenue rose 6.3% to $762.6 million from $717.5 million. Including the recognition of deferred subscriber revenue, the company said it posted adjusted revenue of $764.8 million, which was up from an adjusted $722.5 million from the quarter a year ago.
So when is the right time to buy?
Playing Contrarian For The Sake of Playing
I get it. It goes with the business of being on Wall Street. It is that famous mantra of "not following the crowd." But if everyone plays contrarian is that not in and of itself "a crowd?" But more important than that is the need to make a name for one's self. We see it all the time with wanting to be the first to "cover a story" before anyone else were willing to consider the possibility. But at some point everyone gets that it is a shtick and start to demand some balance. We have reached that point to the extent where some prominent analysts are not only bullish on Sirius but have also hinted at a $4.50 target.
Recently Barton Crockett, analyst at Lazard Capital, said the following regarding Sirius' future prospects:
Crockett writes that in his base model, assuming a muted economy, the company's adjusted EBITDA can jump to $1.5 billion in 2014 from $751 million this year. Of the increase, $300 million of that reflects a 12% rate hike that the company is phasing in starting January 1, 2012. Another $200 million is from costs cuts related to a General Motors (NYSE:GM) contract reset that starts Q4 2013. And $250 million is from growth in new subs.
He concedes that subscriber growth could stall if a recession hits. He says the company will still see nearly $600 million in EBITDA growth from the rate hike, the GM reset and reduced subscriber acquisition adds.
He adds that if the company can maintain leverage in the 2x-3x range, share count could shrink by over 25% by 2015, and by over half by 2020. "If Sirius repurchases to its capacity, we estimate that the present value of the equity could more than double above our price target."
So what are these analysts seeing that is completely oblivious to Mr. Fuchs?
Summary
While everyone tries to shy away from bad news or (at times) the contrarian view, it plays a significant role in the market – one that should not be ignored. The ratings on CNBC and Bloomberg skyrocketed this summer while doom and gloom was the tone of the market. The fact is, not only is there value in "warnings" but it sells pretty well as evident by the growing media.
The disappointing part is the failure of admissions. While some of these contrarian views may become a broken clock, it also helps present some balance from time to time – even if the positive remarks only prove to be right only twice during the day.
Disclosure: I am long SIRI, AAPL.