Long-term U.S. Treasuries currently have two key hurdles to overcome.
Now, for those that have followed my past articles on Long-Term U.S. Treasuries, I am a firm advocate for the asset class for the following reasons.
First, the total returns potential are significant. For example, the iShares Barclays 20+ Year Treasury Bond ETF (NYSEARCA:TLT), posted a +30% gain during the third quarter of 2011. So while some investors might perceive U.S. Treasury bonds as a sleepy asset class dependent primarily on currently low yields, this is far from the case when focusing on Long-Term U.S. Treasuries, as capital gains are the primary focus in this area of the market.
Also, Long-Term U.S. Treasuries provide a particularly good diversification benefit to portfolios during periods of stock market uncertainty and even crisis. As discussed in a recent article, U.S. Treasuries have a long track record of providing portfolio insurance in this regard, with Long-Term U.S. Treasuries in particular posting strong double-digit positive returns during each major stock market crisis episode since the bursting of the technology bubble over a decade ago.
But despite these advantages, Long-Term U.S. Treasuries must also be managed carefully at times. After all, any asset class that can return +30% in a quarter can also generate an equivalent result to the downside. And two particular items warrant close attention at present. These are listed below.
1. U.S. Treasuries Detest QE
As events continue to unfold with the European sovereign debt crisis, it appears increasingly likely that the global monetary spigots are getting turned back on. Wednesday's coordinated central bank policy announcement was yet another step in this direction, and the probability for another round of quantitative easing (QE) remains high in the coming months as long as the European crisis festers. And while the Fed often cites maintaining low interest rates as the primary justification for such policy action, interest rates typically spike higher from the moment that any QE program gets underway. For example, the TLT declined by -11% during QE1 from March 2009 to April 2010 and -16% once QE2 was effectively announced in Jackson Hole in late August 2010 to early February 2011. So in short, if we see QE in the coming months, it is likely that it will place a drag on the Long-Term U.S. Treasury market. (Click chart to enlarge.)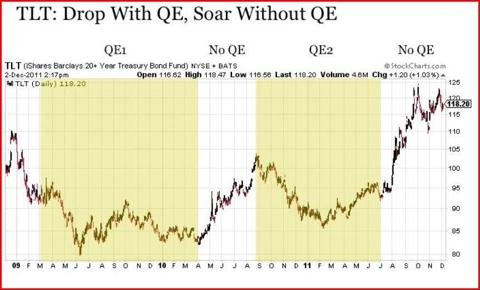 Click to enlarge
2. Long-Term U.S. Treasuries Are Running Hot
Long-Term U.S. Treasuries may still be a bit ahead of themselves from a price perspective at present. Overall, Long-Term U.S. Treasury yields have fallen dramatically in recent months. For example, at the end of QE2 on June 30, 2011, 30-Year U.S. Treasury yields were 4.38%. Today, they are 3.04% and have dipped as low as 2.69% along the way. While this move represents a huge price gains in Long-Term U.S. Treasuries over a very short period of time, the asset class may still be a bit stretched and overdue for some consolidation.
An examination of the TLT highlights this point. At present, the TLT's 50-day moving average (blue line on chart below) is currently 15.4% higher than its 200-day moving average. This represents a near record wide premium in this relationship. The only other time over the last decade that the gap was this wide was in early 2009, and the TLT went on to post a sharp -28% decline over the next few months. This implies that risks may be biased to the downside in Long-Term U.S. Treasuries in the coming months. At minimum, a period of sideways moving consolidation would be welcome to further cool the recent price momentum.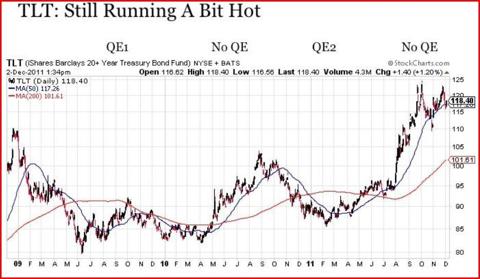 Despite these concerns, there is still a great deal to like about the asset class. But the associated risks must also be respected at the present time.
So suppose you still want to have exposures that help protect your portfolio against the potential for the outbreak of a crisis in Europe. One ideal hedging alternative is U.S. Treasury Inflation Protected Securities (NYSEARCA:TIP). Although this category does not have the same robust upside returns potential as Long-Term U.S. Treasuries, the underlying characteristics of the asset class has enabled it to post remarkably consistent results over the last few years both during periods of crisis and perceived stability. Agency MBS (NYSEARCA:MBB) is another category that is well suited in this regard. Not only has it also been a consistent performer, but it would also likely to be the direct focus of any QE3 program from the Federal Reserve. Lastly, Gold (GLD, IAU, PHYS) continues to be an ideal alternative to protect against the potential for both rising inflation from excessive monetary stimulus as well as the deflationary threat of full-blown crisis.
Long-Term U.S. Treasuries remain one of my favorite asset classes. And I hope to own it again at some point in the future if the opportunity presents itself. But while it may explode further to the upside if a full-blown crisis event were to erupt in Europe, given the current risks to the downside, I remain inclined to look elsewhere at least for now in securing comparable portfolio hedging positions.
This post is for information purposes only. There are risks involved with investing including loss of principal. Gerring Wealth Management (GWM) makes no explicit or implicit guarantee with respect to performance or the outcome of any investment or projections made by GWM. There is no guarantee that the goals of the strategies discussed by GWM will be met