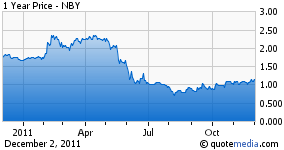 Success for a small biotech or developing pharmaceutical company is often measured not only by the technology of its pipeline, but also by the ability of a company to position itself to be in the right place at an opportune time. Possessing a technology that could potentially provide a solution for a high profile, unmet medical need generally fits the 'right place at the right time' bill, and NovaBay Pharmaceuticals (NYSEMKT:NBY) have just have that in its novel proprietary technology that is being investigated as a potential solution for today's medical dilemma of antibiotic resistance.
When introduced into society seventy years ago, antibiotics changed the shape of medicine. Having been so widely-used since then, however, the infectious organisms against which the antibiotics are administered have grown increasingly resistant, and sometimes immune, to today's antibiotic treatments.
The ever-increasing cases of resistance are threatening to become growing financial burden on the global health care system, at a time when governments and professionals are looking to cut costs, while also threatening the lives of patients who may otherwise have no answer to fast-spreading infection.
The Centers for Disease Control and Prevention warns of the pending crisis scenarios on its website by stating that, "These drugs have been used so widely and for so long that the infectious organisms the antibiotics are designed to kill have adapted to them, making the drugs less effective. People infected with antimicrobial-resistant organisms are more likely to have longer, more expensive hospital stays, and may be more likely to die as a result of the infection."
NovaBay may have a solution to the growing threat that could soften - if not eliminate - the threat that antibiotic resistance poses on medical treatment today, and as the company's trial reach the later stages, increased attention could be coming its way in the form of partnerships and new investors.
In its patented Aganocide compounds, NovaBay's technology acts as broad-spectrum and fast-acting, synthetic anti-infectives designed to act against bacteria, fungi and viruses. These Aganocide compounds do so by mimicking the body's own defense systems against infection, essentially acting as white blood cells. Multiple clinical trials are underway for NBY's NVC-422 compound numerous very distinct and potentially very lucrative therapeutic areas, giving NovaBay multiple opportunities to move into the mainstream of infectious care.
The best part, however, and this is where NovaBay may be positioned to best capitalize, is that because the company's Aganocide compounds mimic the body's own defense systems, the risk of patient tolerance and/or resistance to treatment is deemed minimal. In other words, this technology has the potential to answer today's call for a solution to antibiotic resistance.
For NovaBay, quite a few milestone events will unfold for NovaBay in the coming months that could put the company and its technology in the spotlight. Trials are set to commence, continue and conclude in the field of urology, dermatology and opthalmology, and a pending commercial launch of its first FDA-cleared product, NeutroPhase in the treatment of chronic wound care, is also expected for 2012. A successful launch of NeutroPhase, for which NovaBay has received two FDA clearances in the field of hospital wound care, would put the company on the scene as a commercial stage company while the rest of the pipeline develops.
As inventory is currently prepared for an expected second quarter 2012 launch, partnership talks are ongoing and a final partnership announcement is expected within months. NovaBay, in the meantime, is also moving its technology forward to meet other unmet needs in large markets.
In dermatology the company has already landed Galderma SA as a partner. This is no insignificant partnership, as Galderma stands as arguably the largest player in the field of dermatology worldwide and provides NovaBay with financial backing and security that is rare for a 'Phase II' developmental company. The deal, which revolves around NBY's technology as applied to the highly contagious skin infection, Impetigo, could potentially be worth over sixty million dollars to NovaBay in milestone payments - in addition to double digit royalties, should the product make it to market.
A Phase IIb trial is expected to begin within weeks for this condition and, assuming positive results, a Phase III is being planned for late 2012.
Galderma has agreed to pick up the tab for these trials, which frees up resources for NovaBay to concentrate on the remainder of its pipeline, such as NVC-422 for the treatment of adenoviral conjunctivits - better known to the average Joe as "pink eye."
Although an earlier clinical trial conducted with then-partner Alcon in this condition missed its primary endpoint and sent investors running for the doors, a further look at the data from the same trial did show that efficacy was demonstrated against the Epidemic Keratoconjunctivitis (EKC) infection, possibly the most contagious form of the infection, which often threatens a victim's vision. Based on that data, NovaBay is armed to move forward with a larger-scale confirmatory trial set to begin in early 2012.
The trial is being headed by a familiar face, David W. Stroman, Ph.D., Senior Vice President, Ophthalmic Drug Development for NovaBay, who moved to NovaBay after more than two decades at Alcon, which was fully bought out by Novartis (NYSE:NVS) late last year.
At Alcon, Dr. Stroman oversaw the original collaborative development of NVC-422 with NovaBay, as well as heading other pipelines related to his anti-infectives programs. His defection from Alcon could be as comparatively significant to NovaBay as another big move in the sector, one that saw Dr. Edward Wirth move from Geron (NASDAQ:GERN) to InVivo (NASDAQ:NVIV).
In terms of validating a technology, it's always a boost to see a big player from a larger company 'follow the technology' to its origin.
Dr. Stroman noted in reference to his move to NovaBay that, "During my twenty plus year career at Alcon, my responsibilities included evaluating anti-infective compounds for their potential to treat ocular infections. I saw NovaBay's NVC-422, with its unique mechanism of action, as a very promising compound with the potential to address major unmet needs in ophthalmology markets."
Dr. Stroman brings with him validation and renewed credibility to an opthalmology program that many viewed as dead-on-arrival when the Alcon study missed its primary endpoint.
Dr. Stroman added, "EKC is one of the world's largest unmet medical needs in ophthalmic infections. Our next step is to confirm the previous positive clinical and microbiological efficacy results in the treatment of EKC with an optimized clinical trial design."
The trial is set to begin in early 2012, with results possibly trickling in as early as the end of the year. At that point, NBY would be again positioned to partner its opthalmology program.
NovaBay's urology program is also on tap to provide some short term milestones. First results from an ongoing Urinary Catheter Blockage and Encrustation trial are due to trickle in during the early parts of 2012, with results from the second part of the trial expected later in the year. Should these results turn in positive, it provides NovaBay with yet another potential catalyst into a market carrying an unmet medical need.
With the pace of the current pipeline development, NBY could be on track to have three ongoing Phase III trials in 2013, at which point NeutroPhase will assumedly have already been on the market for about a year bringing in revenue.
With all the milestones that have already taken place, and with those set to begin, the strong potential of NovaBay's technology may be starting to get noticed.
NVC-422 was recently featured in "Drugs of the Future." In the write-up it was noted that, "NVC-422 has been shown to be well-tolerated and its mechanism of action, time-kill and lack of observed drug resistance uniquely differentiates it from traditional antibiotic agents."
Just at the time when the medical community - and the FDA - is looking to tackle antibiotic resistance head-on, NovaBay may be in a prime position to act.
This will be a story to watch.