Remember those quilted bags your Mom used to tote around when you were a kid? They've been turned into a multi-million dollar business by two smart women, Barbara Bradley Baekgaard and Patricia R. Miller. Vera Bradley Inc. (NASDAQ:VRA), named after Ms Baekgaard's mother, produces a line of quilted fabric luggage, handbags, accessories and giftware. A dedication to quality, stylish design, functionality, strong brand identity and customer service has seen Vera Bradley grow from small beginnings in Fort Wayne, Indiana, in 1982 to the large and profitable corporation that it is today. The Initial Public Offering (IPO) of shares occurred in 2010, and the co-founders remain as Chief Creative Officer (Ms. Baekgaard) and National Spokesperson (Ms Miller).
There are two main divisions within the company: Indirect Sales through 3,300 mainly U.S.-based independent retailers, together with a limited number of national chains and online stores; and, since 2006, Direct Sales through Vera Bradley's own 50 full-price stores, eight outlet stores (with new stores opening regularly) and e-commerce website. A wide range of new designs is released seasonally to maintain customer interest and create appeal across a broad demographic. Beginning in 2005 production was largely transferred overseas (primarily to China, where the company has an office to oversee production) to effect cost savings.
Future strategy will see the company expand into under-penetrated U.S. markets as well as foreign countries. Management believes that the U.S. can support at least 300 Vera Bradley stores. There are plans to open about 20 new stores annually, and each new store is expected to achieve payback on investment costs within 18 months. At the same time the company will continue to develop the e-commerce sales channel. Vera Bradley will be emphasized as a lifestyle brand, the aim being to 'accessorize a woman's life' through a widening product range such as the recent stationery collection.
Fiscal year 2011 ended on January 29 2011. Total revenue was $366 million, up 27% on 2010 mostly as a result of increasing sales through the direct channel. Operating income of $53 million grew by 17%. Net earnings per share were $1.25, a $.03 increase on 2010. Handbags continue to account for approximately 50% of revenue, accessories 32%, while travel and leisure items are slowly growing at almost 13%. The ratio between indirect and direct sales was 59% to 41%. The indirect channel demonstrates a good spread of risk, with no single retailer accounting for more than 2% of indirect revenue and the top ten representing less than 10% when combined. There were over 32 million visits to the e-commerce site during the year. The company had 1,427 employees at the end of the year, 40% of whom were engaged in retail activities with a further 19% involved in manufacturing. The remainder occupied product design and administrative positions. Financial year 2011 Form 10-K
During the six months to July 30 2011 (fiscal 2012) net revenues rose to $205 million, 24% above the comparable prior year period. Operating income was 27% higher at $42 million. The company's outlook for fiscal 2012 includes revenues in the range $438 to $443 million (up 20 to 21% on fiscal 2011).
Vera Bradley competes directly with wholesalers and direct sellers of branded handbags and accessories, such as Coach (NYSE:COH), Nine West owned by Jones Apparel Group (NYSE:JNY), Liz Claiborne (LIZ), and privately-owned Dooney & Bourke. They also compete against other specialty retailers and department stores such as Macys (NYSE:M), Nordstrom (NYSE:JWN) and JC Penney (NYSE:JCP).
The handbag industry is particularly competitive and volatile. In the 2009 financial year Vera Bradley's net revenues declined by 15% in response to the weaker economic environment. Purchases of consumer goods like handbags and accessories usually decline during periods of financial recession when disposable incomes fall. Vera Bradley's sales recovered in 2010 when the direct sales channel really began to make its mark, and continued to rise in 2011 and the first half of fiscal 2012. The planned rapid expansion of the direct sales channel may alienate some indirect resellers, but clearly the company is not dependent on any single reseller, or even on its top ten resellers. Direct sales look set to overtake indirect sales in the relatively near future.
Vera Bradley's stock price has been stuck in a trading range between $25 and $53 since its IPO as shown below:
With Vera Bradley stock stuck in a trading range, an investor might consider entering a covered call position for the company. A covered call position can be entered by selling a call option against an existing or purchased stock.
A covered call position for Vera Bradley is currently available with a potential return of 5.9% if the price of the stock is unchanged at expiration in January of 2012. And, if the price of the stock is equal to or greater than the strike price of the call option at expiration, the position will return 13.1%. The specific call option to sell is the 2011 Jan 40 with a price of $2.10. A profit/loss graph for the covered call position is shown below: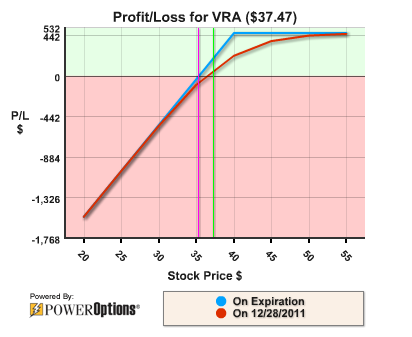 As can be seen, the return for the covered call position is capped, but with an increase in the price of the stock, the position can be rolled to a higher returning covered call position in order to be in position to generate additional income. Another benefit of the covered call strategy, is the position has downside protection. For this example, as long as Vera Bradley's stock price does not drop more than 5.6%, the position will generate a profit, albeit less than the unchanged potential return of 5.9%.
Disclosure: I have no positions in any stocks mentioned, and no plans to initiate any positions within the next 72 hours.