The U.S. economy continues to have significant headwinds (e.g., high unemployment, European credit contagion, weak housing market, high debt levels, etc.) and this "relief rally" is likely to be short-lived.
The global economy is being weighed down by a debt problem that took over two decades to create. Given the significant build-up in peace time debt, we believe that the debt problem will take years to sort out, providing significant uncertainty and market volatility. The leverage that has been built up in the system will not unwind for years to come.
Click to enlarge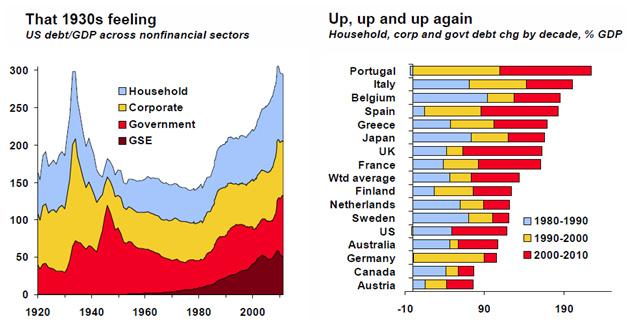 As central banks drive down short-term rates to deal with high debt levels and low growth rates, investors have been flocking to dividend stocks in search of yield.
That said, any pullback in the market should be an opportunity to add to your low-beta dividend stock positions.
In the current market environment, it is important for income investors to choose their dividend stocks wisely as they are putting new money to work. As volatility increases (especially downside volatility), investors may want to add some low beta stocks to their holdings to help dampen portfolio volatility. In general, companies with low betas will tend to be less volatile than the general market.
With that in mind, we did a screen with the following parameters to find companies that had high dividend yields, low betas and P/E ratios under 20:
Dividend Yield > 4%
Avg. 3m Volume > 1,000,000
Stock Price > $10.00
Market Cap > $1 billion
P/E Ratio < 20.0x
Beta < 0.75
The stocks below meet the parameters above. Use this data as a starting point for your own analysis.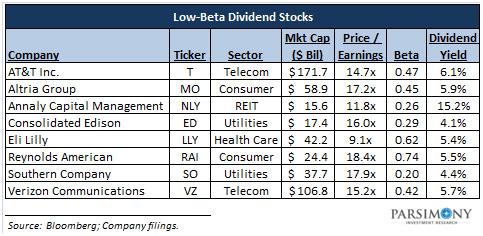 While this is not an exhaustive list of low-beta dividend stocks, this sample portfolio would yield 6.5% with an average beta of 0.43.
Tactical Strategy
Three of our favorite stocks from the list above (which we own) are AT&T (NYSE:T), Consolidated Edison (NYSE:ED) and Southern Company (NYSE:SO). These names provide attractive, stable cash dividends with relatively modest payout ratios. The payout ratio is dividend paid / net income. Lower payout ratios indicate an ability to increase dividends.
Click to enlarge


As shown in the charts below, all of these stock are in very strong up trends. We would be buyers on any meaningful pull back.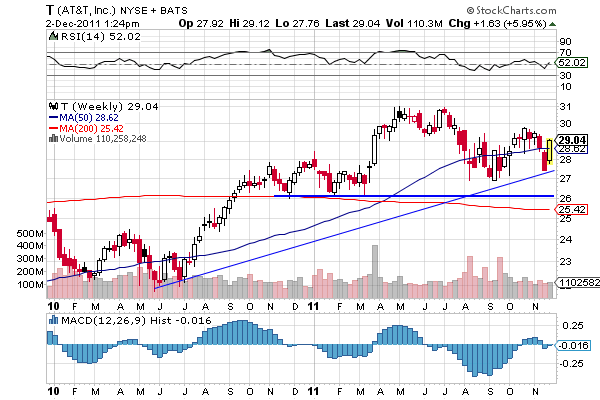 T should have some great support in the $26.00 range, which we think would be a great entry point. At $26.00, T's dividend yield would be 6.6%.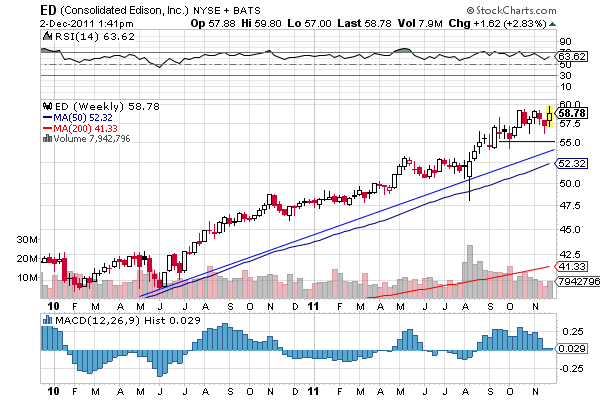 This is exactly what you want a chart to look like if you are long. ED is in a very strong uptrend and we think that it should continue on this path for the foreseeable future. If ED drops to the $55 area, we will likely add to our position. At $55, ED's dividend yield would be 4.4%.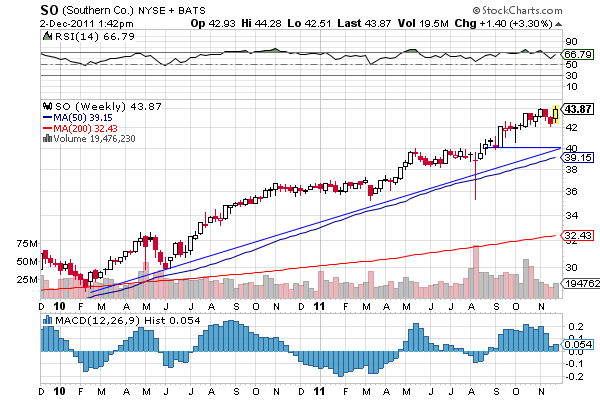 SO's chart looks very similar to ED's ... very strong uptrend. We would love to add more around $40 if the stock dips. At $55, SO's dividend yield would be 4.7%.
Disclosure: I am long T, MO, NLY, ED, SO.