I try to cover a broad base of stocks and give you the information I would use if I was considering the stock. I've gotten many requests to know exactly what I'm buying. This morning I bought Varian Medical Systems (NYSE:VAR) and I'll show you why, and how I will manage this position. I found the stock by screening on Barchart for stocks having both current momentum and double-digit earnings growth. This graph provided by Barchart shows the trading momentum of the stock over the past 6 months: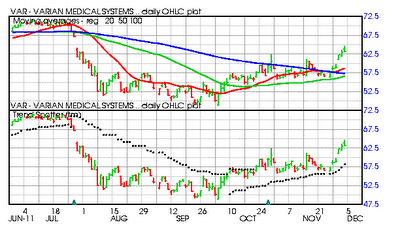 VAR's profile, from Yahoo Finance:
Varian Medical Systems, Inc. designs, manufactures, sells, and services equipment and software products for treating cancer with radiotherapy, stereotactic radiotherapy, stereotactic body radiotherapy, stereotactic radiosurgery, and brachytherapy worldwide. Its Oncology Systems segment offers products, such as linear accelerators, brachytherapy afterloaders, treatment simulation and verification equipment, and accessories; and information management, treatment planning, and image processing software. This segment serves university research and community hospitals, private and governmental institutions, healthcare agencies, doctors' offices, and cancer care clinics.


The company's X-ray Products segment provides x-ray tubes for use in a range of applications, including computed tomography scanning, radiographic or fluoroscopic imaging, mammography, special procedures, and industrial applications; and flat panel digital image detectors for filmless x-ray imaging. It sells these products to imaging systems original equipment manufacturers that incorporate them into their medical diagnostic, dental, veterinary, and industrial imaging systems; independent service companies; and directly to end-users.


The company also designs, manufactures, sells, and services Linatron x-ray accelerators, imaging processing software, and image detection products for security and inspection purposes, such as cargo screening at ports and borders, and nondestructive examination in various applications. In addition, it develops products and systems for delivering proton therapy; and technologies in the areas of digital X-ray imaging technology, volumetric and functional imaging, improved X-ray sources, and technology for security and cargo screening applications. The company was formerly known as Varian Associates, Inc. and changed its name to Varian Medical Systems, Inc. in April 1999. Varian Medical Systems, Inc. was founded in 1948 and is headquartered in Palo Alto, California.
Factors I considered:
Barchart technical indicators:
Barchart uses various technical indicators from 7 days to 6 months to analyze the direction of a stock's momentum and most are positive at the moment
88% Barchart overall technical buy signal
Trend Spotter buy signal
7 new highs and up 12.49% in the last month
Above its 20, 50 and 100 day moving averages
Relative Strength Index is 65.85 and still rising
Barchart computes a technical support level at 62.21
Recently traded at 63.17 with a 50 day moving average of 56.72
The negative trend the stock experienced in the last 6 months correlates to the trend of the Value Line Index of 1,700 stocks: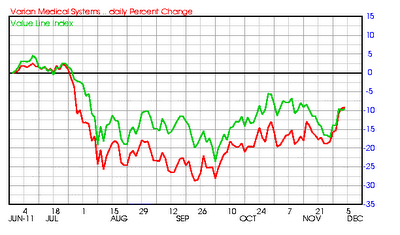 Fundamental factors:
Wall Street brokerage firm are covering this stock and 11 firms have assigned 13 analysts to run the numbers:
Analysts project revenue will increase by 9.70% this year and another 8.30% next year
Earnings estimates are for an increase of 15.40% this year, an additional 12.30% next year and continue at annual rate of 12.75% for the next 5 years
These numbers have resulted in 2 strong buy, 4 buy, 6 hold and only 1 under perform recommendation
This is a double digit growth stock that has a 17.15 P/E ratio which is only a 14% premium to the market's P/E of 13.50
The demand for the company's technology is not something that can be discretionary and every medical facility wants it.
The medical growth markets of Europe, Japan, Russia, China, India and Brazil are ripe and growing at double digit increases of expenditure levels for medical equipment
The company has an A+ financial strength rating
I think the numbers are reliable as the company has enjoyed a 100 earnings predictability rating in the past
General investor interest:
I use Motley Fool as my barometer for what the individual investor thinks about a stock
399 readers have expressed an opinion that the stock has a 96% chance of beating the market
The more experienced and savvy All Stars voted 99% for the same result
Fool notes that the last 13 articles by financial columnist have been 92% positive
Both Pat Dorsey and Jim Cramer have given the stock a thumbs up
Varian's major competitor is Accuracy Incorporated (NASDAQ:ARAY). Over the past 6 months, although VAR is down 10%, Accuracy was down 45%: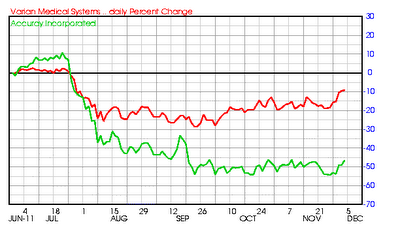 Summary
I looked at Variant Medical Systems because it had double digit earnings growth forecasts and current momentum. I bought the stock because I could confirm the stock's momentum was caused by great revenue and earnings reports based on reliable numbers. I know that it has a positive following by both professional and individual investors. I use a strict portfolio management discipline and when I decide to get out, I need to know there is a following that will support volume. There is nothing worse then trying to get out of a stock against a very low volume. I bought at today's price and will use the lower 14 day turtle channel, presently at near 56, to decide when to get out: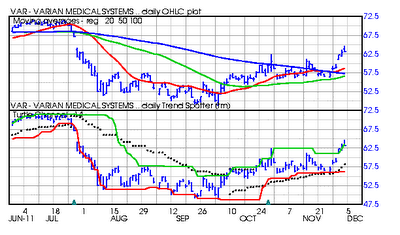 Disclosure: I am long VAR.