Santa Ben and his global central banker elves showered the financial world with early Christmas cheer last week and now investors wonder if this might be the start of the seasonal Santa Rally.
It's early December and the Christmas decorations are up in the malls and thoughts are turning to holiday meals and presents under the tree. Most investors are also hoping for the anticipated Santa Rally to round out a difficult year, despite continued (permanent) European debt crisis woes and last week's American Airlines (AMR) Chapter 11 bankruptcy filing.
It was a tough November, yet all of the doom and gloom instantly disappeared when Santa Ben and his troop of central bank elves came to the rescue last week, triggering the largest surge for the DJIA since 2009 (7%). Has Santa Ben (and his elves) come to rescue the Santa Rally?
The anticipated "Santa Rally" typically occurs because of the high volumes of cash that flow into the marketplace due to holiday shopping and investors closing their trades before the end of the year for tax purposes. It's further fueled by institutions and hedge fund managers hoping to juice their returns to make sure that bigger year end bonuses await in their stockings on Christmas morning.
The stock market often goes vertical during late December as market players position themselves for the seasonal "January Effect" which continues the Santa Rally into the first month of the New Year. However, this holiday season is off to a little different sort of start as the European debt crisis has largely driven markets this year and unfortunately so far has delayed any hopes of Santa spreading his good cheer this year.
But wait! Last week Dr. Bernanke and his world-wide team of Central Bank elves put on their Santa Hats and injected more free money into the market place! In a joint venture between the central banks of the United States, England, Switzerland, Japan, Canada and China, enormous liquidity was injected into the financial system to loosen credit conditions and effectively make U.S. dollars easier to get for credit strapped European banks. Couple that Christmas candy with this Tuesday's Euro Summit meeting and Santa and his elves have likely laid the groundwork for a powerful Christmas rally.
So where does Dr. Ben's Santa hat leave ETF investors? As always, ETF investors can profit from a bull or bear market and whatever market conditions we might see unfold as we head into the holidays.
If indeed a Santa Rally occurs and the world is flooded with dollars, one can expect the PowerShares DB US Dollar Index Bearish Index (NYSEARCA: UDN) to climb as more dollars inevitably will mean a weaker dollar. Click to enlarge: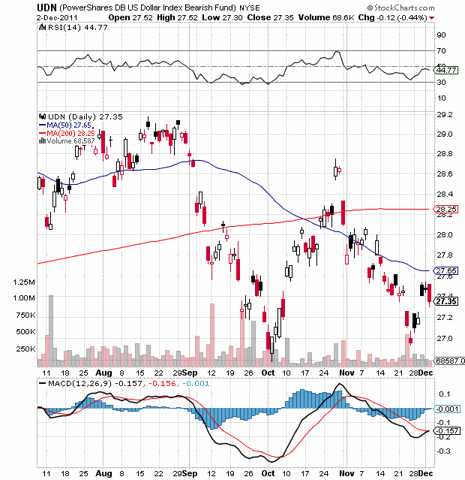 chart courtesy of stockcharts.com
Furthermore, if the Europeans agree on structural euro reform to save the euro dollar from default and financial Armageddon, then the CurrencyShares Euro Trust (NYSEARCA: FXE) will likely bear many gifts for Christmas. Be warned, however, that structural euro reform in terms of revamping the role of the ECB or other major changes means less independence for European countries and will take years to complete, and so if market participants don't buy Elf Merkel's and Sarkozy's Christmas cheer, the euro could instead find itself in a world of doom and gloom. Click to enlarge: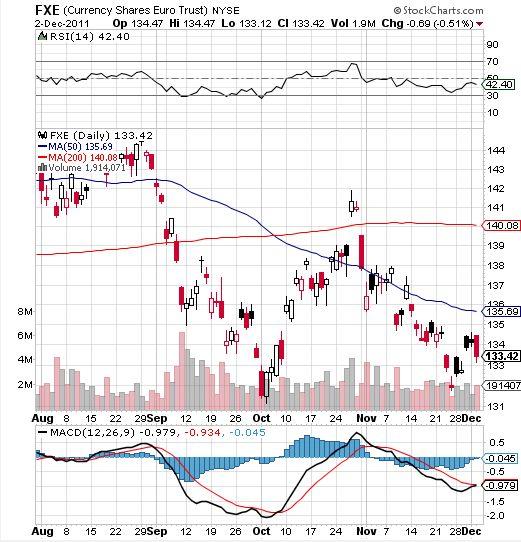 chart courtesy of www.stockcharts.com
Whatever happens with the U.S. Dollar (NYSEARCA: UDN) or the euro (NYSEARCA: FXE) this Holiday season, one "currency" will likely add luster to any Christmas tree: Gold.
Gold ETFs such as the SPDR Gold Trust ETF (NYSEARCA: GLD) or the iShares Gold Trust ETF (NYSEARCA:IAU) offer a way to track the gold market which seems to always be humanity's final choice of value and so gold ETFs could backstop investors in a world of weaker dollars and European turmoil.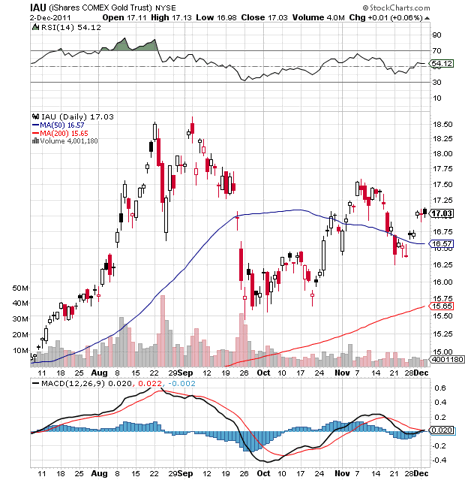 chart courtesy of stockcharts.com
It looks to me that Santa Ben and his merry band of international elves are working hard to engineer the traditional year end Santa rally which would likely lead to higher stock prices, lower dollars, higher euro dollars and higher gold. By the end of December we will know if the Santa Rally rallied or not; in the meantime investors can only hope that Europe pulls itself together and that Santa Ben has more presents in his sleigh.

Disclaimer: Wall Street Sector Selector actively trades a wide range of exchange traded funds (ETFs) and positions can change at any time.