As the situation in Europe continues to worsen, investors are less willing to buy euro-denominated assets and expect an overall large capital flight from Europe. Since even German bonds are losing their value with interest rates rising on 30-year bonds from 2.61% to 2.83%, confidence in the eurozone is shooting downwards.
In a forward-looking market, expectations have always played a central role in markets and economies. Negative expectations are crippling the European markets and investors are in a search for a safe haven. Fortunately, this safe haven can now be found in the Nordic region, particularly in the Swedish economy.
Sweden currently has the best-performing bond market in the world. With its debts being paid out and strict controls on lenders put in place, the government holds a budget surplus and has the smallest borrowing cost for 10 years. The European Commission estimated Sweden's government debt to narrow to 36.3% of GDP this year. Its surplus widened to 76.1bn kronor in 11Q3, which is the highest statistic since 2008.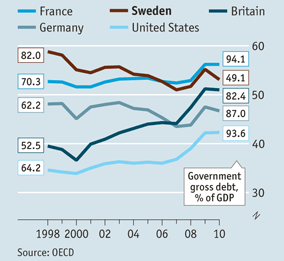 Its banks demonstrate a good performance relative to any other European banks. Examining funding access and earnings outlook, Standard & Poor's has raised the rating of Sweden's two biggest banks, SEA AB and Swedbank AB (OTCPK:SWDBF) from A to A+. Also by looking at credit default swap spread, it can be seen that the cost to insure a default of a Stockholm based Nordea Bank AB (OTCPK:NRBAY) is 15% lower than the cost to ensure the biggest bank in Germany, Deutsche Bank AG (NYSE:DB).
Index for Nordea Bank AB: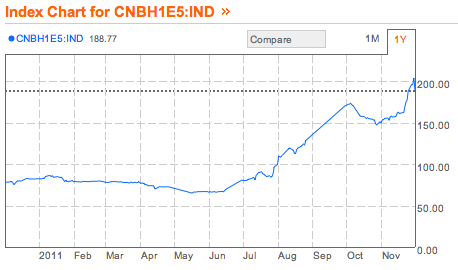 Index for Deutsche Bank AG: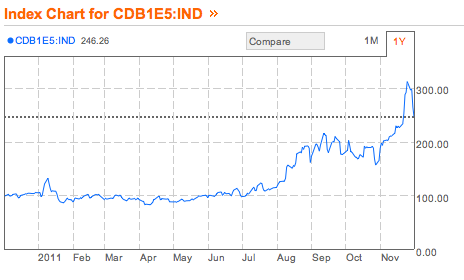 Following investors' expectations, now may be the time to join investors in viewing Sweden as a safe haven in the midst of the crisis in Europe.
Disclosure: I have no positions in any stocks mentioned, and no plans to initiate any positions within the next 72 hours.