Ulta Salon, Cosmetics and Fragrance, Inc. (ULTA) is a specialty beauty service retailer. Each location offers a full-service beauty salon. Incorporated in 1990, the Illinois-headquartered Ulta went public in October 2007. The stock lost near 90% of its market cap within 15 months, following its public offering. However, Ulta has been one of the biggest winners in the last two years. Since its dip of $4.4 in March 6, 2009, the stock made a remarkable run, returning over 1200% to its investors. It was also an outperformer in this year, returning 120% since January.
As of the time of writing, Ulta stock was trading at $74.19 with a 52-week range of $32.01 – $75.69. It has a market cap of $4.55 billion. Trailing twelve month [ttm] P/E ratio is 50.5, and forward P/E ratio is 34. P/B, P/S, and P/CF ratios stand at 9.5, 3, and 27.6, respectively. Operating margin is 10.3%, and net profit margin is 6.2%. The company does not have any significant debt issues. Debt-to-equity ratio is 0. Ulta does not pay any dividends
Ulta has a 1-star rating from Morningstar. It is categorized as a mid-growth company. Out of 10 analysts covering the company, 4 have buy, 2 have outperform, and 4 have hold ratings. Wall Street has diverse opinions on Ulta's future. The bottom line is 21% growth, whereas the top-line growth estimate is 29% for the next year. Average five-year annualized growth forecast estimate is 23.8%.
What is the fair value of Ulta given the forecast estimates? We can estimate Ulta's fair value using discounted earnings plus equity model as follows.
Discounted Earnings Plus Equity Model
This model is primarily used for estimating the returns from long-term projects. It is also frequently used to price fair-valued IPOs. The methodology is based on discounting the present value of the future earnings to the current period:
V = E0 + E1 /(1+r) + E2 /(1+r)2 + E3/(1+r)3 + E4/(1+r)4 + E5/(1+r)5 + Disposal Value
V = E0 + E0 (1+g)/(1+r) + E0(1+g)2/(1+r)2 + … + E0(1+g)5/(1+r)5 + E0(1+g)5/[r(1+r)5]
The earnings after the last period act as a perpetuity that creates regular earnings:
Disposal Value = D = E0(1+g)5/[r(1+r)5] = E5 / r
While this formula might look scary for many of us, it easily calculates the fair value of a stock. All we need is the current-period earnings, earnings growth estimate, and the discount rate. To be as objective as possible, I use Morningstar data for my growth estimates. You can set these parameters as you wish, according to your own diligence.
Valuation
Historically, the average return of the DJI has been around 11% (including dividends). Therefore, I will use 11% as my discount rate. In order to smooth the results, I will also take the average of ttm EPS of $1.47 along with the mean EPS estimate of $2.18 for the next year.
E0 = EPS = ($1.47 + $2.18) / 2 = $1.825
Wall Street holds diversified opinions on the company's future. While analysts tend to impose subjective opinions on their estimates, the average analyst estimate is a good starting point. Average five-year growth forecast is 23.8%. Book value per share is $7.81.
The rest is as follows:
Fair Value Estimator

V (t=0)

E0

$1.83

V (t=1)

E0 (1+g)/(1+r)

$2.04

V (t=2)

E0((1+g)/(1+r))2

$2.27

V (t=3)

E0((1+g)/(1+r))3

$2.53

V (t=4)

E0((1+g)/(1+r))4

$2.82

V (t=5)

E0((1+g)/(1+r))5

$3.15

Disposal Value

E0(1+g)5/[r(1+r)5]

$28.63

Book Value

BV

$7.81

Fair Value Range

Lower Boundary

$43.27

Upper Boundary

$51.08

Minimum Potential

-60%

Maximum Potential

-54%
(You can download FED+ Fair Value Estimator here.)
I decided to add the book value per share so that we can distinguish between a low-debt and debt-loaded company. The lower boundary does not include the book value. According to my 5-year discounted-earnings-plus-book-value model, the fair-value range for Ulta is between $43.27 and $51.08 per share. At a price of $74, Ulta is at least 54% overvalued.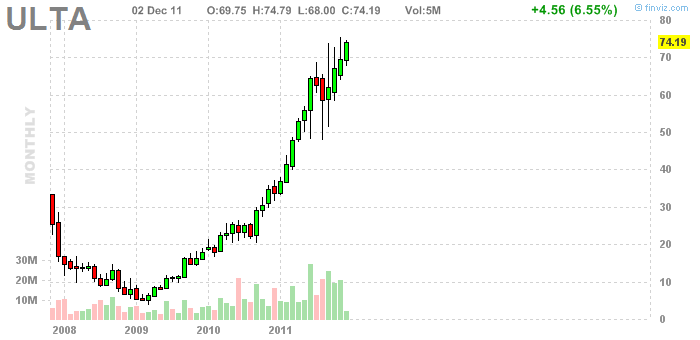 Summary
Ulta is one of the few high-fliers left in the market, which still keeps flapping its wings. However, investors should consider what happened to other high-fliers, including Netflix (NFLX), Green Mountain Coffee Roasters (GMCR), and Salesforce.com (CRM). Those Wall Street darlings, which have been pumped up since their bottom levels, have literally collapsed in this year. While Ulta still kept its momentum, the stock went almost hyperbolic after Friday's 8% jump.
Mr. Market gives Ulta a valuation of $4.55 billion for the 442 stores in 42 states. A simple algebra shows that each store is valued at a price of $10.3 million. Since a typical store is around 10,000 square feet, Ulta's valuation per square feet is $1000. That number is a pretty high-premium for a company that operates as a discount beauty retailer. Surely, there is an aggressive growth factor. However, this growth factor is already more-than fairly priced by the market.
While I tend to be on the bullish side of the market, I cannot stay bullish on a retailer that is trading at 10 times its book value. That is why I think that Ulta is an expensive stock in a cheap market.
Disclosure: I have no positions in any stocks mentioned, and no plans to initiate any positions within the next 72 hours.