The Losers in the Changing Healthcare System.
Thursday, I published part one of who wins in the personalized medicine paradigm shift. To give a quick recap…..Personalized Medicine (PM) means tailoring treatment to the individual. Physicians have always done this, but today's and tomorrow's healthcare system involves using a person's genetic material. Molecular diagnostic companies, sequencing companies, and testing laboratories stand to win, since these type of companies enable personalized medicine.
Now it's time to continue with the sectors I believe will only market perform and underperform.
Personalized Medicine Today
PM has already found itself in medicine today and we will continue to see it grow. It will change the healthcare landscape because it's good for patients, payers, and providers. One example is Herceptin.
Herceptin
Herceptin is extremely expensive. Not all therapeutics work for all patients including patients with the same condition. Herceptin can be used for breast cancer and it costs an estimated $70,000+ per year. Not all breast cancer patients are alike, and in fact, Herceptin only works in 20-25 percent of all patients. Only the patients that test positively for the HER2 gene (the biomarker related to Herceptin) receive the treatment. Two common methods used for HER2 testing are immunohistochemistry (NYSE:IHC) and fluorescence in-situ hybridization (FISH). Abbott Labs (NYSE:ABT) has 90 percent market share in FISH probes and Roche (OTCQX:RHHBY) plays a large part in IHC.
Patients-Get the right treatment in the positive case. In the negative case the patient avoids unnecessary treatment and can worry about getting the right treatment.
Payers-Herceptin cost the payer an estimated +$70,000 per year but less than 1/4th the patients receive benefits. The payer then avoids paying for the greater than 3/4th of patents who would not benefit.
Providers-The provider gets objective and actionable information. The physicians avoid litigation, unhappy patients, and can make better therapeutic decisions.
Tailwinds with Tomorrow's Personalized Medicine
Reimbursement policies
As pressure continues to mount on healthcare costs, shifts towards personalized medicine will be inevitable. Prescription drug costs moved from 40.3 billion in 1990 to 234.1 billion in 2008. The US spends almost 300 billion annually on prescription drugs and this is expected to grow to 450 billion by 2018 according to CMS. The reimbursement policy will need to be more proactive and prognostic and the industry recognizes this problem. A better managed healthcare system would result in reimbursements shifting from therapeutics towards diagnostics since they provide the information for tomorrow doctors to make therapeutic decisions.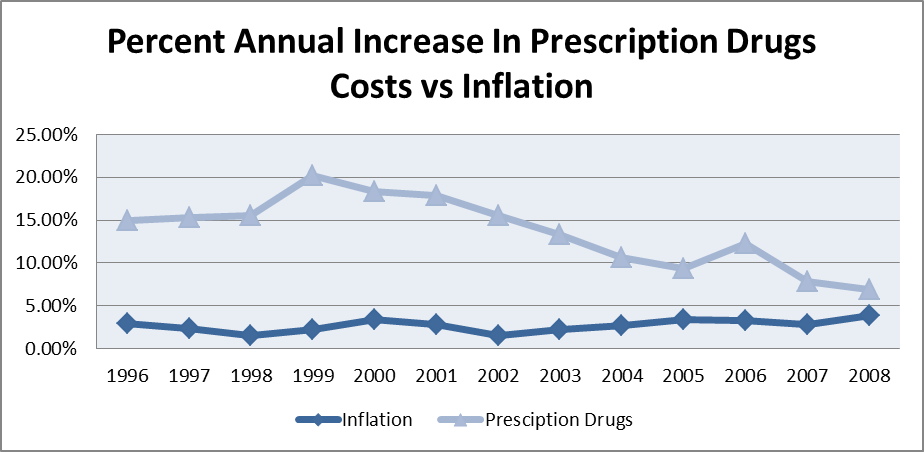 Figure 1: data from Kaiser and US government
Desire to expand therapeutic options
It is getting more and more difficult to get a treatment through the FDA, Pharma pipelines continue to be unimpressive, and the patent cliff looks more and more like reality than myth. Luckily Pharma can use these MDx in order to expand their pharmaceutical portfolios by segmenting their patient populations by who will benefit, who will have adverse effects, and how much a patient can take. This will push the paradigm shift. In the end, pharma will decide that getting safe therapies, to the correct patient segment, and getting approved by the FDA will replace some of the revenues from the dying blockbuster pipeline.
Headwinds with Tomorrow's Personalized Medicine:
Reluctant Pharma
Therapies of tomorrow involve patient segmentation based on genetic data. While this means improved FDA approvals, patient benefits, and speed of clinical trials, this also means a smaller pool of possible patients. Pharmaceutical companies maybe slow to embrace changes in which the addressable market become fractions of the previous market. Large companies are slow to change and slow to embrace new paradigms. Ultimately pharma needs to embrace the model. The previous model of pursuit of blockbuster was profitable, therefore it's possible they will chase the past successes. This can delay the inevitable push toward personalized medicine.
Technology Limitations
The technology of the future has always been predicted to come faster than reality in this industry. Investors and industry insiders are more reluctant to believe changes are around the corner, since that belief has been around for 20 plus year now. The technology will come, however the speed at which the technology comes is still unclear. Reluctance to embrace the new paradigm comes from the belief that the change doesn't have an impact today.
Playing the Changing Healthcare System
We know the shift it coming, so how do we play this paradigm shift as investors in public companies? Here's a sub-industry I believe stands to market perform and underperform:
The Acquirers/Market Performers: Diversified healthcare companies
These companies are actually the biggest players in molecular diagnostics in terms of revenue and market power. However molecular diagnostics makes up smaller percentages of these companies' revenue than most areas of operations. While I expect them to benefit from the personalized medicine trend, its benefit will be only marginal because of the multiple other areas in which these companies operate. The other problem is that many of these types of companies have pharmaceutical holdings. This will represent a conflict of interest when partnering with competitor drugs.
Most likely these companies will remain active on the M&A front. Like most acquirers I suspect they will suffer from "winner's curse," paying for the full extent of synergies. I believe these companies will outperform or underperform the market depending on their other areas of business. Examples: Johnson & Johnson (NYSE:JNJ), Roche Holding (OTCQX:RHHBY), Abbott Laboratories (ABT), and Siemens Healthcare Diagnostics (SI).
Timing and recommendation: These companies can go either way and operate in too many segments to accurately predict their impact with personalized medicine. As a whole they benefit in some areas from PM and struggle in other areas. I recommend only buying if you like most of the segments, or for a reliable dividend.
The losers: Pharma
It's not so much that Pharma will lose because of PM, it's more that Pharma is already losing and cannot position itself well to the new paradigm. I believe Pharma is in a no win right now. Past success has been driven by blockbuster discoveries. The reimbursement system is set up to reward the blockbuster drug and discovering these drugs will be increasingly difficult.
Past discovery methods were mix and match, trial and error on thousands of compounds. While these methods were successful in the past, I believe the industry has "picked most of the low hanging fruit." Pharmaceutical pipelines continue to be unimpressive. Future discovery will have to be more targeted and intelligent. Biologics will most likely bring about the best cures of the future, and they cost more to produce. Discovery costs will increase, margins on biologics are also much lower than small molecule. The reliance on the blockbuster continues for pharma today.
What can pharma do? Pharma will need to use more intelligence discovery methods, use more biologics and use companion diagnostics to shorten FDA approval cycles and get better population segmentations. Pharma recognizes the advantages of personalized medicine but continues to be slow to react due to a reluctance of past business models which were successful. They will be partnering with Dx companies in the future, this will shift a small portion of the revenue to diagnostic companies; something pharma does not seem willing to do.
Pharma always has and will continue to be profitable from an accounting prospective; however this changing of business model does not give the risk/reward opportunities as with the other sectors of healthcare. I predict they will not return more than their cost of capital.
Examples of pharmaceutical companies better positioned for a changing healthcare system: Roche (NYSE:ROG), Novartis (NYSE:NVS). Roche has been consistently an early adopter within recognizing the problems of an empty pipeline. Novartis was late to recognize this paradigm shift, however it was interesting to read a couple days ago that after laying off a couple thousand workers, zero were laid off from their diagnostic areas.
Examples of the bad ones: Almost every large pharmaceutical company. When asked in conference calls, all pharmaceutical companies are saying they realize PM is the future, however very little action has been taken. Be especially afraid of the patent cliff sensitive. Just to name a few typically associated with the patent cliff: PFE, MRK and GSK.
Recommendation and timing: I would recommend getting out of almost all pharmaceutical stocks today. Too much uncertainty in FDA approval processes, willingness to pay premiums, and company pipelines means they do not offer risk adjusted returns. Stay out of Pharma until they demonstrate improved methods for drug discovery. Even though most companies are discounted heavily by the market, I still believe the market does not discount Pharma enough.
Risk to Investment Thesis
Pharma's market power
Remember that pharmaceutical companies tend to be the strongest players in healthcare. This has two consequences: Pharma may be able to lobby policy makers for changes in the reimbursement system to compensate for their expiring patents and lack of new drugs. Number two, never underestimate Pharma's ability to dictate the terms of negotiated deals. When diagnostic companies work with Pharma for new and novel drug discovery methods, in new applications for drugs, and reintroduction of once failed compounds, Pharma will have more leverage and muscle.
In conclusion
The healthcare system is changing fast. Pressure to reduce cost and give more effective solutions in healthcare will completely change the landscape. Diversified medical companies are the largest players in the molecular diagnostics market but it still represents only a small amount of its revenue. Pharma has underperformed over the last 10 years or so and will continue until they can effectively change how drugs are created. Personalized medicine will be the solution for Pharma, but Pharma doesn't appear ready.
Disclosure: I am long ABT.