Telecom is usually known as a sleepy sector, where companies go about their business, avoiding the headlines and slowly but steadily increasing their earnings and dividends. This is true of most companies in the sector, but there are several exceptions. Sprint (NYSE:S) has more drama surrounding it than any of the major US phone companies. Yet we think that its fundamentals, valuation, and recent developments make the company an appealing investment at current price levels.
Over the past year, Sprint has fallen almost 34%, on worries as wide-ranging as a lack of the iPhone, paying too much for the iPhone, and a challenging relationship with Clearwire (CLWR). Below, we address these issues and how Sprint's operating and financial profile, along with recent events warrant a higher stock price.
click to enlarge images

Click to enlarge
Until the announcement that the iPhone 4 and iPhone 4S would be arriving to Sprint, shares of Sprint have been pressured for two reasons. First, investors were worried over Sprint's competitive position relative to its peers in the wireless sector. Yet Sprint managed to add 1.3 million customers in the third quarter, its best quarter in nearly 5 years. The company grew ARPU (average revenue pre user), a key metric in this industry by $3 from last year. These results are inconsistent with Sprint's share price. Though Sprint lost $301 million in the quarter, (10 cents/share), the losses have narrowed dramatically, and Sprint will return to profitability sooner rather than later. Sprint has lost money since the disastrous Nextel acquisition, no doubt one of the worst corporate mergers in history.
Yet that is in the past. On October 14, Sprint began selling the iPhone 4S and, according to the company, it was the best single day for sales in Sprint's history. And the company reached that milestone by 1 PM eastern time. We think this bodes well for sales and subscriber additions in the coming quarter. Sprint has clearly paid a good deal for the iPhone, and while no concrete figures are available, reports have stated that Sprint has committed $20 billion to secure the ability to sell the iPhone. This is a huge upfront price but is a good decision in the long-term for Sprint. The company will join its peers as selling the world's most advanced smartphone, and will be able to market it alongside its unlimited data plans. Sprint is the last major cell phone company to offer truly unlimited data, and we think this will be a major selling point for the company this holiday season.
Sprint shares have fallen not only due to worries over the iPhone, which we think are unfounded, but due to broader market conditions. Sprint's balance sheet is far weaker than that of its competitors, and the average company. As such, in weak markets, companies like Sprint are sold off the fastest. Nevertheless, we think Sprint's balance sheet, as well as its operating fundamentals, are stronger than they appear. Below is an overview of Sprint's balance sheet and its operating metrics.
Sprint Financial & Operating Metrics
| | | | | | |
| --- | --- | --- | --- | --- | --- |
| | Q3 2011 | Q2 2011 | Q1 2011 | Q4 2010 | Q3 2010 |
| Revenues | $8.333 Billion | $8.311 Billion | $8.313 Billion | $8.301 Billion | $8.152 Billion |
| Subscribers | 53.5 Million | 52.1 Million | 51 Million | 49.9 Million | 48.8 Million |
| Postpaid Churn | 1.91% | 1.75% | 1.81% | 1.86% | 1.93% |
| GAAP EPS | ($0.10) | ($0.28) | ($0.15) | ($0.31) | ($0.30) |
| Cash & Cash Equivalents | $4.001 Billion | $3.956 Billion | $3.618 Billion | $5.173 Billion | $4.666 Billion |
| Debt | $18.529 Billion | $18.534 Billion | $20.409 Billion | $20.191 Billion | $20.298 Billion |
| Spectrum Licenses | $20.529 Billion | $20.468 Billion | $18.538 Billion | $20.336 Billion | $20.244 Billion |
Sprint is slowly but surely improving churn, growing subscribers, and decreasing its GAAP losses. Sprint is sitting on billions in valuable spectrum and as a result, the company's book value at the end of the third quarter was $4.35. Sprint is currently trading at just 60% of book value. We think this is a high margin of safety and we believe that fears over Sprint's financial condition are overdone. However, for a true picture of Sprint's financial state, we must examine recent events.
On November 5, Sprint raised $4 billion in debt, going to the bond market for the first time in over 2 years. The company will use this debt to improve its short-term liquidity, as well as finance its own network upgrades, and as it turns out finance Clearwire as well.
On November 29, Sprint announced the early retirement of its 2012 debt. The company retired $2.25 billion of debt, representing all scheduled loan and note maturities in 2012. In addition, Sprint announced a new agreement with Clearwire on December 1. For days there had been a whirlwind of anticipation surrounding Clearwire's interest payment of $237 million due on December 1. Had the company not paid it, it could very well have been put into default, jeopardizing its spectrum. Sprint is offering Clearwire up to $1.6 billion in funding, paying $945 million for unlimited WiMax 4G access in 2012 and 2013, and will commit to operating its WiMax network until at least 2015. Furthermore, if Clearwire raises anywhere between $400 and $700 million of equity from outside investors, Sprint will participate to the tune of $347 million. Sprint will also pay Clearwire up to $350 million if it meets certain performance and network targets related to its LTE buildout.
We think this deal is a positive for Sprint. The company secured unlimited 4G service for the next 2 years, setting itself apart from its competitors, and laid the foundation needed for its own Network Vision LTE program. Sprint will need Clearwire's spectrum, and it cannot let the company default, lest that spectrum will go to creditors.
The one issue we have with Sprint is the way the company's extremely convoluted relationship with Clearwire is structured. In our previous article about Sprint, we praised this arrangement, saying it gives Sprint access to spectrum without the worry of defaulting on Clearwire's debt. But times have changed. We believe it is now better for Sprint to acquire Clearwire outright, for we have seen the extent to which Sprint is held hostage to Clearwire. Sprint is Cleariwre's largest customer shareholder, owning 54% of the stock, yet only controls 49.7% of voting shares. The past month has shown just how dependent Sprint is on Clearwire. Yet, it does not control that company's board of directors. Clearwire would be bankrupt without Sprint's financing, and yet Sprint cannot run its 4G network without Clearwire. This convoluted relationship has cost Sprint $271 million in the third quarter alone, due to the fact that it had to write down the value of its Clearwire shares. A Clearwire acquisition could be a smart idea. Clearwire trades below its book value, and its $4 billion in debt is more than negated by its spectrum licenses.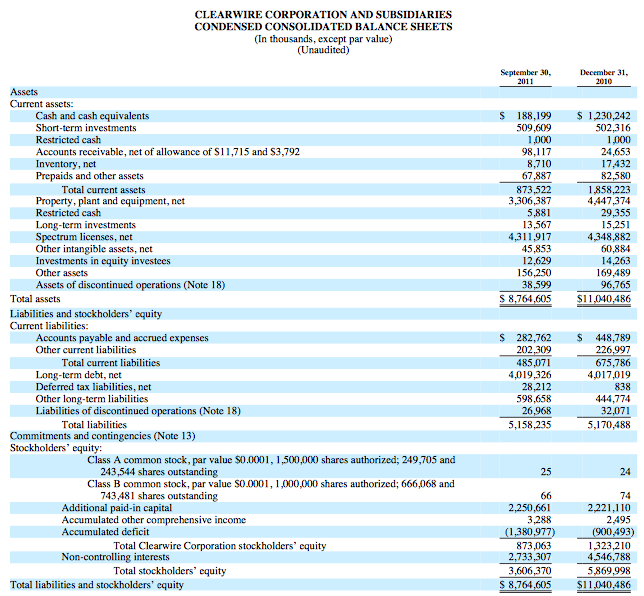 Click to enlarge
A brilliant piece by SR Capital highlighted the virtues of investing in Clearwire. Of note is the fact that Verizon's $3.6 billion spectrum acquisition from Comcast, Time Warner, and Bright House values Clearwire's spectrum at $31 billion, giving the company a value of $30 per share. This deal, while a positive for Verizon, should serve as a wakeup call to Sprint. It must solidify control of Clearwire's unmatched spectrum holdings, either through an outright buyout, or friendly investors. Sprint's financial state, while not precarious, is certainly not as strong as that of its competitors, and funding a buyout of Clearwire may be difficult. Instead, a possibility we would like to see is an investment in Sprint itself that would give the company the financial resources to take over Cleariwre in its entirety. While this would add billions to Sprint's debt, as well as put Clearwire's losses onto the balance sheet, it would add billions more in spectrum that the company needs to retain for itself. While Sprint can block a takeover of Clearwire due to its 54% stake, it cannot control the board, and that is an issue we think should be solved sooner rather than later.
Given the challenges facing Sprint, why should anyone bother investing in the company? Why not simply invest in AT&T (NYSE:T) or Verizon (NYSE:VZ), receiving predictable dividends and knowing that these companies are stable? It is because the upside is far smaller in AT&T or Verzion. Granted, the downside risk in Sprint is larger, but we think the upside in the company is greater than the downside. Sprint trades far below book value, while AT&T and Verizon trade at around 50% above their respective book values. And with Sprint's low valuation, a takeover could possibly occur. Dish has made no secret of its interest in finding a wireless company to build out its own network. Dish CEO Joseph Clayton freely admitted that the company could partner or buy either Clearwire or Sprint. Given the fact that an outside party cannot acquire Clearwire, Sprint would be the logical choice.
Sprint may be the most dramatic of all the major US wireless companies, but at these price levels, it is also the one with the most upside. Below is a profile of analyst targets on Sprint.
Sprint Price Targets
| | |
| --- | --- |
| Firm | Rating, Price Target |
| Credit Suisse | Outperform, $4.50 |
| S&P | Buy, $5 |
| Barclays | Equalweight, $4 |
| Collins Stewart | Neutral, $3 |
| Merrill Lynch | Neutral, $4.50 |
| Morningstar | Buy, $4.50 |
| Reuters Average | Hold, $4.05 |
The average price target for Sprint is $4.05, representing upside of over 55% from current levels. We think Sprint is tremendously undervalued at current levels. Sprint has made many mistakes in the past, but CEO Dan Hesse has transformed this company. The company has shown that it is able to compete with AT&T and Verizon, even without the iPhone, and has slowly but surely improved its financial profile and operating results. We think this holiday quarter will be a great one for Sprint. Sprint has made a name for itself with the "Now Network." And we think now is an opportune time to invest in Sprint.
Disclosure: I am long S.