I would say that the story I am about to update you on got lost in the shuffle during Netflix's (NASDAQ:NFLX) summertime implosion but, sadly, that's not the case. For whatever reason, short of my work on the subject, you can find virtually nothing on it in the financial media or elsewhere even before NFLX took multiple dives.
Back in April, Seeking Alpha slapped my article entitled "A Shareholder Activist Takes Aim At Netflix" with an Editor's Pick. While I appreciate the honor, I do wish the story would have gained more traction. The core issue not only sheds light on how Netflix runs its business and considers its shareholders, but it represents just one example of a small, but meaningful movement that investors should pay attention to.
The April article thoroughly details this larger swell and also includes the following excerpt from a Netflix SEC filing that focuses on a shareholder vote that sought to require the company to move from supermajority to simple majority vote on key corporate governance matters:
click to enlarge images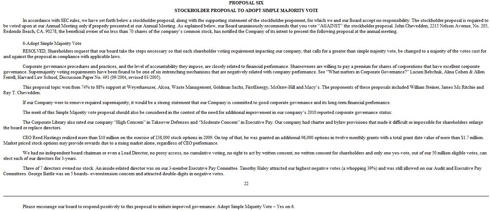 Of course, Netflix went on record at the time opposing the shareholder proposal.
Fast forward to June and a follow-up article I wrote, which details the results of the vote held at the company's annual shareholder meeting:
A June 7th Netflix SEC filing reveals that stockholders overwhelmingly approved the proposal:

What does it all mean? I spoke to Chevedden [activist John Chevedden is responsible for getting the proposal onto the ballot] last night to find out and to get an account of what happened at the meeting. There's a tiny bit of theatre involved.

Chevedden told me that he did not attend the meeting to present the proposal; he sent a "representative." According to Chevedden, Netflix employees asked his representative to leave the meeting immediately after he presented the item.

As Chevedden explained, the proposal is "non-binding." Netflix must choose to adopt it and put it up to another vote that would make it part of the company's Certificate of Incorporation. Clearly, the Netflix board of directors could choose not to adopt the proposal and avoid another vote, but this would go against the will of the shareholders.

When I asked Chevedden what material impact the change might have, if enacted, he stated that it would generally make things more transparent at Netflix and improve corporate governance. For example, as it stands, Netflix requires a supermajority to make changes to key charter and bylaw amendments as well as 67 percent of the vote to remove a board member with cause.
Shortly after the vote, I emailed Netflix IR to ask how the company planned to proceed:

Nearly six months have passed since that email. In the interim, things have fallen apart at Netflix. With a lull in the activity, I decided to email Netflix VP of Corporate Communications, Steve Swasey who, by the way, I like and feel for. I can only hope NFLX's run made him a millionaire because there's no other way I can see a sane human being putting up with his gig. Anyhow, I asked for an update and here's the response I received:

Like I said, I feel for Swasey. He must realize how unbelievably awful his response sounds. But he clearly operates with tied hands. His job is to relay the company's position on this and other topics of interest to the media, analysts and others.
Nevertheless, here's Swasey directing me to Netflix's position in the proxy, written before the vote took place, after the vote took place and passed by a considerable margin. It's nothing short of stunning. Effectively, Netflix management and its board is saying no matter what our shareholders have to say about the matter, our position remains unchanged. The vote was clearly little more than a formality.
What's even more astonishing is that "the Board does not believe it's in the best interest of shareholders..." That's classic Netflix style, right out of Reed Hasting's playbook. You have the board responding to shareholders who told the company what they believe is in their best interest by saying, no, we actually know better than you what is in your best interest. This response would have been bad enough in the absence of what has taken place over the past few months, but considering the broken business model and continued mismanagement of just about everything, it's that much worse.
Add to this, Netflix apparently tabling the matter until the proxy for the 2012 annual meeting takes place. Precedent is not on the company's side. In June, I wrote another article entitled "Will Netflix Follow eBay's Lead In Heeding Its Shareholders?"
In that installment of the saga, I report that eBay (NASDAQ:EBAY), faced with basically the same situation as Netflix, decided to enforce the will of its shareholders by adopting the proposal to move to simple majority vote "at the first regularly scheduled meeting of the Board of Directors following eBay's 2011 annual meeting of stockholders." I closed that article by noting:
This eBay news, however, puts pressure on Netflix to heed the will of its shareholders and do the right thing by amending its by-laws to require a simple majority on all corporate governance and related matters. While I am more than willing to defend Netflix when the company gets unfairly attacked, the media dropping the ball on coverage of the shareholder proposal story does not provide an out for Netflix when it comes to acting in the interest of its shareholders.

It took eBay only two months to bring the issue to the board and for the board to adopt it. Netflix notes it "will consider" ratifying the proposal " in due course." Like an online auction, the clock is ticking. It will be interesting to see if what eBay did has any influence on Netflix going forward.
Obviously eBay's decisive action had no bearing on Netflix.
Draw your own conclusions, but I brought this issue up in April and again in June because, at the time, I believed it was yet another warning sign that Netflix does not necessarily operate in the best interest of its shareholders. In fact, the company often gives off an impression of arrogance in its communications. Although I anticipated non-action, I gave the company the benefit of the doubt. Sadly, it did not come through.
Couple this rebuke of its shareholders' will with recent events, particularly Netflix's aggressive use of stock options as compensation and its stock buyback program followed by $400M financing scheme, and it's clear I was onto an important theme. As the picture continued to worsen for Netflix, this and all of the other drama suggests a Board of Directors that does not do a whole heck of a lot, other than sign off on this or that for Reed Hastings. That has proven to be a recipe for disaster for many Netflix investors who did not have the foresight to jump ship when the jumping was good.
Disclosure: I am short NFLX via a long position in NFLX June 2012 $40 put options.