When Uncle Sam (U.S. Government) needs to have a garage sale, it calls on Liquidity Services, Inc. (NASDAQ:LQDT) to do the dirty work. Liquidity Services operates an online auction marketplace used by businesses and government clients to sell surplus or salvage items.
Liquidity Services has been busy. With countries, cities and individuals in bankruptcy proceedings dotted around the globe (from Detroit to Greece and back), the entire world seems to be for sale - or ready for a merger. So far, Liquidity Services boasts 4,000 selling clients and 1.6 million registered buyers worldwide, reaching across 116 countries.
The company was just added to Forbes' list of 100 Best Small Growth Companies in America, and has been in the top 200 these last four years. It combines the power of e-commerce, both government and corporate clients, and a wide range of goods to be converted into cash - anything from commodities for their everyday customers, to capital assets for corporate expansions, to transportation equipment that can move those assets from point A to point B.
This Washington, D.C.-based company provides its services to more than 3,800 government agencies. One of its online auction sites, govliquidation.com, has 500 commodity categories on sale from airplane parts to forklifts to x-ray equipment, and exclusively contracts with DLA Disposition Services, so that the U.S. Department of Defense can retrieve some ROI for unused or extra equipment. Its multiple revenue streams also include liquidation.com (surplus retail inventory), liquibiz.com (for European governmental agencies and corporations), gowholesale.com (linking advertisers and resale buyers) and Liquidity Services, Inc (marketing to mediation to collections). No stranger to dark economic times, Liquidity Services made it through the shark-infested financial waters of the 1999 "Dot-Bomb" year to the current price of $32+ per share.
The company has experienced an annualized growth rate of over 30% since 2002. Those numbers caught the eye of Zacks Investment Research, which ranked them as "a solid pick for momentum". Also, Liquidity Services got beat out by a partial competitor in the sale of scrap metal, Industrial Services of America, which rated 8th place on the Forbes list. Liquidity Services ranked 79th.
However, as an online auction company, apparently Liquidity Services is rather unique. Zacks Investment Research's report on Liquidity Services indicates that the market cap has increased from $530 million to $890 million in less than a year. Its main competition in the realm of auctions for consumer goods would be eBay (NASDAQ:EBAY) and who has better name recognition and more capital? Industrial services competition would be Alibaba.com Corporation (OTC:ALBCF), the Hong Kong-based company which also includes retail, payment processing, and online auction sites, including Taobao.com (Asia's Ebay). Even though eBay has the advantage of both consumer awareness and more resources, more is not always better. Part of the reason for the great surge in stock value on September 1, 2011 had to do with Liquidity Services's intention to purchase Jacobs Trading which resells excess and returned products for retailers such as Wal-Mart (NYSE:WMT). As an additional bonus, Liquidity Services has added Ben Hanna as VP and Marketing Director, a former senior manager at eBay.
The company has aggressive strategic goals including acquiring complementary businesses. None of its competitors have come close to cornering the market on corporate assets or heavy mechanical equipment, not to mention European connections with government agencies, such as the U.K. Ministry of Defense. Since Liquidity Services uses direct sales and retailers (as well as online auction sites), its strategy of using multiple streams of online presence to establish a greater hold on both commercial and retail markets is clearly producing results.
So long as governments and businesses want to quickly convert their warehoused goods to cash, it looks like Liquidity Services will be open for business.
Investors in Liquidity Services for the lasts two years have tripled their investment, as shown below: (Click to enlarge)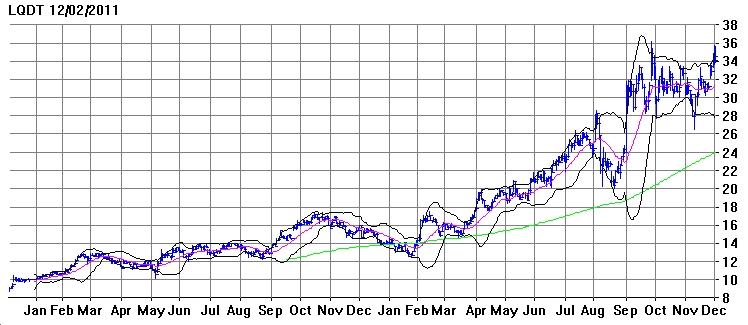 Click to enlargeThe company has an extremely expensive P/E ratio of 118. An investor could be getting a little queasy at this point, and an investment to consider is a married put. The married put strategy enables an investor to realize price appreciation in a stock, yet be protected from a large drop in price. A married put strategy can be entered by purchasing a put option against an existing or purchased stock.
As an example, using PowerOptions search capability, a married put position was found with a maximum potential loss of 8.7%. The specific put option to purchase is the 2012 March 40 for $9.60. A profit/loss graph for the married put position is shown below: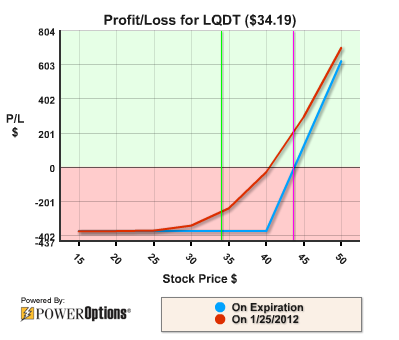 A nice feature of the married put strategy, is that once the price of Liquidity Services stock is at or greater than the $40 strike price of the put option, a call option can be sold for generating income and reducing risk.
Disclosure: I have no positions in any stocks mentioned, and no plans to initiate any positions within the next 72 hours.