The average investor today cannot go to his favorite financial website without seeing headlines of gloom and doom one day, followed by brighter headlines the next. It can extremely confusing and frustrating to try to navigate a market like this. With this reality, it is important to find companies that will be strong no matter the currents of the market. Dice Holdings is one stock that looks like it may well do this.
Dice Holdings Inc. (NYSE:DHX) is a New York-based company engaged in the business of online recruiting services. Its online service helps employers to find potential employees who might be appropriate for certain high-skilled jobs. These jobs are typically ones that are reserved for the highly trained and qualified. Thus, these are the employees that can be difficult for many businesses to find. Dice Holdings is in the business of making this process a bit easier.
Why Dice Holdings is a company worth owning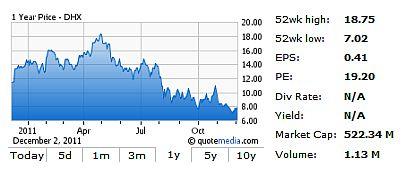 No matter how useful a business may be, it is no good to investors unless the stock is attractively priced. At the time of this writing (December 2, 2011) Dice Holdings was trading at $7.86 per share. This could be a great entry point for investors for a variety of reasons. The first thing to note is that Dice Holdings is expected to earn $0.63 per share for next year. It is always important to examine this number in order to get a picture of the forward p/e of any stock. If Dice Holdings meets expectations for next year, then it is currently trading at a forward p/e of 12.5.
Now, 12.5 as a forward p/e is slightly lower than average, but that alone is not enough to snap up any stock. It is only when one starts to look at the projected 5 year growth rate that things start to get exciting. That rate for Dice Holdings is 23.85% per year. Fair value for a stock is often defined as the price to earnings matching the expected growth rate. This figure is obviously out of order for Dice Holdings at the moment. If the forward p/e was matched with the projected growth rate, then the stock would be trading at $15 a share. That is a 91% increase from its current price!!
Even more good news
Stocks are not just a collection of p/e ratios and growth rates, there are other factors that need to be taken into consideration. Looking through some of these figures turns up more good news for Dice Holdings. Consider the fact that the lowest target price that an analyst has for Dice Holdings is $10 per share. That is over 25% higher from its current price.
Companies that are held in large part by insiders have often been considered to be great investments. It is said that insiders giving their vote of confidence to their own company like this is almost always a good sign. 40% of Dice Holdings is owned by insiders. That is an absolutely incredible amount of insider ownership.
Debt is low at Dice Holdings, and the company has $1.12 per share in cash. There are just so many things from a valuation standpoint that make Dice Holdings look like a buy at these levels. It is off from its higher levels like so many stocks in the market right now, but the outlook for returning to better times looks promising.
Disclosure: I have no positions in any stocks mentioned, and no plans to initiate any positions within the next 72 hours.