The agency mortgage real estate investment trust (mREIT) sector will shortly be announcing their 4th quarter dividends. High income investors wait for this time of year. I, as an admitted 'geek', seek out this time of the year. The core reason to own agency mREITs is the high dividends. In this article I will address agency mREITs specifically.
Agency mREITs earn money by borrowing funds at short term yield curves and investing in higher yielding government sponsored entities (GSE) and mortgage backed securities (MBS). GSE securities are guaranteed by the Federal Government. Agency mREITs do lever the yield spread to enhance net dividend payouts.

Click to enlarge
click to enlarge
Positive Sector Bias Due to Likelihood of Fed Reserve Buying Mortgage Backed Securities
The Federal Reserve is anticipated to buy $545 billion in mortgage backed securities. $545 billion is the average of 16 of 21 primary dealers in U.S. Government Securities. The analysis was provided on November 28th. In essence, this would be the Fed's Quantitative Easing 3 (QE3).
Although QE1 and QE2 have not worked, QE3 is likely to stimulate rising interest rates and rising commodity prices. The future will tell if QE3 addresses the unemployment rate, decreasing housing prices, and worldwide deflationary pressures. State, federal, municipal, and local government agencies remain tightly restricted on spending due to budgetary caps.
Federal Reserve Admits to Secret $13 Billion Bailout to Banks
Fortunately, our Federal Reserve proudly and willingly admitted to loaning $13 billion to six banks during the dark and dreary days in 2007 through 2010. Six banks received 63% of the now disclosed bailout funds: JPMorgan (NYSE:JPM), Bank of America (NYSE:BAC), Citigroup (NYSE:C), Wells Fargo (NYSE:WFC), Goldman Sachs Group (NYSE:GS) and Morgan Stanley (NYSE:MS). The funds were used to ensure the banks remained viable and profitable.
The key issues, pertaining to the Federal Reserve's spending habits, are the intense commitments to spike spending, increase housing and commodity prices, and stimulate the economy. How this effects the agency mREITs is clear: the long term Treasury Bond yield will increase or widen. A widening net yield curve increases the agency mREIT's profits and dividends.
American Capital Agency Corp. (NASDAQ:AGNC)
American Capital is a "buy" in my opinion. I do say "buy" but with a caveat. The stock market has caught up with us. The dividend junkies have discovered us. Sigh. Do not despair, dear investor. We can take advantage of this awareness. The key is to sell covered calls.
Buy Below Book Value
I would advise investors to purchase American Capital at or below book value per share. The current prices are too high to represent a buying opportunity. Due to the quarter's narrow net yield curve, there is a chance the quarterly dividend may be less than the usual $1.40 per share.
I am personally long American Capital and I am short the AGNC Jan 2012 28.000 calls (AGNC120121C00028000). I fully expect the 4th quarter dividend to be $1.40. The management team is number one. Investors can sell the January $28 calls for $80 per contract. The stock will fall after the anticipated, see below, ex-dividend date of December 29th. The dividend will be paid in January 2012.
Dividends
I believe American Capital will announce their dividend on December 16th with an ex-dividend date of December 29th. This is based upon the company's 2010 4th quarter dividend.
Annaly Capital Management, Inc. (NYSE:NLY)
Annaly is the granddaddy of the agency mREIT space. Does that impress me at this point? No. On the other hand, I don't do any investment banking deals with them. If I was Goldman Sachs or Merrill, then I would admit my bias and tell you another story. But, dear readers, that isn't what you would expect from me. Money does "something" to a person's dignity. I fully understand how the game is played.
Annaly continues to outperform its peers. The company has its presence in almost every agency mREIT niche and the non agency mREIT niche.
Anworth Mortgage Asset Corporation (NYSE:ANH)
Anworth is simply a must buy. The equity will declare a dividend on approximately December 16th. The ex-dividend is anticipated to be December 28th. The equity is trading at a 10% discount to net asset value. Anworth must be bought based upon its management, conservative business model, and 14.8% dividend yield.
Anworth is a "buy" at the here and now prices. The equity has the cheapest valuations, a solid 14% dividend, and a cushion on the downside due to the discount to the net asset value.
ARMOUR Residential REIT (NYSE:ARR)
ARMOUR appears to be overvalued in this sector. The stock is trading at a 4.72% premium to net asset value. ARMOUR's 9.09x leverage rate is the highest in the above table.
Jeffrey J. Zimmer is ARMOUR's Co-Chief Executive Officer, Vice Chairman of the Board, President and Chief Financial Officer. Mr. Zimmer was previously co-founder and Chief Executive Officer of Bimini. Bimini failed and Mr. Zimmer has moved on to run a new agency mREIT, ARMOUR.
3 Reasons to Avoid ARMOUR
One reason to avoid ARMOUR is the price to book value per share. The class of the sector is American Capital, and they are trading at 5.19% premium to book value. There is zero reason to buy ARMOUR over American Capital. Period. A second reason to avoid ARMOUR is the use of the highest leverage within the agency mREIT space. The third reason, in my opinion, to avoid ARMOUR is the past failure of Mr. Zimmer with Bimini.
Dividend
The company's monthly 11 cent monthly dividend goes ex-dividend on December 13th and payable on December 29th.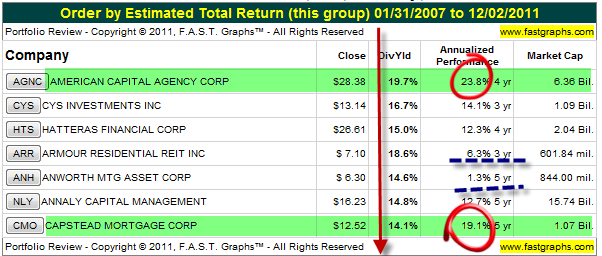 Click to enlarge
Capstead Mortgage Corp. (NYSE:CMO)
Capstead is an agency mREIT that has outperformed many of its peers over the past 5 years. The company has provided shareholders a 19.19% total annualized rate of return. This assumes dividends are not reinvested.
Buy Below Book Value Per Share
Capstead is offering an enticing 14.1% annual dividend. Investors must recognize that Capstead focuses upon residential adjustable rate mortgages (ARMs) versus the longer term fixed rate MBS of its peers. This strategy's benefits, as viewed by Capstead management, include the following:


Dividend
I have reviewed Capstead's 4th quarter 2010 dividend data. I expect Capstead to announce a 44 cent dividend on approximately December 9th. The payment would go ex-dividend on December 27th, 2011 and payable on January 20th, 2012.
I believe a QE3 will make agency mREIT holders seek the American Capital and Anworth's equity prior to Capstead's residential ARM business model.
CYS Investments (NYSE:CYS)
CYS Investments is currently trading at a 6.4% premium to net asset value. The equity offers an intriguing 16.7% dividend yield.
Buy Below Book Value
I would recommend investors purchase CYS Investments at book value per share or lower. CYS Investments, in particular, appears to be trading at the highest premium to net asset value.
Dividend
The yield of 16% is inviting. This will require a sustained widening net yield curve. I anticipate this will occur. If, however, I am wrong we need to buy more CYS Investments below book value per share. The 16% yield stands until proven otherwise.
Hatteras Financial Corp (NYSE:HTS)
Hatteras should be bought below book value per share. The dividend is solid and the equity is only 1% above the book value. I would recommend new income investors purchase Hatteras at $25.30 or below.
Summary
An agency mREIT investor should focus upon the management, the net yield curve, and the stock price compared to the book value per share. The Federal Reserve appears, in a political year, to be ready to unleash a Quantitative Easing 3. This assumption is based upon confirmation from 16 of 21 primary dealers. The net effect should be an increase in the net yield curve.
The new names that are standout positions are Anworth and American Capital. American Capital, however, requires selling the January 2012 $28 option as described above.
In my above described rationale, avoid ARMOUR Residential REIT.
The other names are "holds" for investors. The "buy" triggers will light up as QE3 awakens. Investors need to place strategic buy prices, below book values per share share, on the remaining names. I fully expect the net yield curve to widen. Thus, the agency mREIT model is alive and will awaken in the coming days and weeks. Stay tuned.