Sirius (NASDAQ:SIRI) investors have been reinvigorated with the possibility of a large investment or even a buyout by Liberty Media (LCAPA). Sirius is in the middle of a turnaround that will drive growth going forward. As good as the large investment by Liberty Media sounds, some shareholders view it as a bad thing.
Sirius XM CEO Mel Karmazin recently said, "I'm not really good at working for somebody, I just could not be a No. 2,". Karmazin has had a history of not being able to work well with others. Karmazin left then Viacom (NYSE:VIA) and CBS Corp (NYSE:CBS) due to repeatedly clashing with CEO Sumner Redstone. Karmazin said this about his previous employer, "I don't blame Sumner at all. I'm just not good at that".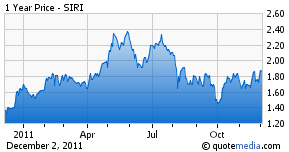 While Karmazin has a good relationship with Liberty Media, he bluntly noted that if Liberty was to take a controlling stake, his role would have to be clearly delineated. This of course brings up several concerns for Sirius shareholders. Karmazin has played a very instrumental role in the company's turnaround and direction. Karmazin's contract will be ending in 2012 which exacerbates the situation further.
I would like to give my thoughts on a couple of concerns investors have about the future of Sirius.
Will Mel Karmazin stay with Sirius if Liberty Media takes controlling interest? With Karmazin's contract coming up for negotiation next year, Karmazin will be a prized asset of the company. I believe Sirius would have to pay up in order to keep Karmazin. I only expect this scenario if Liberty Media were to increase its stake. Liberty Media knows that Karmazin played a big part of the turnaround and will do what they can to keep him.
I envision that Karmazin will have full control in the direction of Sirius with very little oversight from Liberty Media. I also expect Karmazin to get a pretty sizable termination fee if Liberty Media were to decide to end his contract early.
Can Sirius survive without Mel Karmazin? I feel that the probability of Mel Karmazin leaving next year is low. I say this because Liberty Media has already invested a large amount of money in Sirius. Currently, its investment has worked out very well and is worth a great deal of money. I detailed this in my article, Catalysts That Will Drive The Future Of Sirius. Liberty Media will not jeopardize that just because it wants to control the company. Liberty Media's goal is to make as much money possible without interfering with operations. After all, why would you want to change a good thing?
I like to consider every situation, so let's take a look at the worst case scenario. I believe that Sirius will be just fine without Mel Karmazin. Senior executives play very instrumental roles within a company, but I believe that depends in what stage the company is in. A CEO in the middle of a turnaround without a defined vision would have more issues to fix than a CEO in a company that is performing well with a clear direction for the future.
Sirius is in the latter situation. So far this year, Sirius has added over 1.16 million net new subscribers; this is a 6% increase compared to last year. Sirius has also been showing great progress in minimizing expenses and maximizing revenue. The company generated $197 million in EBITDA, up 16% year-over-year for the quarter. Adjusted EBITDA guidance for next year implies a full year margin of 26%, up from an estimated margin of 24% for 2011.
Sirius also has a clear direction for the future. The company's steps into the used car market as well as launching ad supported channels will drive the company's growth going forward. A new CEO can easily continue these projects and allow the company to continue its growth path with little interruption.
I'm bullish on Sirius and view pullbacks as opportunities to add to my position. I'm not worried about a possible Mel Karmazin departure next year. I believe that Sirius has a clear direction that management can follow for the next few years. I would prefer for Karmazin to stay, but Sirius will be fine either way.
Disclosure: I am long SIRI.