By Michael Barton
If it ain't broke, don't fix it. Coca Cola (NYSE:KO) has announced the pulling of its jazzy white cans. The question is, why did it feel the need to put white cans on the shelf in the first place? The traditional red can, by its own admission, is an iconic brand identifier. Its decision to put its mainstay product in a totally alien can was, perhaps, morally justifiable, but morals do not guarantee profits. Now it has decided to replace the white cans with new limited edition red cans two months early. The company management has ended up looking a little stupid, and out of touch with its customer. And Coke's spokesman's comment "The can has been well received and generated a lot of interest" shows a lack of respect for the company's customers. If the can had been so well received, why pull it two months early? Support good causes like the World Wildlife Fund by all means, but not at the expense of company profits, and ultimately shareholder dividends and capital growth.
A lesser known product, strawberry flavored Pulpy Milky has been removed from shelves completely in China where it has been blamed as the cause of death of an individual. The company is undertaking internal reviews and testing samples of the product after suggesting that it had been tainted with phosphorous (the chemical pesticide). Sounds like a potential product quality issue to me, though Coke stated "the case does not involve a product quality issue."
Coke shares are currently trading around $67. Earnings last year were $5.44 per share. This year they are expected to be $3.83, and rising to $4.15 per share in the year ending December 2012. This would place the shares on a forward price to earnings multiple of 16.06. Compare to competitors Pepsi (NYSE:PEP) at 13.84 and Dr Pepper Snapple (NYSE:DPS) at 12.51. Pepsi and DPS offer different positives not shared with KO. Pepsi has a more significant share of the sports drink market, powered by its flagship Gatorade brand. With a public increasingly focused on non-carbonated beverages, Gatorade, G protein series shakes, Tropicana and Quaker products connect Pepsi brands to a healthier image. These parts of the Pepsi company should see reignited growth over the next ten years.
DPS sells Yoohoo, Orangina and Nantucket Nectors as well as its flagship Snapple brand, which, due to its significant presence selling teas and mixed flavor fruit drinks, provides the company a significant beachhead in healthier off-the-shelf drinks. Companies like KO, PEP and DPS can be viewed more as distributors. That is, their value lies in contracts that allow the company to occupy high-traffic aisles in groceries, convenience stores and conveniently located vending machines. This creates a significant barrier to entry for new competitors that lack significant differentiation (like Hansen (HANS) Monster Energy drink, for example) because vendors see no reason to substitute a popular product for one that lacks the same strong brand name recognition. Coke has catching up to do in the brand space when compared to PEP and DPS. As soda sales are flat and KO tops out, KO must compete with less well-known brands like Honest Tea and Bright & Early orange juice.
For dividend investors, KO pays healthy 2.80%. But healthier still are the dividends of PEP (3.2%) and DPS (3.5%). Gross margins at all three companies are comparable, in the range of 53 to 60% (KO is at the upper end).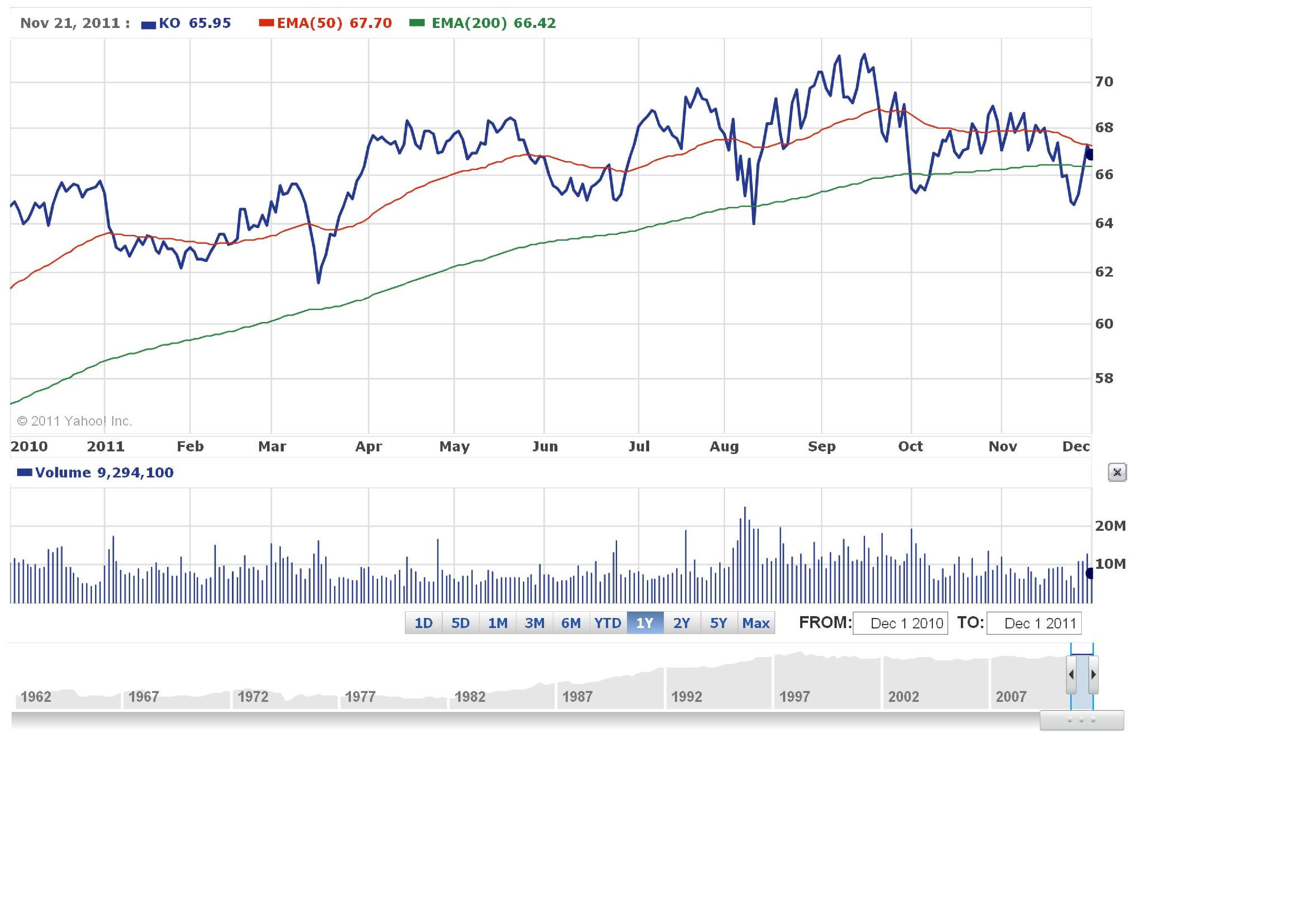 Looking at the chart, it can be seen that KO shares currently trade between the 50-day and 200-day exponential moving averages. The shares are struggling to break above the 200-day EMA, and with this now in a decline gradient I would expect some short term pressure to bear on the shares. A level around $64 would appear to offer good support, though if broken the shares may test their 52-week low of $61.29.
Management seems to have taken a wrong turn or two in recent times (perhaps a little complacency with market position?) and it is my view that both PEP and DPS offer better prospects for shareholders over the next 6 to 12 months. Perhaps it is time to follow Group President Alexander Douglas's lead. He recently sold a total of 263,000 shares, leaving him with a holding of less than 100,000 shares. Insiders have sold a net 750,000 shares this year. I advise selling shares of KO now.
Disclosure: I have no positions in any stocks mentioned, and no plans to initiate any positions within the next 72 hours.