Based on the title you might think I'm spreading the "manure" today, but on the contrary, what I'm about to share with you is very serious and potentially fortunate.
First, some reasons why a Dow (DJIA) 14,000, which would correlate to an S&P 500 of approximately 1,451 is not only feasible, but quite probable.
Keeping an Eye on the VIX
The VIX (or Volatility Index) is close to signaling a bullish breakout. On Friday, December 2nd it closed at 27.52. It would be more encouraging to see it below 25, but it's close enough to reflecting a better mood for the markets in the months ahead. What many of us "independent" analysts would like to see, and what you need to keep your eyes on, is when that number closes below 25 and stays there for a few days. If that happens (and it hasn't for months), it will be a fairly strong sign we're in rally mode once again and the recent 7% rally is more than just a seasonal head fake.
In any event, there's no denying that volatility has returned. Below is a chart showing the two-month average weekly percentage move of the SPX, whether up or down. By this measure, volatility is higher now than at any other time since the 2008 market crash.
click to enlarge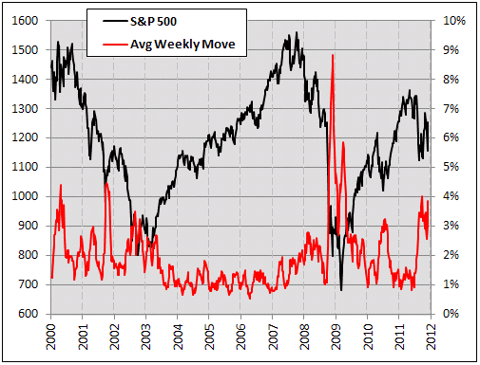 Click to enlarge
Chart Compliments of Schaeffer's Research
You can see that after the earth-shaking financial crisis in the U.S. in 2008, in the final months of the year following, the VIX spiked big-time. Then in December 2008 and January 2009 it settled down only to spike again in February and March 2009.
Are There Different Financial Factors at Work Right Now?
The BIG DIFFERENCE this time (here-and-now) is that there is a gigantic international move to pump trillions of dollars and massive liquidity into the financial markets.
By the time the Federal Reserve in the U.S., the European Central Bank, China, Russia and the Bank of Japan finish their harmonious mega-bailout, we may see the biggest worldwide stimulation of the equity markets in history. If that happens, and the central banks of the wealthiest nations appear to desperately want it to happen, the stock markets will sky-rocket quickly and powerfully.
A Dow (DJIA) of 14,000 is a little more than 16.6% above last Friday's closing. In recent years, since March 2009, we've seen moves of 20% or more on at least two occasions, especially when the Fed was in hyper-mode with "quantitative easing".
If the most powerful media giants like Comcast (NASDAQ:CMCSA), Newscorp (NASDAQ:NWS),Time Warner (NYSE:TWX), Bloomberg and Disney (NYSE:DIS) start spinning the world economic news in an optimistic and rosy fashion, the sky is the limit on the market averages.
Remember about Disney, its Media Networks segment includes broadcast television network, television production and distribution, television stations, broadcast radio networks, radio stations, and publishing and digital operations. It operates the ABC Television Network and 8 owned television stations, the ESPN Radio Network and Radio Disney Network, and 35 owned radio stations. This segment also produces, licenses, and distributes cable and animated television programming; and operates ABC, ESPN, ABC Family, and SOAPnet-branded internet businesses.
So they have a powerful voice and are poised to make huge profits from an upturn in the economy, or by the perception of an upturn.
Time Warner has brands that include TNT, TBS, CNN, HBO, Cinemax, Warner Bros., New Line Cinema, People, Sports Illustrated, and Time. It has strategic alliance with ALDAR Properties PJSC and Abu Dhabi Media Company. It also stands to profit greatly if the financial markets rebound.
Both DIS and TWX are selling below 11 times forward earning and both pay a dividend. TWX shares at $34.41 pay a yield-to-price of 2.73%.
That's fairly attractive when you compare it with a 10-year Treasury Bond which currently yields about 2.04%, although they are state income tax-free and backed by "the full faith and credit of the US. Treasury", if that makes you sleep better.
What Does All This Have to Do With Fertilizer Stocks?
More than we might at first realize. First, I present a 2-year comparison chart between the Dow, Mosaic (NYSE:MOS) and Potash Corp. (NYSE:POT).
Look at the point in the chart just before September 2010 when the Fed announced their infamous "QE2" massive easing and bond-buying program. The DJIA began to take off and so did POT and MOS.
The five-year chart isn't quite as dramatic, but it illustrates the same idea. Click here to see it in all its colorful glory.
When a coordinated, massive international financial stimulus program is heralded in the headlines and on every news show possible, the "wealth effect" will begin to kick in, even though it's a psychological phenomenon. People will feel and think that they are wealthier. They tend to increase consumption, and studies have shown throughout the post-WWII era that it even a perceived "wealth effect" contributes to increased appetites for food and drink.
The growing of "staple" crops and all kinds of agricultural commodities will flourish. That, added to the growing worldwide population (currently above 7 billion people), should be very good for the fertilizer business.
In this group I want to include Agrium Inc. (NYSE:AGU) which produces and markets agricultural nutrients, industrial products, and specialty products worldwide. AGU is also involved in the retail supply of agricultural products and services in North and South Americas and Australia. Take a look at a 2-year chart that compares the performance of AGU with MOS and POT by clicking here.
Perhaps you'd agree that most of the time AGU has outperformed. Currently, among this three companies, AGU is "cheapest" when it comes to P/E ratio, both current and forward.
Looking at the three companies from a PEG ratio (5-year expected) perspective, AGU isn't the lowest and is about 75% higher than POT for example. Another potential negative with AGU is that it barely pays a dividend right now (less than 1%). Their quarterly earnings growth has been sensational lately (up 380% year-over year). AGU was recently upgraded to "Action List Buy" at TD Securities and RBC Capital markets upgraded them to "Outperform" on October 27th, 2011.
So don't be surprised if the DJIA, the S&P 500, along with the media companies and the big fertilizer companies do better-than-expected in the weeks ahead.
No one has a "crystal ball", and only those who control the computer algorithms of the stock exchanges know where the stock indices will be next week or next month. Yet, history has taught us that when the stock market makes a big move higher, it carries the media stocks and the fertilizer stocks "up, up and away".
Disclosure: I am long MOS, POT.
Additional disclosure: I'm considering adding AGU and TWX to my portfolio within the next 72 hours.