In 2008, as Research In Motion (RIMM) was set to report earnings, I thought it was a bright idea to go very bullish on the stock. This was when the stock was well over $100/share. I still recall purchasing only call options for that trade. It was a complete disaster, as Research In Motion missed estimates horribly that day and hasn't recovered since. I learned a very expensive lesson.
Forward to three years later and Research in Motion is in even worse shape. The company has failed to innovate beyond what initially set it apart. RIMM let Apple (NASDAQ:AAPL), Google (NASDAQ:GOOG), Samsung (OTC:SSNLF), and every other smartphone maker take over the market it once dominated without even giving much of a fight. To use an analogy, RIMM acted in the same way Palm did in the beginning of the smartphone boom.
Research In Motion has seen its stock drop to an embarrassing $16.77/share after another 9.7% decrease in price on Friday. The 52-week range is $15.98 - $70.54.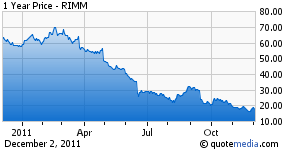 | | |
| --- | --- |
| 52wk high: | 70.54 |
| 52wk low: | 15.98 |
| EPS: | 5.48 |
| PE: | 3.30 |
| Div Rate: | N/A |
| Yield: | N/A |
| Market Cap: | 8.79 B |
| Volume: | 60.09 M |
For Research In Motion, this release is set-up to be another critical one for the company. On December 2, 2011, it issued another profit warning. Please see here for more information. If another major miss is in the cards for Research In Motion, this could get even uglier that it already has become. This stock has deserved to get punished the way it has for the past three years.
While I normally use a 'strangle' option trade for Research In Motion's earnings releases, I do not think that is the way to go on this trade. I do not feel there is a tremendous amount of upside on the call side of the option. The trade I am going to make is a 'reverse iron condor' spread.
The 'reverse iron condor' spread is a neutral options strategy that is placed with a net debit instead of a net credit to the buyer, and can be placed with a lower level trading account. Most brokers will let you place this trade if you are approved with a Level 2 or Level 3. Please check with your broker, and if not approved, you can also request to be upgraded.
This trade is a limited risk, limited profit strategy. Yet, there is a very healthy return awaiting if the stock should make even a modest move after reporting earnings.
I prefer to use the 'reverse iron condor' with soon-to-be expiring options when a company has a history of making a large enough move after earnings to justify placing the trade. I fully believe that this Research In Motion trade fits the bill here, and I will show you how to place this trade and what strike prices I am going to use.
Here is how the 'reverse iron condor' trade is placed accurately using only one (1) contract each for explanation purposes:
Reverse Iron Condor Construction
Buy 1 OTM Put
Sell 1 OTM Put (Lower Strike)
Buy 1 OTM Call
Sell 1 OTM Call (Higher Strike)
Presuming all things remain equal and Research In Motion is trading around $16+/share right before reporting earnings, these will be the strike prices I will use. If the underlying stock changes significantly from this level, you can simply adjust the strike prices, but use my strikes as a model for how to place the trade. I recommend placing the trade before the earnings report on December 15, 2011.
I am planning on purchasing 50 contracts for each "leg" of the trade, and it will look like this:
Buy 50 December $16.00 put options
Sell 50 December $15.00 put options
Buy 50 December $17.00 call options
Sell 50 December $18.00 call options
The current bid / ask spread for this trade is $0.37-$0.47. By using a limit order of $0.43, you should get your order filled with no problem.
Requirements
| | |
| --- | --- |
| Cost/Proceeds | $2,150.00 |
| Option Requirement | $0.00 |
| Total Requirements | $2,150.00 |
| Estimated Commission | $250.00 |
Current Price: $16.77
| Price | Profit / Loss |
| --- | --- |
| 11.25 | $2,850.00 |
| 13.41 | $2,850.00 |
| 15.00 | $2,850.00 |
| 15.57 | $0.00 |
| 15.68 | ($560.00) |
| 16.00 | ($2,150.00) |
| 17.00 | ($2,150.00) |
| 17.43 | $0.00 |
| 17.95 | $2,625.00 |
| 18.00 | $2,850.00 |
| 22.50 | $2,850.00 |
Since I am not expecting Research In Motion's stock to rise dramatically, the 'straddle' or 'strangle' trade doesn't make too much sense here. Add to the fact that those options aren't going for very cheap, this really makes it a risky trade.
On the other hand, this trade offers tremendous upside, with a much smaller move needed in the underlying stock to profit. My total investment on this trade is $2,150.00, and this is with 50 contracts on each "leg" of the trade. You can adjust the number of contracts to an amount you find preferable to increase your profits, or decrease them to limit your investment. Either way, the same price move will produce the same results on a percentage basis.
Remember, this is a neutral strategy, so we can have the stock move up or down to profit. The break-even points are $15.57 and $17.73. With Research In Motion's current price of $16.77/share, to achieve the maximum profit the stock will need to move down $1.77, or 10.5%
However, if the stock price moves up $1.18, or only 7%, you will also profit the same as if the stock moved down. This is truly the beauty of this strategy. What I like about this trade is the ability to achieve a 74.4% ROI on this trade, while still being neutral as to the direction.
Another great aspect of the 'reverse iron condor' is that you can close your position early if you are happy with your profit. While the maximum gain is possible by holding until the day of expiration (in Research In Motion's case it is the next day after earnings are released anyway), you do have that option to close, so keep that in mind. I will often do this to lock in profits early.
Disclosure: I have no positions in any stocks mentioned, but may initiate a long position in RIMM over the next 72 hours. I will be purchasing a 'reverse iron condor' spread on RIMM next week