Paying for radio is just plain stupid.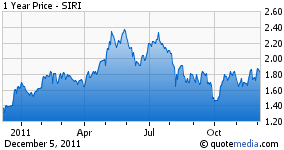 This has been the sentiment of the market for quite some time – that is of course until you have been caught listening to Sirius XM (NASDAQ:SIRI). You see, over the past couple of years it has more than shown a remarkable ability to get many listening ears hooked on the service or (in other words) lure smart people to subscribe.
At the last count, there are (at least) 21 million stupid people in the world and according to Sirius, more were born in its recent third quarter - 334,000 of them. Alright, I'm saying all of this in jest because the reality is Sirius' target market are mature professionals – predominantly, those who have to first be able to afford a new car in order to become a subscriber.
The company relies heavily on discretionary spending. So as its subscriber base continues to grow, it is somewhat of a contradiction to suggest that the income of its growing consumer base is not only growing in unison, but subscribers are getting smarter as well. So what's the big deal? The big deal is, fundamentally, the "idea of paying for radio" offends a lot of people. It's the old adage of, why pay for something when it can be received for free?
What's In A Name?
What can Sirius do about changing that perception, particularly as it is now only a few weeks away from raising its prices? It needs to first re-brand itself and drop the words "satellite" and "radio" from its name – two antiquated ideas that are (frankly) no longer sexy. We have seen this rebranding from the likes of Apple (NASDAQ:AAPL) when it not only redesigned its logo but it also dropped the word "computer" from its name – the reason is that it realized its services and products portfolio spans more than just computers. Other companies that have gone through a metamorphosis (of sorts) include IBM (NYSE:IBM), Microsoft (NASDAQ:MSFT) as well as Starbucks (NASDAQ:SBUX).
I recently stumbled upon a few quotes from Sirius CEO Mel Karmazin. In his Q2 earnings announcement he said the following:
I think you can make your own judgments by going into Best Buy (NYSE:BBY) and Circuit City and taking a look. Every time that we go in there, we see our competitors product there. We believe that the reason for our share is what we have been saying for some time, and that is that our high level of consumer awareness, high level of this unaided awareness, having the best content on radio largely driven by Howard Stern.
Again, the time that people spend mostly listening to the radio is when they are in that car and in morning drive time. The fact that we have attracted the number one radio personality in the history of radio to Sirius on an exclusive basis where he is not available anywhere else and where they can listen to him driving to work and driving home from work is going to be a big deal each quarter.
We don't think that, like many analysts have said, there is a Stern effect for one quarter or maybe two quarters. We believe that Howard and the rest of our content is going to have an impact on our subscriber growth forever, as long as it is there ...
If you find his comments odd as much as I did it is because those comments came during the Q&A portion of the company's second quarter earnings announcement in 2006. In the first bullet, he mentioned "our competitors" – a reference (I assume) is made regarding (then) XM Satellite Radio before the merger and this was on the heels of having secured Howard Stern, the biggest name in radio. In the second bullet he more than emphasized listener's dependency within the car by saying either the words "radio" or "car" or "drive" – the entire transcript made me wonder if anyone did anything noteworthy outside of driving? Here we are seven years later and the mindset continues.
More Than Radio and More Than Stern
In an article earlier this year written by Seeking Alpha Contributor Mick Trivane, (posted by Satwaves) in his comparison to Pandora (NYSE:P), he made the following points while describing Sirius:
First, Sirius XM chose to create and provide a service to deliver music, comedy, news, sports, talk, traffic, weather, health and religion, unrestricted in its range, unlimited in its usage, uncensored in its content, and in some cases, exclusive in its offerings, made available from coast to coast to a willing, loyal customer base, who, in return for this unrivaled service, agrees to pay a fee on a monthly, yearly or lifetime basis.
In other words, Sirius XM has a business model designed to make a profit, and though it may have taken many years to ultimately achieve, the plan has become sustainable and today continues to grow in size, popularity and profitability. Admittedly, it is initially given away for free on a trial basis, but with the self confidence and knowledge those who are exposed to the service love it.
I have no choice but to agree with Mick on this point. So far, during each quarter of this year, Sirius has confirmed precisely the points that were just made – it is able to monetize its model. But it is in the first bullet where its value lies and thus suggests that a strategic name change is more than necessary.
Sirius XM Audio Entertainment - Has A Nice Ring To It
I think that name is exactly what Sirius should consider itself heading into 2012. Where people may feel stupid for paying for radio, consumers will not mind paying for "audio entertainment." It has to do with the value proposition. Listening to the content on Lynx, or on your smart phone, or through the internet – these can be considered (just) listening to the radio. It's more akin to on-demand - speaking of which, HBO realized this several years ago when it came up with its "it's not TV" slogan. It presented significantly more value, especially now with its popular HBOGo streaming service that is giving Netflix (NASDAQ:NFLX) a run for its money.
In Sirius' recent marketing material, subscribers were reminded of the upcoming radio-transcending features of its upcoming Lynx receiver. The material notes the following:
Sirius XM announces Satellite Radio 2.0. Listeners can now enjoy 25 additional channels, better sound quality, have added functionality like "on demand" content and time shifting capabilities, as well as being able to purchase songs that you love. Many of these great capabilities are best utilized on new retail radios or by using our Sirius XM Internet Radio service which offers over 20 additional channels above and beyond the 25 we are adding on the satellite service.
Thank you for your dedicated listenership, and we look forward to delivering you the Best Radio on Radio.
Yet in the second bullet, Sirius continues to consider itself (only) "the best radio on radio."
Summary
It seems as much as Sirius is moving forward it struggles to leave old technology behind – which is what "radio" is. While it continues to be a great turnaround story, I think this tight definition will hinder its tech image that it eventually might want to adopt. As more mature companies have come to realize, this shift needs to occur as the company also considers embracing more change – an event that I am certain will not only introduce more revenue streams to the company, but also make its current subscribers feel "less stupid."
Disclosure: I am long SIRI, AAPL.