Hewlett Packard Company (NYSE:HPQ)
Yield: 1.78%
Dividend Amount: $0.12
Ex-Dividend Date: December 12, 2011
Beta: 1.13
Hewlett Packard Company offers various products, technologies, software, solutions and services to individual consumers and small- and medium-sized businesses (SMBs), as well as to the government, health and education sectors worldwide. The company was founded in 1939 and is headquartered in Palo Alto, California.
You may read my other Hewlett Packard articles by clicking here.
I have been a big fan of HP for over a year. A quick look at the chart will demonstrate it has been quite the ride. As someone who sells puts or call-writes with options to enter into stocks, I have been able to limit the beta and the loss when HP dropped lower. I have also made money on many options that expired worthless. HP has maintained the dividend rate and now with the stock trading lower, it's possible to enter into a long with HP for a dividend capture. If the price does trend lower, which I believe is doubtful due to the beating already, HP makes a good investment choice for exposure in the technology sector. HP is a core holding on some retirement accounts I manage including my own.
There are several dividend harvesting approaches. Some are better than others. The trick is to minimize the amount of risk and still have an edge. This is one of my favorite and easy to understand methods of making gains with options and dividends. I get asked often how long I normally hold the position before closing out. On average I enter into a position with the idea I may hold it for a month with the current numbers here.
In this article we will go over an upcoming dividend that I may capture with a minimum amount of risk. The criteria that I use is that I must be able to sell a call option in either the front or first back month that is in the money, and with enough premium that I will not mind getting exercised early (which happens often and can be a good thing if the trades are executed correctly).
Strategy
In combination with my buying the stock and after checking company updates, offer to sell the December $28.00 strike call for $0.43 over the intrinsic value. The option may get exercised early for a gain. If not, after qualifying for the dividend, I will look to close out the covered option with a gain of about about $0.26.
The dividend will be nice, but the option premium is the real target in this investment.
The P/E ratio has been recently discounted, as the current trailing twelve months (ttm) P/E ratio is 8.3, while the forward P/E ratio is now 6.9. An upside earnings report may put a lot of wind in the sails. The current book value per share is 19.44.
For the same fiscal period year-over-year, revenue has improved to $127.25 billion for 2011 vs. $126.03 billion for 2010. The bottom line has falling earnings year-over-year of $7.07 billion for 2011 vs. $8.76 billion for 2010.The company's earnings before interest and taxes are falling with an EBIT year-over-year of $9.68 billion for 2011 vs. $11.48 billion for 2010.
At $28.25, the price is currently below the 200 day moving average of 33.28, and above the 60 day moving average of 25.47.
The stock has moved higher in price 4.91% in the last month, and -36.85% from one year ago.
When comparing to the S&P 500, the year to date difference is -32.76%.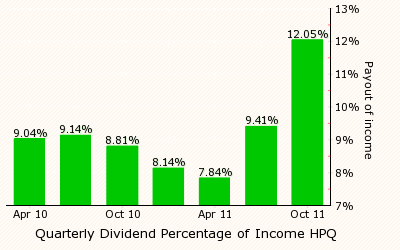 Remember, you must buy a stock at least three business days before the record date (at least one business day before the ex-dividend date) to qualify for a dividend.
My last step (completed before making a trade on the same day) is to check company announcements and news sources for possible events that may cause the stock price to move. This is especially important during earnings season.
I research the different call options and calculate the expected probabilities based on Beta, Bid, Offer, Volume traded the current day, open interest, and time value/implied volatility. The options offer some level of protection from down moves in the stock, and provide revenue to cover the times that the options do not fully cover down moves in the stock. Income is not needed from the option premiums, so a break even from premiums received/stock losses ratio is a win.
I use a proprietary blend of technical analysis, financial crowd behavior and fundamentals in my short-term trades, and while not totally the same in longer swing trades to investments, the concepts used are similar. Nothing in the article should be considered investment advice, but you may want to use this article as a starting point of your own research with your financial planner.
Disclosure: I have no positions in any stocks mentioned, and no plans to initiate any positions within the next 72 hours.