Apple (NASDAQ:AAPL) was co-founded by the late visionary Steven Paul Jobs and has completely transformed every industry it operates in. The focus on innovation has made Apple one of the largest and best performing companies in the world. I have recommended option strategies on Apple since 2010 with tremendous results. For reference, please view the first and other articles in the series to fully understand the strategy and its strong potential returns. As we enter the post-Jobs era, it is even more important to keep a close eye on your investment and execute care with your trades. Since Jobs has passed the company's performance will be under a magnifying glass.
Click to enlarge

Click to enlarge
A brief recap of this week in Apple (Up $17.52 (4.7%)):
Was this the week that Apple investors have been waiting for? Apple climbed nearly $20 last week to return over $390 before closing at $389.70 but the 5% rise in Apple fell short in comparison to the Dow's 7% increase. This can be a baffling trend to the common investor as a high quality company with relatively low European exposure was battered down for weeks but did not share in the recovery. I have seen Apple follow similar patterns in the past as the stock underperforms the broader market in the month between earnings announcements only to rally in the weeks leading up to earnings. Normally I would not be concerned but the amount of negativity surrounding Apple is certainly higher recently after the passing of Steve Jobs.
In what is becoming a common theme, Apple's competitors are still struggling mightily. This is epitomized by Research In Motion capitulating by effectively abandoning the Playbook and introducing Mobile Fusion to support iOS and Google (NASDAQ:GOOG) Android devices. The notable exception appears to be Amazon (NASDAQ:AMZN) which is having success with its Kindle Fire. I am still of the opinion that the Kindle Fire will drive iPad sales eventually as consumers will want to trade-up for a better user experience. This opinion has even been echoed by Tim Cook. To draw an analogy, the Kindle Fire is the "starter house" of the tablet world but consumers will eventually want to buy their dream house. Furthermore, if Apple's historical product launch cycle continues we will see the iPad 3 announcement in the next six weeks. The iPad 3 will further Apple's lead while allowing for a price drop on the iPad 2 line that will make the magical device even more affordable. With such headwinds and an affordable valuation (PE in the mid-teens before adjusting for cash-plus), Apple is well positioned in the upcoming months.
Below I present three possible scenarios and the potential returns for the Apple options. The first scenario represents a negative outlook for Apple while the final two scenarios are more reasonable. These scenarios are just projections and there is no guarantee that they will come to fruition. As a general rule, selling calls with higher strike prices has greater potential return but additional risk of loss due to the lower (or lack of) downside protection. For more information on the fundamentals of covered calls, consult Investopedia.
Click to enlarge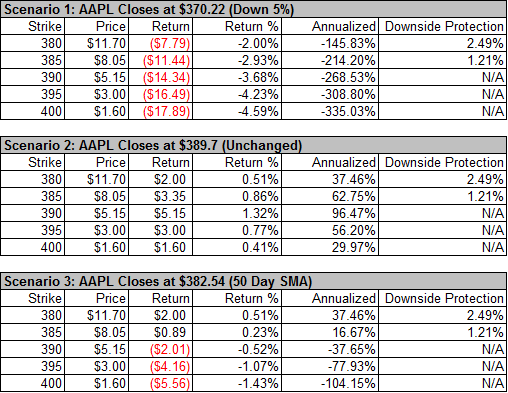 Click to enlarge
Additionally, if you would like even more information, I have prepared a sensitivity analysis for absolute return and percent returns, respectively. After studying the information above, these two charts make it easy to pick a strike price based on where you believe Apple will close on Friday.
Click to enlarge

Click to enlarge
For the past two weeks I have suggested buying February 2012 Apple 400 LEAP Calls when they were trading at $13.50. After one week the options surged up to $18.90 for a staggering 40% increase over five short trading days. I still believe that Apple will rise to $400 by the end of the year but after the dramatic surge in the market last week I suggest that some profit taking is prudent.
With this information, executing a buy-write on AAPL December 9 (Weekly) 395s is the optimal risk-return strategy. If you are uncomfortable with this strategy I suggest a buy-write 390s or 400s. Even if you are extremely bullish you can still profitably sell covered calls. Apple is volatile enough that you will have opportunities to repurchase on dips. An alternative approach is to sell out-of-the-money 385 puts and collect the premium without having to purchase the stock outright. Note that if the stock declines to the strike price, you are obligated to buy the stock (or closeout the position). I would personally avoid any option selling for now but keep the potential on the table.
Disclosure: I am long AAPL, GOOG.