In the past two weeks we have seen the market plummet last week. Then it soared this week. How can you invest in this kind of market? One way is to bet on gold. The ECB is likely going to lower interest rates again this month. It has been buying sovereign bonds, especially Spanish and Italian ones, to stem the attacks on the various EU member bonds. The EU seems to be positioning itself to do more concerted money printing to stave off the bond attacks. China recently lowered its reserve requirements. The RBA lowered rates last month, and it may do so again this month. Virtually all signs point to higher inflation for the future. The only worry is a market panic due to the EU credit crisis and coming EU recession. That would almost certainly push commodities down, including gold.
The good news for the long term investor is that gold will most likely rebound from this quickly. With central banks easing around the world, the likelihood of inflation in the near future is high. With the Euro, the USD, and the Yen all troubled, more and more people will look to gold as a reserve currency for the next few years, if not the next decade or more. There is no major currency that can instill confidence as a reserve currency. There are simply too many doubts being pointed at the EU, the US, Japan, and China. Only the historical reserve currency -- GOLD -- has remained largely untainted. This means that the price of gold likely will go up longer term. It means that good growers in the gold mining business will do well longer term. In fact, they may well far outperform the metal gold itself. A big, strong miner with a great five year percentage growth forecast per annum is AngloGold Ashanti Ltd. (NYSE:AU) with a five year per annum earnings growth forecast of 64.90%. This is the kind of number that generally is thought to belong to an exploding tech stock, not a mundane gold miner. To me this makes AU just that much more exciting. AU may go down in the near term if the market falls dramatically. However, it should far outperform the overall market longer term. This growth figure is just too good.
In order to achieve this kind of growth, AU must have a lot of exploration and development activity going on. The chart below shows just how immense the AU development pipeline is.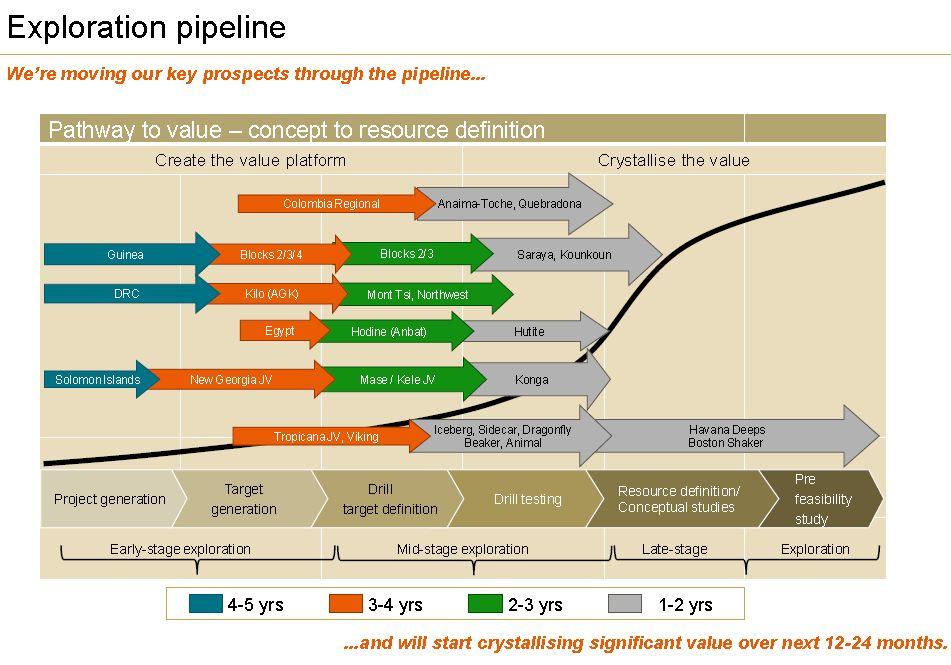 Click to enlarge
(Click to enlarge)
The current and future forecast company production reflects that many of the items in the pipeline are just starting to become relevant to production. The chart below shows AU's overall production behavior.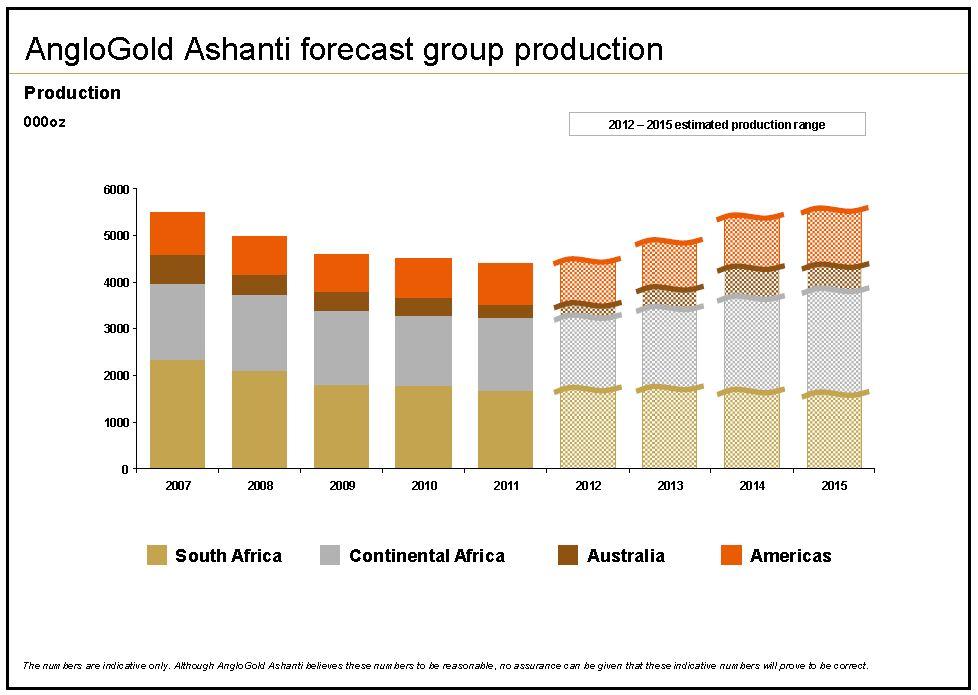 Click to enlarge
(Click to enlarge)
As you can see, AU is just this year hitting the bottom of the production graph. The company expects to grow production progressively in 2012-2015. It The chart below suggests how profits will likely follow that.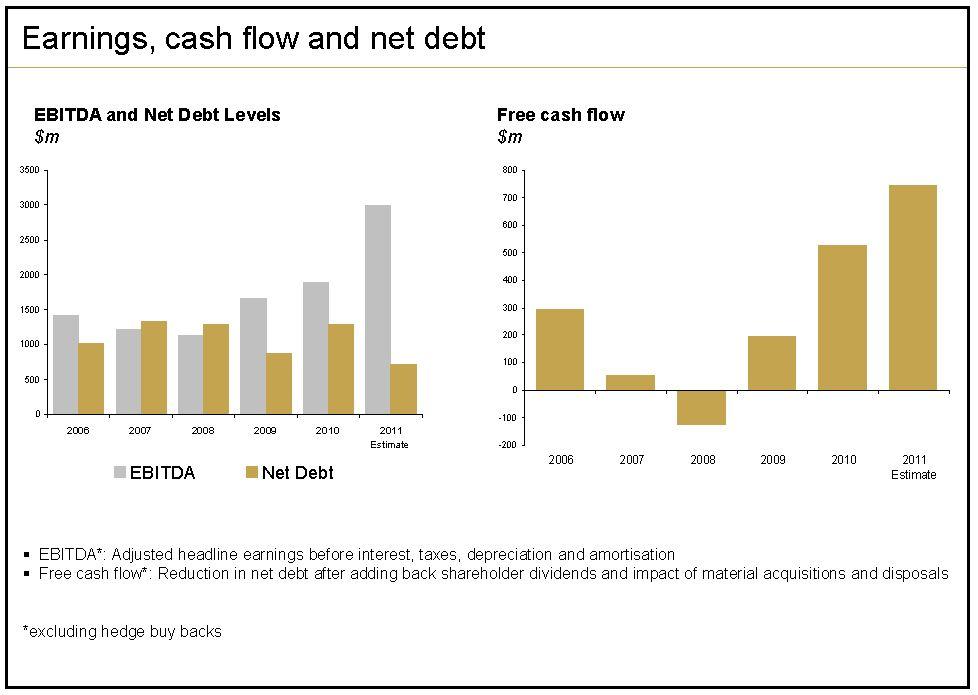 Click to enlarge
(Click to enlarge)
Of particular note in the above charts is the sequential increase in cash flow each of the last three years. This is a sign of an extremely healthy company. When you couple it with the recent decrease in net debt relative to the increase in EBITDA, you get a very rosy picture. Further there has been a healthy, sequential increase in EBITDA each of the last three years. This speaks well of the company. AU is literally growing its reserves by millions of ounces of gold, and it is growing its profits right along with that.
If you buy AU now (or soon) you will likely be buying it in the sweet spot of its development process. You can take the almost inevitable ride upward as AU's production rises. It is also likely that the price of gold will rise over the next several years. It is in a strong uptrend that is showing no signs of weakening. Plus the world's major currencies are all showing dire signs of weakness.
The 2 year chart of AU's price performance lends some technical detail for a trade.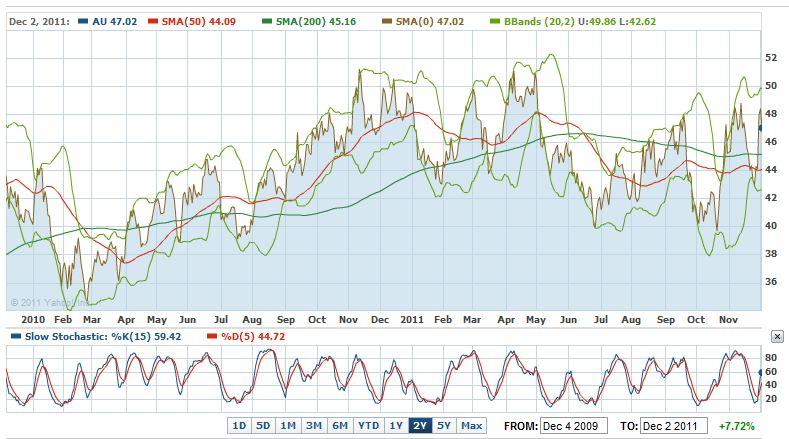 Click to enlarge
(Click to enlarge)
This stock has traded in a ragged trading range for much of the last two years. The fundamental data present above seem to justify this behavior. The fundamental data also justify a breakout from this behavior in the near future. If you are worried about the overall market plunging in the near future, you might want to wait until a noticeable breakout starts to occur. You might set a "buy" trigger at approximately $52. Alternatively, you could just begin to average in now at a lower price. It seems most probable that this huge, stable gold miner's stock will go up in the near future. However, it is important to note that AU's price fell to $15.10 in the fall of 2008. That coincided with the Lehman induced panic and AU's own free cash flow and EBITDA lows. It seems unlikely that that will repeat this time given AU's much improved 4-5 year outlook for production, EBITDA, and cash flow. Still an overall market downturn is cause for worry.
One possible strategy one could use would be to buy some now to take advantage of the Christmas rally that most of the money managers seem to want (and therefore seems likely to occur). If the news from the EU starts to worsen considerably, you could sell your AU stock. Then you could to try to buy it back at a lower price.
There appears to be good technical support at approximately $40. With the improving fundamentals of the company, it seems likely that AU's stock price will be able to find support there (or would soon return to at least that level after an overall stock market crash). Therefore you might put a longer term buy order in at approximately $40 to try to catch that low. Given the improving fundamentals of AU, it may not reach that low in the next several years. Averaging in may be a better strategy. Still both are food for thought in buying this major miner with greatly improving fundamentals.
I note that AU is not by any means the only big miner with good growth prospects. Other big gold miner's with great 5 year EPS growth per annum forecasts include: Goldcorp Inc. (NYSE:GG) at 43.19%, Barrick Gold Corp. (NYSE:ABX) at 38.97%, and Newmont Mining Corp. (NYSE:NEM) at 15.55%. Still these all pale in comparison to AU's 64.90% growth forecast (Yahoo Finance).
Good Luck Trading.
Disclosure: I have no positions in any stocks mentioned, but may initiate a long position in AU, ABX over the next 72 hours.