From 7/31/2009 to present day, shares of Google, Inc. (NASDAQ:GOOG) have gained 40%, rising from $443.05 to $620.36. Not a bad return over a two and a half year stretch. But as many know, the stock has technically been range-bound for nearly two years, as the stock closed on 12/31/09 at $619.98. That's just 38 cents below Friday's closing price.
It should be noted that the stock has been in an upward trend since 07/02/2010, but has found some difficulty in breaching its 52-week high of $642.96, which was set on January 19th.
GOOG 2 /12 Year Chart
Click to enlarge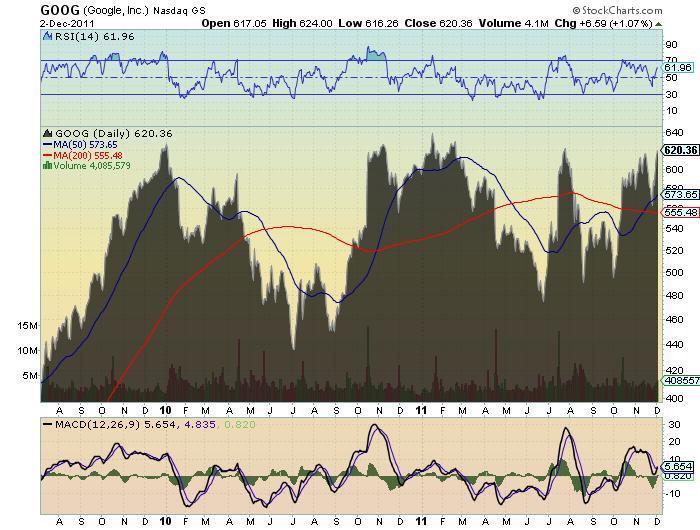 Click to enlarge
2012: The year Google moves into a new trading range.
It has recently been reported that Google is planning to get in the ring with e-commerce giant Amazon (NASDAQ:AMZN) to challenge Amazon's Prime program and increase its exposure to a rapidly growing market. The company is said to already be involved in discussions with big name retailers and shippers.
Some are skeptical about the move and have questioned whether the company is equipped and competent enough to make the effort successful. To those people, I would simply say:
Is there risk involved? Of course, but it's Google we're talking about, here. If it wants to get something done, it will.
In addition to the above, in August Google announced its plans to acquire Motorola Mobility Holdings (NYSE:MMI) for $12.5B and is currently in the process of obtaining EU regulatory approval for the deal, which is expected to close in early 2012. The deal will greatly enhance Google's already impressive patent portfolio and will no doubt lead to increased Android powered mobile handset and tablet sales. Furthermore, there seems to be no signs of slowing in Google's primary growth driver, which is and likely always will be ad revenues.
Valuation Measures:
| | |
| --- | --- |
| Market Cap (intraday): | 200.93B |
| Enterprise Value (Dec 4, 2011): | 165.62B |
| Trailing P/E (ttm, intraday): | 21.15 |
| Forward P/E (fye Dec 31, 2012): | 14.14 |
| PEG Ratio (5 yr expected): | 0.85 |
| Price/Sales (ttm): | 5.56 |
| Price/Book (mrq): | 3.62 |
| Enterprise Value/Revenue (ttm): | 4.63 |
| Enterprise Value/EBITDA (ttm): | 12.32 |
Balance Sheet:
| | |
| --- | --- |
| Total Cash (mrq): | 42.56B |
| Total Cash Per Share (mrq): | 131.41 |
| Total Debt (mrq): | 7.26B |
| Total Debt/Equity (mrq): | 13.24 |
| Current Ratio (mrq): | 5.63 |
| Book Value Per Share (mrq): | 169.35 |
Abbreviation Guide: B = Billions
mrq = Most Recent Quarter (as of Sep 30, 2011)
ttm = Trailing Twelve Months (as of Sep 30, 2011)
fye = Fiscal Year Ending
With as much cash as the company holds at any given time, the possibilities seem limitless from an M&A outlook. Just last week the U.S. Justice Department approved Google's $400M acquisition of Admeld, asserting that it doesn't see the deal harming consumers in any way. In the first three quarters of this year alone, the company made 57 strategic acquisitions of intangible assets. That is a pace that makes General Electric (NYSE:GE), at the height it its company and competition-collecting days, look sluggish. One can envision and guess at any number and combination of future partnerships and acquisitions in the months and years to come.
From both technical and fundamental standpoints, with the company's continuing growth (hopefully accompanied by an improving economy), I can see Google trading in the $740-$790/share range a year from now, representing, at minimum, a 19% increase from current levels. As such, GOOG will remain in my portfolio as a long-term hold into 2012 and I will continue to add on dips and general market weakness.
Disclosure: I am long GOOG.