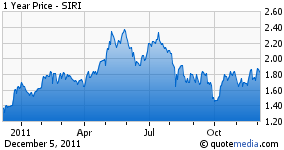 Last week I wrote about Sirius XM's (SIRI) subscriber guidance of 1.6 million NET additions for 2011. I expressed the opinion that reaching the guidance was a challenge. It is not that the company cannot get there, it is simply that it is no longer a walk in the park.
One opinion shared by many is that Mel Karmazin tends to "under-promise" and "over-deliver." There is nothing wrong with doing this, and in many ways it can be considered a prudent way to temper expectations to realistic levels.
Any time I pen an article outlining some of the challenges facing the audio entertainment sector I tend to get a lot of flack by some passionate investors. When I express a concern it is simply because I am seeing something that I feel is worthy of investor consideration. If the mantra of "under-promising" and "over-delivering" is no longer true, knowing that would be good as we look forward.
One commenter to my last article went so far as to say that the subscribers may miss, but they will beat adjusted EBITDA guidance, revenue and free cash flow guidance,
"Let us assume Sirius does miss the 1.6M. Is this the end of the world? Of course not. Because Sirius will definitely beat its EBIDTA guidance of $715M, revenue of $3B and will report the best ever FCF well over $200M. Is this big enough to prove that the company is doing very well? Of course. But not enough for a lot of jerks who will zero in like hawks on this 1.6M number to undermine the company and its stock."
What I find interesting here is the dynamic that all is well until it is not well, then all is well anyway. Let us not forget that Sirius started off 2011 at a price of $1.69, has traded as high as $2.45, and as low as $1.45. Over the last four months, the equity has been in a range typically between $1.70 and $1.90. If everything is rosy, why does this equity stay in such a range? So let's look at the rest of Sirius XM's guidance, and what is needed to obtain it.
Net subscriber additions of 1.6 million,
Full year self-pay churn and conversion rates for 2011 should be broadly similar to those seen in 2010,
Revenue of approximately $3 billion,
Adjusted EBITDA of approximately $715 million, and
Free cash flow approaching $400 million.
Net Subscriber Guidance
This metric was discussed at length in two previous articles. The meat and potatoes is that Sirius XM needs 442,000 subscribers in Q4 to meet guidance. Readers can see deeper thoughts in my earlier Seeking Alpha article titled, "Finalized November Auto Sales Figures Confirm Sirius XM Concerns."
The average quarter has seen net subscriber additions of 386,000, a number above the 333,000 reported in Q3. The company needs to do better than average, and substantially better than last quarter to hit guidance.
Self Pay Churn
The company says that we should expect churn to be similar to 2010. So far in 2011 this has held true with the company reporting churn at about 1.9% all year. Churn for 2010's full year was 1.9%.
Holding the line on churn is great. The churn rate gives us a flavor of how well consumers are accepting the service, pricing, etc. The issue is that 1.9% on 17.5 million self paying subscribers is a bigger absolute number than on 16.5 million self paying subscribers. Therein lays a challenge. The company needs to be able to grow the gross additions to a point that offsets the deactivations simply to maintain a similar absolute number. Higher auto sales help this. Retention programs will help this as well, but some actions carry other impacts.
I recently got an offer of six months of service for $25. Yes, getting $25 from me is better than nothing, but each person that accepts that offer I will become a negative impact on Average revenue Per User (ARPU). Yes, revenue is added, but ARPU comes down. ARPU is typically used to measure what consumers on average are willing to pay.
Revenue Of Approximately $3 Billion
Not a definitive number, but let's assume the old plus/minus ratio of 5% to this. This would mean the company needs to come in between $2.85 billion and $3.15 billion to meet guidance. Thus, in theory, $2.8 billion would be a "miss," and $3.2 billion would be a "beat." Realistically, anything over $3 billion will fall into the "beat" category, but that is the dynamics of investor perception.
Through Q3 the company stood at revenue of $2,230,786,000 for an average of $743,595,333 per quarter. If the company were to simply maintain their average they will hit guidance. This does not seem problematic. Maintaining their averages is pretty standard fare.
So far things seem realistic here. There is even good reason to say the company guidance on this metric is well in hand. Certainly the poster quoted above is not out in left field.
Adjusted EBITDA of Approximately $715 Million
This is another metric that bears watching. In Q3 the company posted adjusted EBITDA of $197 million. That gives a total, so far for 2011 of $563 million or an average of about $188 million. If the company simply reported the average in Q4, the adjusted EBITDA would come in at $751 million, well above the guidance. In fact, the company needs to report only $152 million in adjusted EBITDA to meet guidance.
Even with some spending that will account for various ramp ups in cost, this target is well within reach for Sirius XM. No real concerns here. The question is will simply meeting $715 million satisfy the street that is expecting the typical "over-deliver" from this company? I would be curious what the commenter on my previous article would consider a good number here.
Free Cash Flow Approaching $400 Million
This category is of particular interest to me relative to the opinion of the commenter. Remember, this fan of Sirius XM is expecting the ,company to report free cash flow "well over $200,000,000."
At the end of Q3 Sirius XM had stacked up an impressive $224,000,000 with the average being about $75,000,000. In order to meet FCF guidance Sirius XM needs to generate an impressive $156,000,000 to $176,000,000 in free cash flow. This is $80,000,000 to $100,000,000 more than their average for the previous quarters this year.
To be fair, let's qualify this guidance a bit to establish an acceptable range to account for the word approaching. If we use 5%, an acceptable number would be $380,000,000. I think that is fair.
The commenter is expecting the company to come in at "well over $200 million." The company needs $156,000,000 to meet guidance. The commenter is looking for a number well above $200,000,000. Thus, let's assign a meaning to "well over." To be fair I will use 5% again even though the "well" in "well over" would seem to indicate more.
Thus our commenter is expecting free cash flow of $210,000,000 in Q4. Will that commenter be disappointed if the company meets guidance by bringing in $156,000,000? That would be a full $54,000,000 below expectations. Certainly even a perma-bull like this commenter would then have some concerns, right? It would be most interesting to see all of these people that like to take me to task put up a few estimates of their own and justify how they arrive at the numbers they do.
In all of this, my concerns for 2011 guidance center on two areas. Subscribers and free cash flow. While I think the company can indeed hit its guidance, some metrics will present more of a challenge than others. What this brings to bear is how investors should be looking at 2012 guidance. Is there still any truth to the "under-promise" and "over-deliver" mantra, or should we be looking at the current 2012 guidance as something that may not be as conservative as we previously thought?
The point here is not to "undermine the company or its stock." The point is to look at things in a realistic manner and assess the level of challenge needed to get to the desired goal. Certain aspects of this company are quite impressive. However, like any company there are some areas of concern.
Most Sirius XM investors are looking for a great 2012 free of capex spending, debt service, a price increase, and a year that the company can deliver some record numbers. That is great. However, we all know that the company will build and launch new satellites, that capex will happen again, and that at some point the debt will need to be serviced. 2012 is giving us a bit of a vacuum that will not happen again for several years. It may well be worth taking advantage of.
In summary, look deeper than the company line. Think harder than the average investor. Become savvy at understanding some of the dynamics at play.
Disclosure: I am long SIRI.