For months, as Netflix (NASDAQ:NFLX) readied itself for implosion, I characterized the company as a "middleman" and "glorified bootlegger" in plenty of Seeking Alpha articles.
I justified this categorization, in part, by noting how easy it is for programmers and studios to devise their own platforms to deliver content to consumers on any device they choose. I pointed to Disney (NYSE:DIS) making the ESPN channels available via an app and Time Warner's (NYSE:TWX) excellent HBO GO as just two examples of the broad TV Everywhere movement. And, just as a I argue that terrestrial radio should join forces to take on everything and everybody from Apple's (NASDAQ:AAPL) iPad to Sirius XM (NASDAQ:SIRI) satellite radio, I continue to advocate for a more unified front among television programmers, one that could put the final nail in Netflix's coffin and mediate competitive encroachments from companies like Amazon.com (NASDAQ:AMZN) and Google (NASDAQ:GOOG). Here's an excerpt that nicely sums up my case: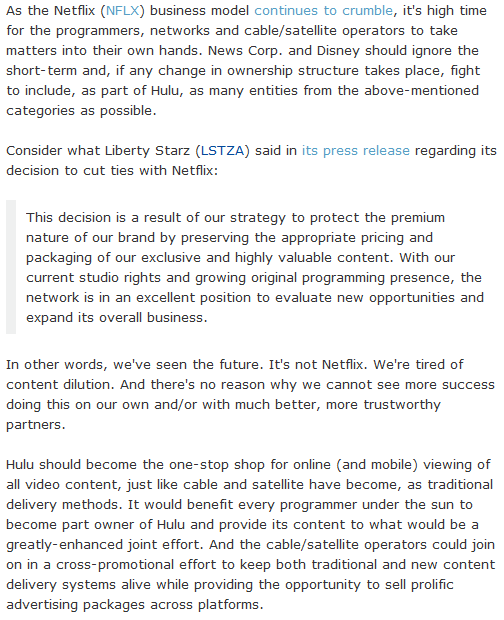 While my - admittedly perfect-world - vision might never come to be, something is brewing. Time Warner executive Jeff Bewkes, who once likened Netflix to the Albanian Army, provided the Financial Times with a few more telling quotes in an article published over the weekend. My favorite:
There's been a tremendous amount of wishful thinking going on.
Read into that what you will. I take it to mean, broadly, that the notion that Netflix, or Amazon Instant Video for that matter, is the future is a woefully misguided one. When I argue that programmers like Time Warner can just deliver their own content without the middleman, I receive the same response: It's just not in their culture. Guess what? That culture is changing fast.
As Bewkes points out, programmers provide streamers such as Netflix with the scraps, stuff that no longer commands meaningful advertising revenue, "archival content that nobody would want in Blockbuster." It's the programmers who own control of the situation. As companies like CBS (NYSE:CBS) prove on conference call after conference call, they're effectively using the Netflix's and Amazon's of the world, padding their bottom lines by selling off non-exclusive digital content they cannot monetize elsewhere.
Bewkes might have uttered the quote of the week when he told the FT, regarding Netflix, "Don't turn a hamburger into a cow." In other words, Netflix fills a niche as rerun TV, but don't classify it as or expect it to be much more. Between Netflix's broken business model, fragile cash position and the programmers holding so many of the cards, it's next to impossible for Netflix to do anything other than spend itself into obscurity.
The takeaway here - expect to see the programmers continue to expand their multi-platform offerings, while selling content to Netflix and Amazon that even a true bootlegger would not touch. At some point, they'll even stop selling "archival content," which will put Netflix out of business, once and for all, and stop Amazon's streaming aspirations before they even start.
I fully expect companies like Time Warner to partner with other content providers to create digital interfaces that not only stream fresh programming, but provide considerable subscription and/or advertising revenue. Hulu's owners did the right thing by not selling it; now's the time for them to join together with the rest of the old guard to make Hulu the one-stop-shop for TV Everywhere.
As they continue to diversify their businesses and feel more comfortable shedding the old guard image and becoming "new media" entities, I love the looks of TWX, CBS and DIS, particularly in portfolios with long-term time horizons. Rumors of each company's demise have been greatly exaggerated.
As for NFLX, I closed my long position in June $40 puts this morning for a 52% gain. Given the stock's ability to rise on nothing other than momentum, I could not pass up the profit. Also of note - Reed Hastings will present at a media and communications conference tomorrow. I don't want to get caught up in fleeting euphoria caused by any bullish tidbits he might offer. As this article and my many others on Netflix show, however, the long-term story remains intact.
By playing NFLX with deep out-of-the-money puts, I feel comfortable that I will have more than enough time to jump back in once the downtrend reestablishes itself and intensifies. OTM options are less sensitive (as in, the premium moves less) to price changes in the underlying stock the further out of the money they are. As they move closer to being at- and in-the-money, delta increases and they move more in line with the stock. Given this reality, it's almost never too late for me to jump back into the same position when Netflix's inevitable implosion begins its next act.
Disclosure: I have no positions in any stocks mentioned, but may initiate a short position in NFLX over the next 72 hours.