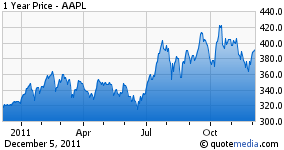 It took the Golden Arches eight years to sell a billion burgers. I remember that day well: A sign went up at our local McDonald's declaring the news. I helped McDonald's reach that lofty statistic, eating plenty of burgers and fries.
Apple (NASDAQ:AAPL) will soon reach its own billion sales landmark. The company is poised to sell its billionth iProduct in 2013, accomplishing that feat at breakneck-speed as the company expanded its product lines. In 2003, the company sold 3 million devices, primarily computers to die-hard Apple fans who weren't opting for the then Windows-based PC standard.
Last year, Apple unloaded 164 million iPhones, iPads, iPods and computers in a global love affair, continuing a trend that shows no sign of a let-up. What's behind this remarkable story? Like McDonald's, the average person (myself included) began buying Apple products.
The graph below highlights the total number of devices sold since 2004. To date, customers have bought 600 million Apple products. At this pace, the company will sell its billionth product in early 2013, all the while commanding premium pricing.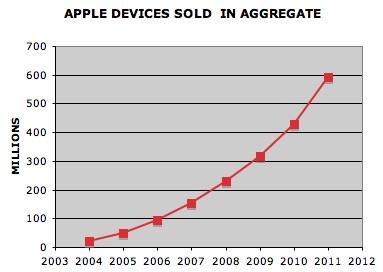 Each of its four product lines dominates its markets. The iPad controls the tablet space, demolishing Research In Motion's Playbook and HP's TouchPad. The iPhone helped crush the Blackberry. Macs are taking share from PCs. The iPod has a 78% share of its market.
Apple remains twice blessed: The company has accelerated sales without sacrificing reputation. It remains the "Porsche" of tech hardware despite selling its products on a mass scale.
Impressively, Apple has been able to keep its premium pricing despite moving larger numbers of units each year. That's in sharp contrast to its competitors whose average unit revenue has dropped - Research In Motion (RIMM), Nokia (NYSE:NOK) and Hewlett-Packard (NYSE:HPQ). By focusing on delivering an exquisite user experience, Apple won the loyalty of millions of customers.
Every year, Apple earns more from each unit sale than it did the previous year. Witness the skyward trend in money Apple makes on each device it sells.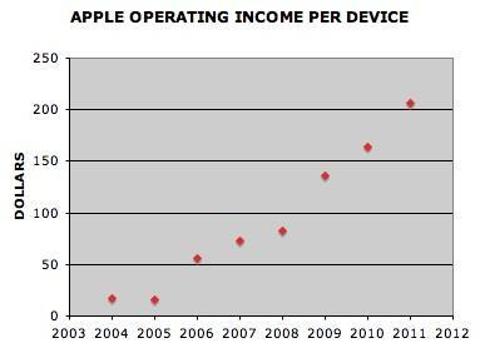 Apple trounced the competition. Look what happened to once-formidable Research In Motion in the chart below. The iPhone smothered Blackberry profits. Judging by Research In Motion's miserable pre-announcement, next quarter's income per device will be even worse.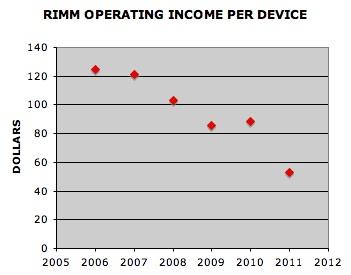 Very few companies can give shareholders both improving sales volumes and earnings per unit sold. Apple remains a buy.
Disclosure: I am long AAPL.