It was a week of higher prices for nearly every asset class and gold and silver were no exception as moves by central banks around the world were widely interpreted as summoning more paper money in order to cure what ails economies in Asia and credit markets in Europe. As for the U.S., more talk about Fed money printing to aid Europe and/or boost the domestic economy early next year were enough to send the trade-weighted dollar lower and precious metal prices higher.
Last week, the gold price rose 3.8%, from $1,680.30 an ounce to $1,745.30, and the silver price surged 5.4%, from $30.98 an ounce to $32.64. Gold is now down 9% from its September peak with a gain of 22.7% for the year, while silver is down 34% from its spring high, now up 5.6% in 2011.
Despite what you might think, the move higher for silver last week at just over 5% was a mediocre one compared to how the price has moved up at other times during the year. It ranks as the 14th best gain in 27 weeks of gains in 2011 (along with 21 weeks of price declines), not even making it into the top half of weekly gains.
As shown below from data at the iShares website, after steady outflows since late September, there was a big addition to the iShares Silver Trust (NYSEARCA:SLV) last Thursday as some 79 tonnes were added following net outflows of 442 tonnes over the prior two months.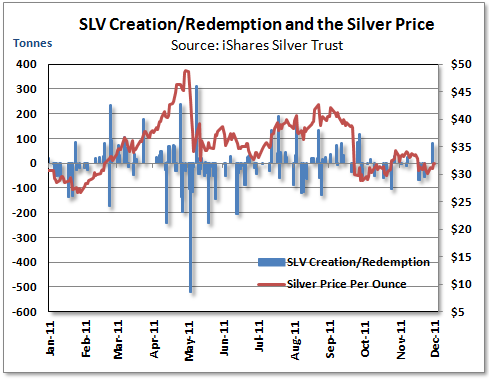 At just over 9,700 tonnes, SLV holdings are down almost 1,700 tonnes (or 15%) from the May high, more than 700 tonnes lower for the year as silver continues to have trouble mounting any sustained move back toward $40 an ounce.
In contrast, the gold holdings at the $73 billion SPDR Gold Shares ETF (NYSEARCA:GLD) have been steady in recent weeks at 1,297 tonnes, just 23 tonnes (or less than 2%) shy of the record high set back in June 2010, almost a year-and-half ago.
Central banks were in the news again last week with more big gold purchases. After the recent announcement by the World Gold Council that a record 148.4 tonnes were purchased by central banks during the third quarter, the Bank of Korea said on Friday it added another 15 tonnes to its holdings in November (at a cost of $850 million) to diversify its reserves. The central bank of Asia's fourth-largest economy purchased 25 tonnes over the summer but still holds less than 1% of its $300 billion in reserves in gold, far below the 10% to 15% accepted as prudent by Western central banks.
It was also reported that Russia added 19.5 tonnes to its holdings in October, bringing its year-to-date purchases to 82 tonnes compared to 140 tonnes last year. What is most amazing to me about these recent central banks purchases is that they are being done with the gold price at $1,600, $1,700, or $1,800 an ounce. This is a bullish sign if ever there was one for the yellow metal and a bearish one for the assets that they are replacing - U.S. dollars or dollar denominated assets.
In China, gold purchases via Hong Kong reached a record 57 tonnes in September, up six fold from a year ago, after regulations were recently relaxed to encourage gold trading between the two regions. During the third quarter, mainland China imported some 140 tonnes of gold from Hong Kong, almost five times the amount for all of 2010, as the Chinese government continues to encourage its people to buy and hold gold. Now the world's second largest consumer of gold, it's hard to imagine that less than 10 years ago, it was illegal for private citizens in China to own the metal.
Lastly, a few price predictions. Societe Generale said that it expects the Federal Reserve to announce a third round of "quantitative easing," or QE3, in the amount of $600 billion by March of next year and that clients should buy gold in advance of this action. They estimated the gold price should rise back to $1,900 an ounce just to account for QE1 and QE2 and that a price of $8,500 an ounce would be needed to match the decades long expansion in the monetary base.
UBS believes that the gold price could be in for some "potentially explosive moves" after last week's announcement of coordinated action by the world's central banks, noting, "Clearly there are several unknowns, but if the eurozone moves toward fiscal integration at a much faster pace than previously thought possible, we think there could be a sizable gold reaction over the weeks and months ahead, particularly if the market starts to believe that Eurobonds will be the likely endgame. The process involved, essentially printing money to buy bonds, would probably equate to the largest bullish ingredient for gold since QE2 was launched by the Federal Reserve."
BNP Paribas cut its gold price forecasts for 2011 through 2013 after the recent correction and said that a bigger correction may lie ahead if there is a repeat of the late-2008 financial crisis. They see an average gold price of $1,730 an ounce in the fourth quarter (down from an earlier forecast of $2,170) with the gold price peaking in 2013 (a year that I've long thought we would see gold and silver hit their secular bull market highs). Their average price forecast for 2012 was reduced from $2,080 an ounce to $2,025 and, in 2013, they see the gold price at $2,200 an ounce, down from $2,280.
Disclosure: I am long SLV, GLD.