David Tepper's Appaloosa management is one of the best known hedge funds out there. Appaloosa manages over $4B and has a long record of good (but extremely volatile) performance. The fund was down over 26% in 2008 and up over 130% in 2009 so this is not a fund for the faint of heart.
Tepper is known for making big (often contrarian) bets. This quarter, however, his big bet appears to be cash. The Q2 reported over $4.2 billion in long positions while only $1.5 billion is reported for Q3. So Tepper's been busy raising cash:
click to enlarge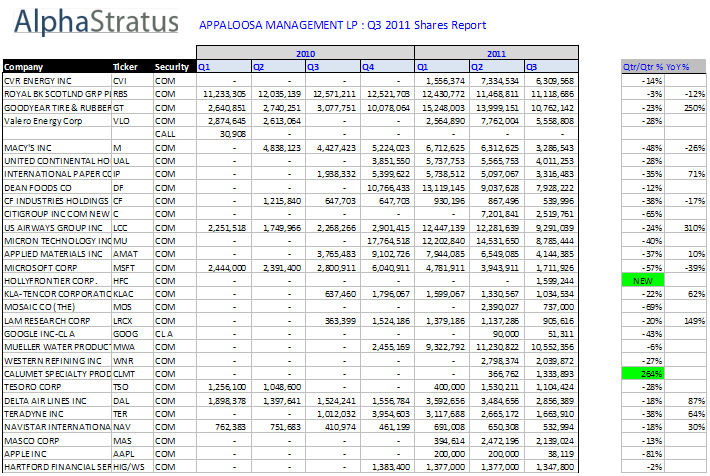 Only one new position show up ( in the top 30) which is HollyFrontier Corp (NYSE:HFC) which is an oil refiner that pays a 1.6% dividend and is also owned by Jennison Associates and Balyasny Asset management. Since the 13F report, this stock is back near its lows for the year: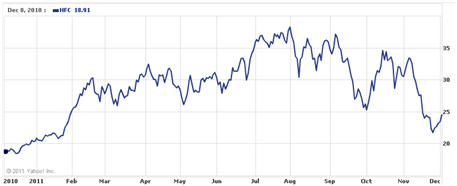 The only other notable increase in shown above was in Calumet Specialty Products which is an interesting small-cap oil stock except this one is currently yielding over 10%:
Due to the sale of assets to raise cash, the Appaloosa book appeared to get more concentrated in the top names (the top 2 especially):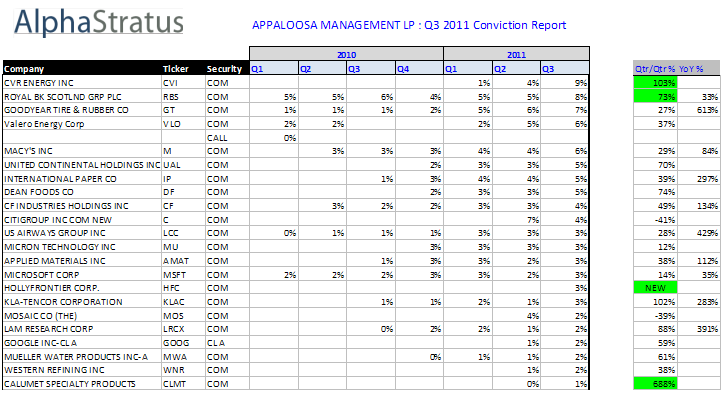 Tepper was famously bullish on equities (especially financials) at the bottom of the market in '09 but (as can be seen above) only RBS and C remain in the top 30 while Bank of America (BAC), Wells Fargo (WFC), Fifth Third (FITB), SunTrust (STI), MetLife (MET), and Hartford Financial (HIG) have all been completely sold off. Unlike some of his hedge fund peers, Tepper has clearly turned very bearish. Time will tell who's right.
Disclosure: I have no positions in any stocks mentioned, and no plans to initiate any positions within the next 72 hours.