By Bryan McCormick
There has been a fair amount of conversation recently about gold yet again being a dead asset class, the theory this time being that there is no reason to own the precious metal if Eurozone sovereign debt pressures continue to abate.
It is true that the price of gold and related assets have moved very little lately, but it isn't dead yet. There are two indicators we can use to help confirm that.
The first graphic below is a weekly chart showing the SPDR Gold Trust (NYSEARCA:GLD) exchange-traded fund and a linear regression trendline indicated by an orange sloping line. The trendline is a projection forward from the trend ranging from 2009 into 2010.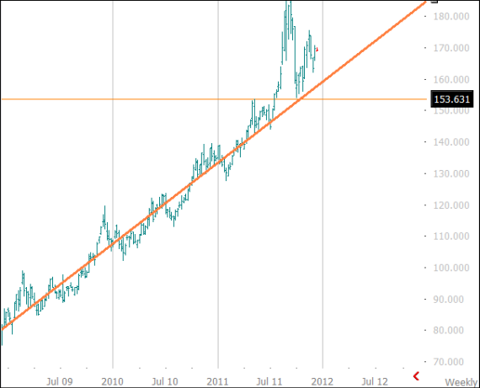 As we can see, the GLD bounced off that line in October before moving higher, and it is still well above the trend. There is also a "triangle" forming the price that could be a bullish indicator if the GLD breaks above the top of the pattern. The trigger level now would be roughly in the lower $170s.
A second chart below, also plotted on a weekly basis, shows the GLD with its 30-week moving average in dark blue. That moving average has been a good proxy for the uptrend since the same time as the regression line. If you don't have access to a regression line indicator, the 30-week moving average can be a good guide.
The moving average was last at $162.37. It would take a substantial break on a sustained basis below that moving average for the GLD to be considered in trouble. We aren't there yet.
The GLD is trading at $168.54 this afternoon, off 0.75 percent on the day.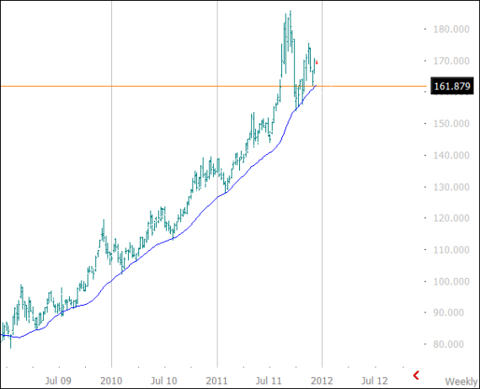 (Chart data provided by Thomson Reuters)