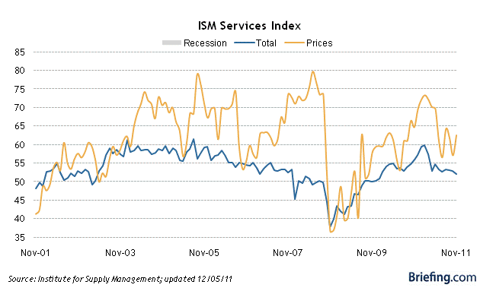 Click to enlarge
Click to enlarge
The market was stronger on Monday, but it came well off its gains after the S&P threatened the AAA-ratings of several eurozone companies. The market was higher on Monday to open after eurozone optimism increased on a Merkel and Sarkozy meeting that stressed a new eurozone treaty. The credit watch was expected, but it became a bigger issue as Germany was added to the list. That was not expected, and with the market rallying on optimism, the movement down was expected after the report.
Data, at home, was not strong as well with ISM Services and Factory Orders coming in weak. Factory orders came in at -0.4%, dropping from -0.1% in September. ISM Services came in below expectations at 52.0 vs. 53.5 expectations. We got good earnings from Dollar General (NYSE:DG) this morning, which helped lift the lower income retail stores. Moving forward this week, economic data will be a crucial counterweight to European headlines. There are not much headlines until later, however.

There are some key earnings this week that will also be impactful on the market. Toll Brothers (NYSE:TOL) is on Tuesday, which is always very key to residential construction. Thursday is Ciena (NASDAQ:CIEN). But overall, the earnings are more limited this week. Europe is definitely extremely dominating this week, and they will overshadow all earnings.
We had a great day in the marketplace, taking advantage of the upward movement in the market. We were able to make 40% in McDonald's (NYSE:MCD) Jan21 $97.50 calls. We were able to make 25% in Bed Bath and Beyond (NASDAQ:BBBY) Jan21 $62.50 calls. We took half off AutoZone (NYSE:AZO) stock for a 1% gain, and we were able to buy back a bull put spread in Deere (NYSE:DE) Dec17 65/62.50. A number of our positions worked in our favor. Apple trended higher, which was good for our bull call spread. We have a bull put spread in Nike (NYSE:NKE) that continued to decay on a flat day for Nike. We have a bull put spread in Visa (NYSE:V) that is working well still. We also have $21 sold puts in Smithfield Foods (NYSE:SFD) that are working well.
We entered two new positions on the day with CarMax (NYSE:KMX) and Sina (NASDAQ:SINA). We bought stock and sold the $26 puts for Jan21 in KMX, and entered a bear call spread at the 85/90 strikes for SINA for a potential 11% gain.
Our 30% in 30 days is going well as the first positions in it in Bed, Bath, and Beyond as well as our SPY bull put spread are doing very well thus far.
Moving into tomorrow, we see the market being influenced by European headlines. The S&P issue will linger in the European markets, which will linger for us. Yet, at the same time, we have had a great rally. Bulls will not disappear without a fight. Any drops of significance may be met by considerable buying as the trend is up. The 1265 level held on the S&P, which seems to be signaling a top.
One stock we are watching right now is C-Trip (NASDAQ:CTRP). This is a company that had a very good start to 2011, but its close has not been good. The last set of earnings for the company were not good, and it has slowly been diminishing as time goes by. We are looking for a big move up, but we would like to see the company make some movement upwards as it seems to be bottoming technically. On any move to the upside of significance, we would love to sell a call spread on it as well as buy puts.
Click to enlarge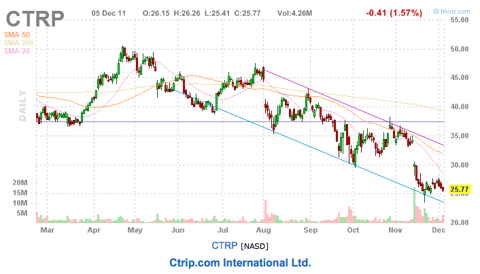 Click to enlarge
Disclosure: I am long KMX, SFD, NKE, V, DE, AZO.
Additional disclosure: I am short SINA.I may short CTRP.