By Michael Barton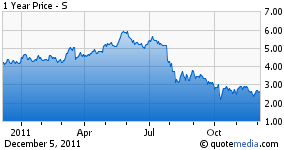 Sprint Nextel Corp (NYSE:S), provides wireless and wired communications solutions to customers across the United States. IT customers include governments, corporations, and individuals. Its shareholders have seen the value of shares slide for the last decade and more. From a high of over $70 at the height of the tech bubble in late 1999/ early 2000, the shares now stand around $2.50 having recovered from their 52 week low of $2.10.
Sprint has posted losses of $0.84 per share over the last 12 months, and these losses are expected to widen to $1.12 for the year ending December 2012. The company has a market capitalization of $7.8 billion, and with a calculated book value of $4.36 per share, would look like a good buy at this level. But then you look at the company's trading performance over the last ten years, and you start to understand why the share price is languishing at current levels.
In the year ending December 2001, S's net income was -$1.16 per share - in earnings per share terms, the company has stood still. In only three of the last 10 years has the company turned a profit: accumulated losses over the ten-year period amount to $14.94. Over the same period, current assets have doubled, current liabilities have trebled, and long-term debt has increased by almost six-fold.
S has recently repaid $2.25 billion of debt which was due to mature in the first quarter of 2012. This debt carried an interest rate of 8.375%. It managed to do this – some would say was forced to do this – by issuing further debt ($4 billion) in the form of notes with an interest rate attached of 11.50%.
S has recently announced a new agreement with Clearwire (CLWR) which extends the period that Clearwire will provide unlimited 4G WiMax services to S through to 2015. For this service, S will pay CLWR $926 million and in total will offer CLWR $1.6 billion including extra funding. S owns 54% of CLWR.
At the time that S issued the $4 billion of notes, it stated that the net proceeds would be used for "general corporate purposes, which may include, among other things, redemptions or service requirements of outstanding debt, network expansion and modernization and potential funding of Clearwire Corporation and, its subsidiary, Clearwire Communications LLC." Well, the money raised has now been used.
Unfortunately for shareholders, the bad news does not stop there. This weekend it was announced that S is the subject of a lawsuit that, if successful, could see the company not only paying large sums in damages, but also requiring it to remove certain tracking software from their systems.
In summary, S is a company that burns cash, props up a 54% owned company with cash that it is paying a huge interest rate premium on, and is on the receiving end of a potentially expensive lawsuit. It is a company that has seen its earnings negative in seven out of the last ten years, and its shareholders have seen the value of their shares diminish over that time. Savvy shareholders should have seen the writing on the wall a long while ago given the pressure following AT&T's (NYSE:T) merger aspirations.
Disclosure: I have no positions in any stocks mentioned, and no plans to initiate any positions within the next 72 hours.