ATP Oil and Gas Corporation (ATPG) has proven to be one of the most volatile stocks on the market over the last 12 months. With a share-price range of $5.53 to as high as $21.40, shareholders have certainly been on a heart-pounding ride. Unfortunately, for those that owned the stock or bought early in the year, the lows have been achieved toward the end of the period, the falls really taking hold after July. In the last couple of months, however, directors have been adding to their positions. Could this be a signal for investors to jump on board?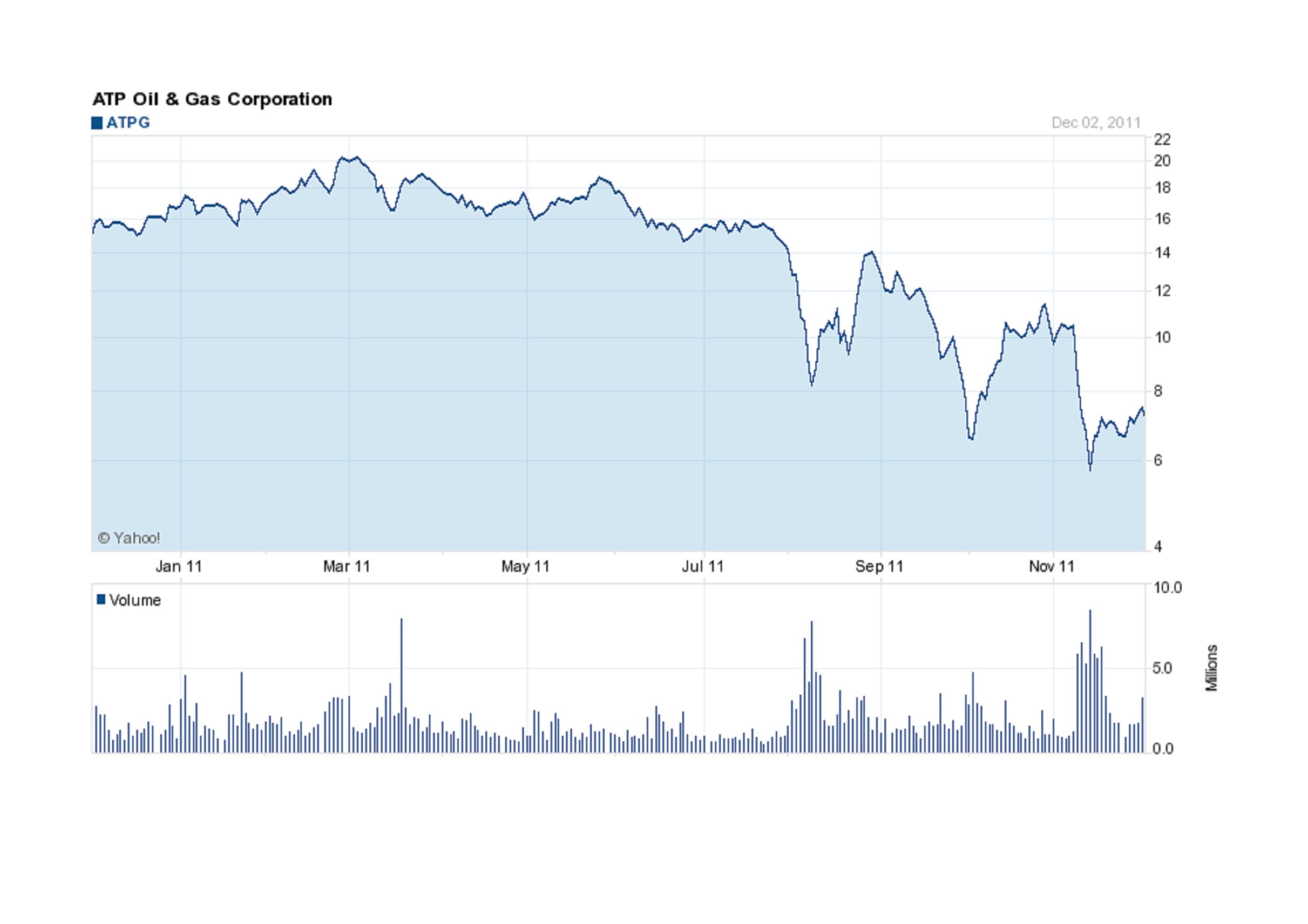 Click to enlarge
(Click to enlarge)
ATP shares are currently trading around $7.30, and the mean 12 month price target from analysts researching the stock is $10.75 (47% upside potential). This stock is trading below its 50-day exponential moving average of $8.81 and its 200-day exponential moving average of $12.28. The stock has traded below this declining 50-day average since the beginning of June, and has found it impossible to break through it since, even though concerted efforts were made in August/ September, and most recently through mid October to the beginning of November. Throughout this time the stock has been forming a series of lower lows and lower highs.
The company is expected to lose $5.11 per share for this financial year (ending Dec 2011), though this loss is expected to narrow to $1.51 per share in the year ending Dec 2012. However, these numbers are based on the company's ability to pump oil from its existing and upcoming oil fields. The company does have some great proven reserves, and has recently added to these with licences for the deepwater in the Gulf of deepwater Gulf of Mexico. But getting them out of the ground and to market is proving more difficult than it should, or reserves are not what was first believed. This is demonstrated by the massive undershooting of earnings per share estimates over three of the last four quarters.
In December 2010, earnings per share were expected to be -$0.21, but were reported at -$3.77. March 2011's numbers were expected at -$0.39, and came in at -$2.34, and June 2011 came in at -$1.11 against an expectation of -$0.38. Bulls of the stock would point at the latest quarter, where earnings per share came in at -$0.11 against an expectation of -$0.54, and also note the improving picture.
ATPG's gross margin is calculated at 77.76%, up there with rivals Forest Oil (NYSE:FST) at 78.05%, and Newfield Exploration (NYSE:NFX) at 69.16%. At the operating level, though, ATPG's margins crumble to just 10.78%, versus FST's 41.27% and NFX's 38.42%.
The underlying problem with ATPG is its high debt levels. The company placed $1.5 billion of senior lien notes in April this year with an interest rate of 11.875%. This has bought ATPG's debt to equity ratio to an enormous 647, and with oil production and oil prices lower than was anticipated earlier in the year, is placing a huge burden upon the company. So much so that the calculated book value of the shares is -$1.89.
Overall, I don't think that the picture is a bright one for ATPG. Debt is a large burden on this company that will not go away in the short term. The chart is signaling the possibility of a further share price decline. However, if a new bottom could be made above the 52-week low of $5.53 then this would be positive for the stock from a trading point of view. The real test will be in the ability of the share price to move above its 50-day moving average and stay above that line: the ability to do this would indicate a further sharp upwards movement toward the $10.50 level. The brightest spot that I can see in this company for shareholders is the recent spate of buying by directors. These purchases (at between $5.85 and $10.74) follow a period when directors were selling shares at prices between $14 and $20. Could it be that these insiders do know something we mere mortals don't? For this reason, and the remote possibility of a take-over by a larger player for the company's reserves, I would recommend buying the shares on a dip and as a trading position. It is a holding, however, that is for the investor who is willing to watch his position carefully.
Disclosure: I have no positions in any stocks mentioned, and no plans to initiate any positions within the next 72 hours.