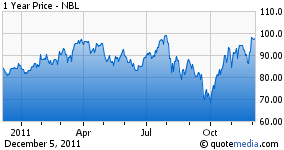 Feuds aren't uncommon in the Middle East. The latest scuffle between Britain and Iran around sanctions designed to pressure Iran away from nuclear development resulted in barbed responses from both sides, including ambassadors being sent home. The rising rhetoric also moved oil prices higher and reminded sovereigns of the fragile nature of energy dependence.
Barring an unlikely shift from contention to companionship, investors can benefit from owning companies which are helping sovereigns reduce foreign energy reliance. One such company is Noble Energy (NYSE:NBL), which is developing shale properties in the United States and emerging offshore fields in far flung Israel - a nation eager to boost its domestic energy supply.
In mid November, Noble Energy boosted guidance to 490,000 Boe/d by 2016, equal to 17% compounded annual growth over the coming five years. Production growth will support an increase in capex from $3 billion to $5 billion. And, the spending will focus on two core onshore U.S. projects, Marcellus and the DJ Basin, and various offshore projects including the development of the Leviathan field offshore of Israel.
In the States, Noble's new partnership with Consol Energy (NYSE:CNX) to develop 663,350 acres in Marcellus is already paying off. Production has doubled since the deal was announced in August.
Another major focus is Noble's 840,000 net acres in the DJ Basin. Noble's Wattenberg field is the company's largest onshore position. Its low-cost production is just about 50% high margin liquids and the company is producing 67 Mboe/d in the basin, with expectations of a doubling by 2016. The main driver of growth will come from DJ Niobrara, which currently produces 14 MBoe/d and is estimated growing to 70 Mboe/d by 2016.
Overseas, the company is hard at work leveraging finds in Israel, Africa and Cyprus. In Israel, the Tamar field is expected to begin production in 2013 and has reserves of 9 trillion cf ("Tcf"). Also offshore Israel, Leviathan, which Noble discovered in June 2010, could hold 16 Tcf and is expected to go online in 2017. Over in Cyprus, its Cyprus A project natural gas reserves are estimated between 3-9 Tcf. And, in Africa, Noble reported oil production from its Equatorial Guinea Block 1 has started with production of 50k bbl/d.
Last month, Noble announced it's evaluating export market potential for these finds, including the development of floating LNG terminals. Israel, for its part, is an eager market for Tamar production while European markets would likely be willing buyers of Israeli sourced LNG.
Noble shares are trading 14.44x rising 2012 estimates of $6.74. The stock yields 0.9% and the company has exceeded Street estimates in each of the past four quarters. The company is also reducing its financing costs, taking advantage of low interest rates to replace existing credit facilities. With a bright future for low cost production and revenue growth, Noble makes a strong argument for investors looking to benefit from non-OPEC energy supply.
Disclosure: I have no positions in any stocks mentioned, but may initiate a long position in NBL over the next 72 hours.