Some traders like to use currencies to hedge their stock portfolios. You've probably noticed how when the market goes into "risk on' mode, high beta stocks soar and the US dollar falls. When risk is off, stocks are sold and the dollar rises. The relationship isn't perfect, but you can see how the US Dollar Index is generally negatively correlated to the S&P 500.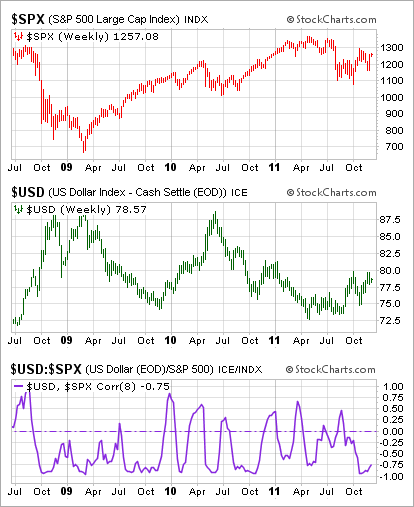 The purple line at the bottom shows the 8-week correlation coefficient between the two, which is usually negative.
There's an ETF that tracks the US Dollar Index, the PowerShares US Dollar Bullish ETF (NYSEARCA:UUP), but just be aware that it might not deliver the performance you expect.
UUP: Dragged down by contango
ETFs that hold commodity futures contracts won't perform as well as the commodity itself if the futures market is in contango. That's when far in the future contracts cost more than those that expire sooner.
One example is the US Oil Fund (NYSEARCA:USO). This fund holds current month oil futures contracts and rolls them over each month. When oil is in contango, the fund is constantly paying extra for the next month's contact and that creates a drag on returns. This has been the subject of many articles, including this one (and my own article here).
Well, UUP suffers from similar market forces. This ETF owns US Dollar Index futures and continuously rolls them over (but on a quarterly basis, not monthly).
Given that the US Dollar Index futures have been in a consistent contango for the past few years, an investment in UUP may give you a good short-term return if the US dollar soars, but over the longer term, returns can take a hit – even if the dollar goes up.
Let's take a look at an example. Let's say you'd purchased the June 2011 US Dollar Index futures contract on March 1 of this year and then rolled this contract out each quarter just before it expired. Here's how that trade would look if you'd closed it on December 3.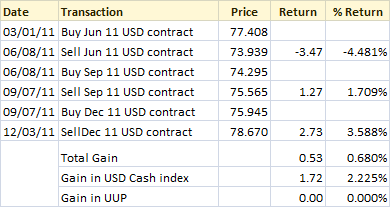 Even though the cash US Dollar Index was up 2.22%, this trade would have only made you 0.67%. That's because you paid more for each contract as you rolled it over.
As for UUP? It closed on December 3 at 22.12 – exactly where it was on March 1 of this year. No loss, but no gain either.
Watch the interest rate differentials
Why would a mathematical index of the US dollar's value against six major currencies be subject to a contango?
The UUP prospectus explains this as one of the fund's many (like three dozen) risk factors
The price of DX Contracts responds directly to short-term interest rate differentials. For example, if interest rates in the U.S. are broadly higher than international interest rates, then DX Contracts will trade at a discount to the spot index. If U.S. rates are lower, DX Contracts will trade at a premium to the

spot index. This relationship also holds for long dated futures versus nearby futures. Because interest rates move up and down, DX Contracts may trade at a premium some of the time and at a discount at other times.
"DX contracts" refers to the US Dollar Index futures contracts, based on the index that tracks these currencies with these weightings: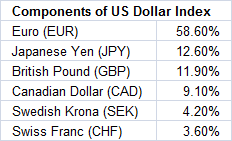 As it turns out, US rates have generally been lower than for these other currencies. Even though the difference is between ridiculously low rates elsewhere and ultra ridiculously low rates in the US, it still adds up to a performance drag for UUP.
What about the Dollar Bearish ETF?
PowerShares also offers a supposedly equal, yet opposite fund, the US Dollar Bearish ETF (NYSEARCA:UDN).
During the same period (March 1 to December 3) when the US Dollar Index itself rallied 2.2% and UUP returned exactly 0%, the UDN only went down by 1.44%.
In the same way that UUP is under pressure by the contango when rolling over long positions, the UDN ETF rolls over short positions in US Dollar Index futures. When the market is in contango, the fund gets a bit of an extra lift because it's continually buying to cover short positions , then selling the next contact at higher prices – which is good if you're a short seller.
Here's the performance of both ETFs going back almost three years, along with a chart showing the actual US Dollar Index performance, which was down about 3.3% across the entire time period.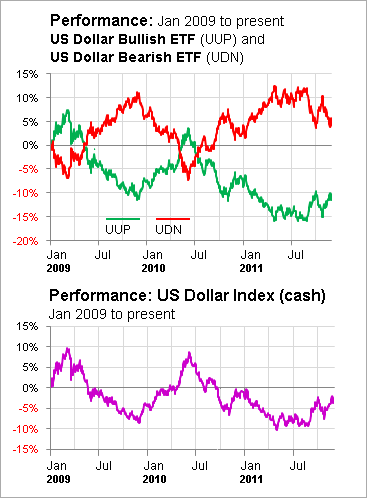 And here's a look at the relative performance of a short UUP position vs. a long UDN position, showing that the contango drag adds up over time.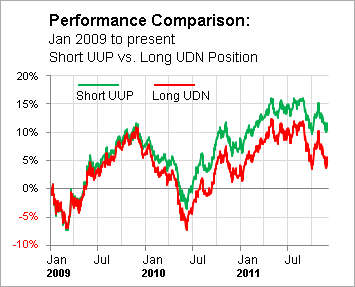 Is there any trading advantage here? Perhaps. But both of these ETFs are just artificial substitutes for actual currencies, have expense ratios of about 0.80% each, and have specific tax issues to consider.
For short-term trading, UUP and UDN might be suitable. But over the long term, you might want to look elsewhere for your currency exposure whether you're bullish or bearish on the US dollar.
Disclosure: I have no positions in any stocks mentioned, and no plans to initiate any positions within the next 72 hours.