The following seven blue chip energy equities are trading at dirt cheap valuations based on a vortex of volatility brought on by a slew of incessant negative macroeconomic headlines from the Eurozone, Middle East, China, Japan and a lack of confidence from Main Street USA based on the ever-present deleterious unemployment picture. Ironically, none of the building blocks of the "Wall of Worry" have been able to dent the rising price of a barrel of oil.
Oil has quickly climbed from its low of $76.46 on Oct. 3 to over $100 as of today. Oil has increased by 26% since October 3. Additionally, oil has broken above its 200 day moving average, which is extremely bullish for the commodity. I posit oil will continue to rise into 2012 and beyond. Please review the following reasons high oil prices are here to stay followed by my seven oil plays with strong fundamentals and significant upside potential.
Geopolitical & Macroeconomic Oil & Gas Catalyst
Middle Eastern Instability
Iran's president vowed to press ahead with the country's nuclear program, causing Israel's Netanyahu to threaten unilateral military action against Iran. The IAEA recently reported it believes Iran is developing a nuclear weapon. Iran in turn threatened to bomb Turkey if Israel takes action. The EU is considering boycotting Iranian oil which will only exacerbate the issue further. If Israel follows through on its statement, you can be sure oil supplies from the region will be bottled-up for some time and the price per barrel will skyrocket. Moreover, a December meeting of OPEC could provide additional negative headlines based on the above conditions as the rift between the members from the last meeting may be aggravated.
Spot Market Is Tight/Chinese Demand Growth Rising
The spot market for oil is tight. A 16% increase in shipments to China has strained supplies. If any improvements in the geopolitical landscape occur, who knows how high oil could climb? If the spot market is tight with the current conditions across the markets, just imagine how tight it will be when the recovery kicks in to gear.
A recent report by FT detailed the extreme diesel fuel tightness in Asia. The situation is predicted to only get worse. The Chinese are taking steps to increase their share of Middle Eastern oil by entering into a joint venture with state-run Kuwait Petroleum Corp ((KPC)). Kuwait Petroleum Corp has signed a joint venture deal worth around $9 billion to build an oil refinery and petrochemical plant in southern China, Kuwait's state news agency recently announced. KPC and Sinopec, China's biggest refiner, are equal partners in the project, said the KUNA report.
U.S. Fed and EU QE3 On Its Way
The FOMC minutes for the two-day November meeting suggest that under current economic circumstances the Federal Reserve will have to engage in a third round of quantitative easing. The solution to the Eurozone's sovereign debt issues will inevitably lead to euro printing presses cranking up, allowing them to paper their way out of the problem, which will only spur oil prices even higher.
7 Ways To Profit
Company Reviews
Compelling Fundamental Statistics
The following stocks are seven ways to profit from the continuing rise in oil prices. The stocks discussed are S&P 500 large cap or better and have EPS growth rates for the current fiscal year of over 30%, revenue growth rates for the current fiscal year of over 20% and PEG Ratios near or below one. Additionally, these stocks have great stories, positive catalysts for future growth, are non-OPEC players and some pay dividends. The seven stocks are: Exxon Mobil Corporation (XOM), Chevron Corporation (CVX), Schlumberger Limited (SLB), Occidental Petroleum Corporation (OXY), Apache Corp. (APA), Halliburton Company (HAL) and EOG Resources, Inc. (EOG).
High EPS Growth Rates
A company's EPS growth rate is conceivably the most important statistic to understand before investing in a stock. Each time you consider starting a position in a stock, you should prudently scrutinize its earnings information. The reason earnings are so vital to investors is that they tell you about the relative profitability of a company. Earnings per share is defined as the net income of a company divided by the shares of common stock outstanding. With the EPS measure, you are looking at the amount of money left over for shareholders. The value is reported after taxes are subtracted, and we are normalizing those profits by stating them on a per-share basis.
When a company is profitable, and has money to give back to shareholders in the form of earnings, the company has two basic options: First, it can distribute some of the earnings in the form of a stock dividend. Factor this in with the fact that, historically, dividend-paying stocks have outperformed non-dividend-paying stocks, and you have a recipe for outstanding returns. After the precipitous drop in the Dow in 2008, the high-dividend-payers were the first to recover. Whatever is not paid out in the form of dividends is placed into the retained earnings, which then become a source of capital that can be used to help support the growth of a company.
PEG Ratios Near Or Below One
The PEG ratio is a widely accepted indicator of a stock's prospective value. It is favored by many analysts over the price/earnings ratio for the reason that it also accounts for growth. Analogous to the P/E ratio, a lower PEG means that the stock is more undervalued. Many investors use one as the cut-off point for PEG ratios. A PEG of 1 or less is believed to be promising.
As Warren Buffett would say: "Price is what you pay; value is what you get." There is one caveat regarding the use of the PEG ratio though, and it's a big one, you need to perform additional due diligence and determine if the projected growth of the company is from healthy growth sources such as organic growth versus growth by acquisition or stock buy backs, which are not necessarily bad, but may be unsustainable.
Moreover, most of these stocks are trading well below consensus analysts' estimates, have recent upgrades and positive analyst comments. Below are three tables with detailed statistics regarding each company's current summary, fundamental and earnings information. Use this information as a starting point for your one due diligence.
Click to enlarge images
Summary Statistics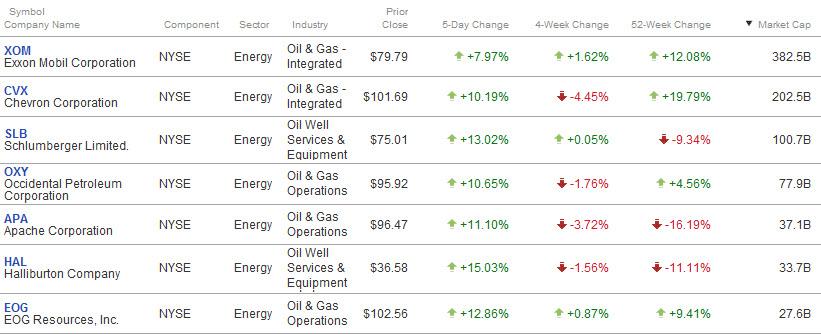 Click to enlarge
Fundamental Statistics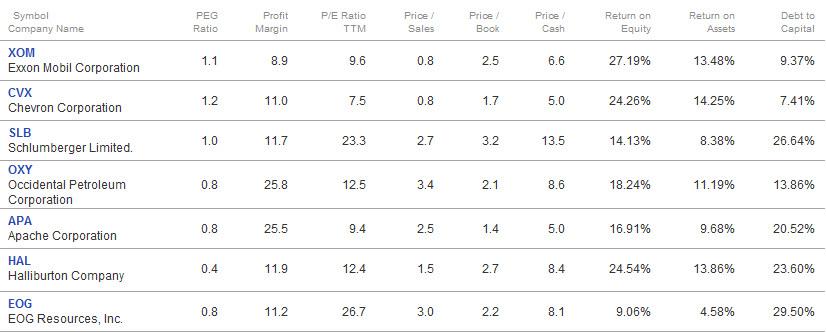 Click to enlarge
Earning And Dividend Statistics

Click to enlarge
Current Market Backdrop
We saw an inkling of positivity in the headlines out of Europe last week regarding the Eurozone sovereign debt crisis as well as the U.S. unemployment situation which triggered a rally of epic proportions. This week is a critical week for the Eurozone and global markets.
If things go well, this could be your last chance to pick up these stocks at this level. If you have powder dry, this is an excellent opportunity to pick up some shares.
Last week was incredibly strong for the equity markets, with the S&P 500 jumping nearly 8%. The week began with a robust relief rally, spurred by news that European powers that be were deliberating the prospect for a new Eurozone fiscal pact that could make budget discipline legally binding and enforceable by European establishments.
Stocks soared Wednesday after major central banks proclaimed coordinated liquidity arrangements. The S&P 500 flew 4.4% once the Fed and five other central banks decided to lower the pricing on existing provisional U.S. dollar liquidity swap arrangements by 50 basis points to ease tensions in financial marketplaces and alleviate the effects of such strains on credit supplies. While these actions do not address the fundamental solvency difficulties in Europe, they help to add liquidity. Prior to this synchronized stroke, equity futures rose after China lessened policy by reducing its Reserve Requirement Ratio by 50 bps to 21.00%. These developments bode well for energy stocks.
Conclusion
CNBC's "Mad Money" host Jim Cramer said Monday:
Oil has become remarkably resilient in this market. But many stocks in the oil complex are trading as though the price of crude will fall back to $80 any day now; there are many bargains out there for savvy investors.
Taking these factors into account, I posit these energy equities will soon soar from their current shares prices based on macroeconomic, sector and company specific catalysts. These stocks have great stories and positive facilitators for future growth. However, many are trading at significant discounts. Nevertheless, I suggest layering into these names as there may be a significant buying opportunity at the end of this week produced by the bumbling EU bureaucrats as they haggle over the final solution of their sovereign debt debacle.
Although, when the Eurozone gets their act together and the global economy achieves viable economic traction, you can kiss $100 a barrel oil prices goodbye. I envision a day in the not too distant future where we will look back at current energy prices and realize the days of $100 a barrel oil will never be seen again.
Disclosure: I have no positions in any stocks mentioned, but may initiate a long position in XOM, OXY, SLB, HAL, EOG, CVX, APA over the next 72 hours.