This is Part 4 in a series of articles on my daily options trading strategy. I wanted to show a few more charts for everyone who has been using the strategy, along with a few more tips that I think are valuable. From the response I have received, it seems that most of you are doing very well using this strategy. This is what I like to hear. For those who have not read any of my previous articles here on Seeking Alpha about this strategy, you can read them at the following links:
As I state in the beginning of each article, my strategy uses five (5) technical indicators to spot extreme oversold and overbought levels in a select number of stocks that are used with the strategy.
Here are the indicators used:
Bollinger Bands - I use the 12,2,2 as my parameters, i.e. (12) as the Simple Moving Average (SMA) and Standard Deviation, (2) as the standard deviation of the top band, and (2) as the standard deviation of the bottom band. As a personal preference, I will not begin to even consider making a trade until I see the current price action move below the bottom band (calls) or above the top band (puts), but this is only one of the indicators needed out of five (5) total.
Relative Strength Index - I use a length of twelve (12). The RSI is an indicator that shows when a stock is at overbought and oversold levels. It has a range of 0-100. A reading on the RSI of 70 indicates overbought levels, while 30 is considered oversold. Some traders like to go even below the standard 30 level for a buy confirmation, but it is ultimately the trader's choice.
Intraday Momentum Index - The IMI is invaluable as far as I'm concerned for an options trader who gets in-and-out of positions quickly. The Intraday Momentum Index is similar to reading the Relative Strength Index, in that both of them have a range of 0-100. Again, 70 indicates overbought, while 30 is considered oversold. I also use the range of twelve (12) to correlate with the RSI. Again, it is the trader's preference as to what length works and what he or she likes to use. The Intraday Momentum Index is a very powerful technical indicator to use for any type of trader.
Money Flow Index - The MFI follows the IMI as the next indicator. The MFI is a momentum indicator that is used to determine the conviction in a current trend by analyzing the price and volume of a given security. The MFI is used as a measure of the strength of money going in and out of a security and can be used to predict a trend reversal. The MFI is range-bound between 0 and 100 (like the RSI and IMI) and is interpreted in a similar fashion as the RSI and IMI. The fundamental difference is that the MFI also accounts for volume, whereas the RSI only incorporates price. It is also different in the fact that instead of the number thirty (30) indicating oversold levels, the Money Flow Index uses twenty as oversold and eighty as Overbought.
Full Stochastic Oscillator (do not use only the Fast or Slow Stochastic) - Used by many Forex traders, I find the FSO tremendously helpful in my trades as another indicator that confirms what the previous four have already done. Combining all of these indicators together really validates when it is an opportune time to buy. The FSO is a combination of the Slow Stochastic and the Fast Stochastic and is more advanced and more flexible than the Fast and Slow Stochastic and can even be used to generate them. Readings above 80 act as an overbought signal while readings below 20 act an oversold signal. The parameters I prefer to use are (10,6,6) for daily trading.
For the most part, the criteria that a stock needs to qualify it as a trade possibility follows:
The stock should at least be $100/share or more.
The options for the underlying stock must have liquidity.
The underlying stock has large price swings daily (i.e. volatile daily).
To keep up-to- date with the current stocks I am using with this strategy, they are the following:
Apple Inc. (NASDAQ:AAPL)
Google (NASDAQ:GOOG)
CF Industries (NYSE:CF)
Wynn Resorts (NASDAQ:WYNN)
F5 Networks (NASDAQ:FFIV)
Intuitive Surgical (NASDAQ:ISRG)
Chipotle Mexican Grill 9CMG)
International Business Machines (NYSE:IBM)- recent add.
Baidu (NASDAQ:BIDU)
Salesforce (NYSE:CRM)- just added this week
Let's get to some charts and some tips I can suggest.
The following chart is Apple (AAPL) on Friday December 2, 2011: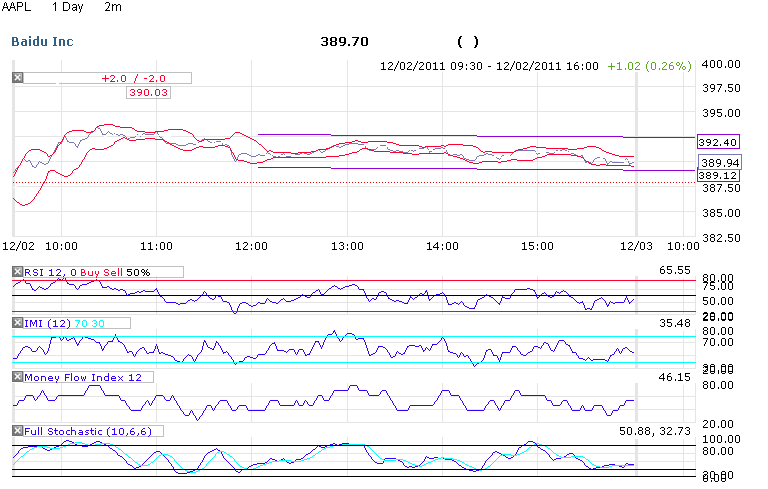 Click to enlarge
Looking at the price action chart where the Bollinger Bands are, I put a purple "channel" to highlight a situation that you should avoid trading. All you need to see here is how tight the Bollinger Bands are together and you should immediately wait for them to expand before making a trade. The reasoning behind this is really two issues. The first is that it is very range-bound. Even if the price were to dip below the bottom Bollinger Band (calls) or above the top Bollinger Band (puts), the bands are so compact it may take quite a while for you to sell your option at the minimum $0.60 than what you paid for it, which is the basis of this strategy.
From about 12:04 EST until the market closed, Apple traded in this range. What is important, however, is that you should have been able to spot this immediately. Regardless of what the four indicators (RSI, IMI, MFI, FSO) were showing, you really want to wait until those Bollinger Bands expand. The more expanded the bands, the more room the stock has to move.
For this next chart, I would like to show you an ideal time to be looking for a trade when the Bollinger Bands are far apart.
This chart is Baidu (BIDU) on Friday, December 2, 2011: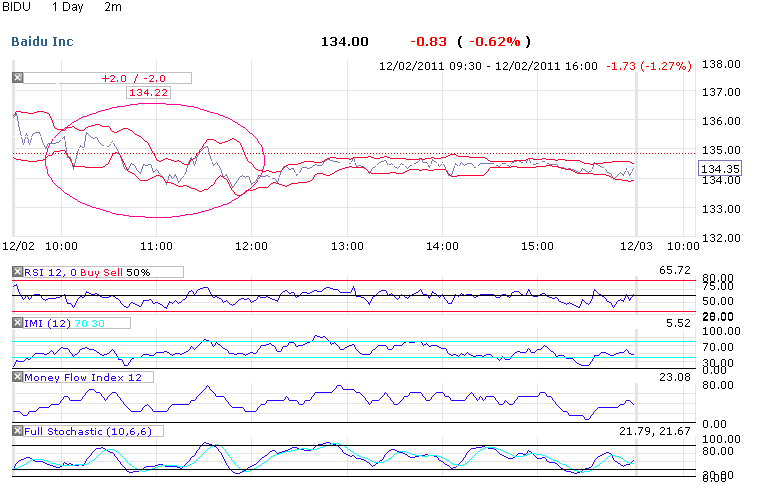 Click to enlarge
As you can see from the chart above, I circled the area that you would like to see the Bollinger Bands expanded to. This represent a more volatile period, which is what we want using this strategy. When the extreme oversold/overbought level is reached during this period where the bands are expanded, this is a clearly a much better time to buy the call or put options.
The next chart is CF Industries on Friday, December 2, 2011. I am pointing this chart out because it is a situation that comes up somewhat frequently: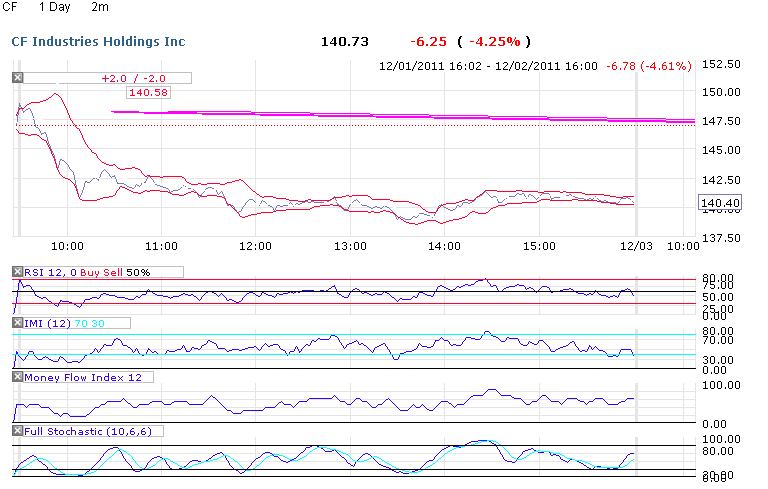 Click to enlarge
Soon after the opening bell, CF industries was down quite a bit. The pink line is where the stock closed on the previous day. It should have been apparent early on that the stock was mired in a downtrend and to use extreme caution when deciding to purchase any calls. I received a lot of e-mails on Friday asking me when a good time to buy call options of CF Industries. My response was that I would only do so until I saw an extreme oversold level, which subsequently never came on Friday.
The strongest aspect of this strategy is its ability to spot further weakness in a given security. It is remarkable that as low as the CF Industries reached on Friday, it never once gave a strong call buying opportunity. The stock never rebounded in any significant way, and to buy call options at any point would have presented many risks and hurdles to overcome. On a day where you see a stock trading like CF industries did on Friday, always remember to use extreme caution when purchasing calls. The only opportunity that I thought might present itself was at 11:48 EST, when the price reached the bottom Bollinger Band. However, while the RSI was at 26.54, the IMI was at a level of 39.09, which was simply too high for me to want to make that trade. In addition, the FSO's two readings were 16.31 and 37.98, the second being well off its (20) level of oversold. That was a warning to steer clear.
For the next chart, I would like to point out what I saw as a great put buying opportunity with Salesforce on Friday, December 2, 2011: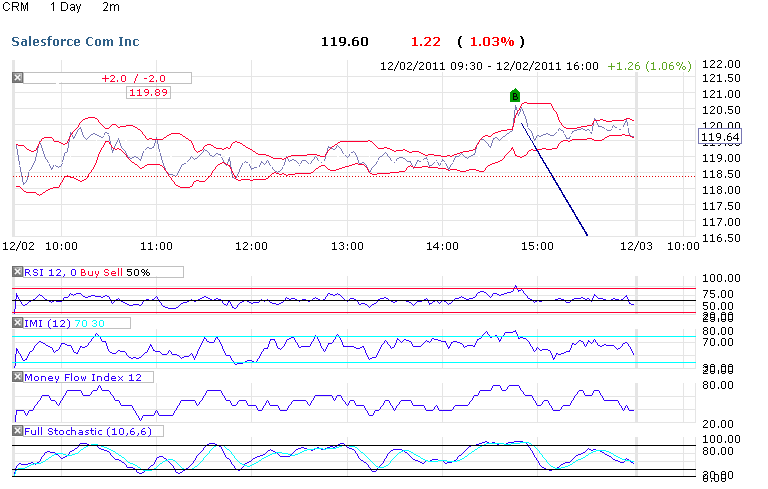 Click to enlarge
Even though this put opportunity came relatively late on Friday at 2:46 EST, this is a trade that must be made when you see this. Not only did the price action on Salesforce hit the upper Bollinger Band, it shot past it with a very obvious sign that it was going to fall very soon off that high of the day. Sure enough, the stock fell very quickly from that point, and you would have been out of that trade in a matter of minutes. Whenever you see a stock hit a level like this (without "hugging" the Bollinger Bands) make the trade, in this case buying a put option that is either deep-in-the-money or in-the-money.
The next chart up is for International Business Machines IBM on Friday, December 2, 2011: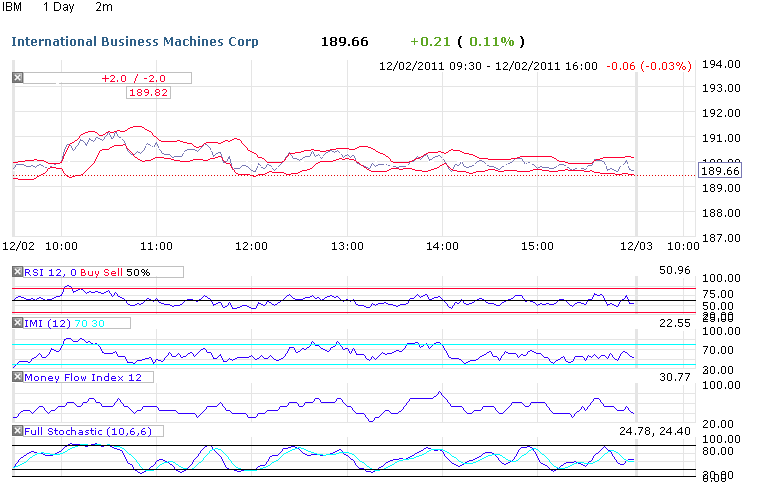 Click to enlarge
This chart is a good example of what I generally like to stay away from if I see it during the day. To put it simply, it's just really boring. The quick moves up are followed by slight moves down and it just keeps languishing in the same repetitive movement all day. This was also very easy to see early on in the trading day. The problem with making trades on these kind of moves is that it is hard to guess when it is oversold or overbought enough to get out of the trade quickly. Although there was no time during the day that would qualify as a good point to make a trade, you will occasionally see charts like this where the indicators may be hitting on some of the five indicators, but not all. There is not one instance on this chart where an extreme oversold or overbought level happened. If making a trade on a chart that has this type of look early on, you should expect to hold the trade for a longer period than you normally would. The price movement doesn't justify entering a trade at any point. The Bollinger Bands would be slightly hit, then immediately retreat, but still not making enough of a move to sell the trade quickly.
Tips of the Trade
One question I get asked a lot is if a buyer can sell below the $0.60 amount I recommend. The answer is definitely yes. What I will do from time to time is buy more contracts on a specific trade and place the sell order at $0.40 instead of the $0.60. Even if you are already in the trade and fell that the stock is stuck in a range, you can always cancel the previous order and adjust the price. I will do this more often with IBM trades.
Instead of making a lot of trades daily, I feel it is better to focus on one (1) or two (2) trades and buy more contracts per trade. For example, why buy ten (10) contracts each on four different trades? It is a better decision to buy 40 contracts on one great oversold or overbought opportunity. This saves you from the stress, constant monitoring of the stock, and time. Remember, you must always keep up with any news events related to the stock or economic reports that may pop up. It is simply not worth the hassle, in my opinion.
One great source I use a lot for news on a stock is Yahoo! Finance once you put in the ticker symbol of the stock you are looking at. To the left of the page is an icon that says "market pulse", which is a link to StockTwits news and links. It is a great source of current information that can be very valuable in finding out what is going on with a stock. This should not be a substitute for the regular news on Yahoo! Finance, but an addition to it. CNBC's website is also a good source of information.
During weekends, I like to go to my broker's website and print out the list of all economic reports due for that week. On OptionsXpress, it is under the Research Icon> Econ. Calendar link. I like to keep that next to me when I am trading so I do not forget any important dates and times where I may want to be more cautious making any trades.
I am always looking for other stocks to use with this strategy and have been testing quite a few out when I am done trading for the day. Salesforce has been added this past week and I should have a couple more within the next month. If you feel there is a stock out there that fits this strategy, please leave a comment and I will definitely check it if I haven't already.
If you have any questions or comments, please ask me in the comment section or e-mail me and I will try to respond to you as soon as possible.
Disclosure: I am long AAPL, CF.
Additional disclosure: In addition to being long calls on (AAPL) and (CF), I am also trading all of the above mentioned stocks above using options with the strategy outlined in the article.