The PDUFA (Prescription Drug User Fee Act) date is the deadline up until which the FDA (Food and Drug Administration) has to approve or reject a drug application. This date is usually 10 months after the new drug application is submitted, unless priority review is given, in which case the review is shortened to 6 months.
For many small biotech firms, the PDUFA date is the make or break date, if a drug is rejected, it's not uncommon to see one day plunges of up to 80%.
A trading strategy sometimes practiced is to buy stocks with upcoming advisory committee or PDUFA dates, selling right before the results are known, it's mostly a variant of "buy on the rumor, sell on the news", but here you don't wait for the news as it can be too ugly.
PDUFA Calendar (Click to enlarge)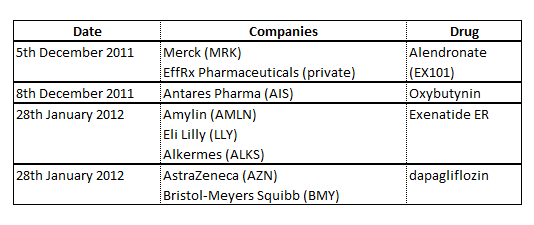 Click to enlarge
5th December 2011
Merck (NYSE:MRK) and EffRx Pharmaceuticals (private) seek approval of Alendronate (EX101).
Alendronate (EX101) is a small-molecule compound meant to treat osteoporosis in place of the regular bisphosphonates and especially Fosamax. Osteoporosis increases markedly with age, and as such is a trend one would expect to see with the aging population. Still, given that Merck is very diversified and EffRx is private, it's not easy to play this particular medicine.
8th December 2011
Antares Pharma (AIS) seeks approval for Oxybutynin in gel form (Anturol).
Oxybutynin is a small-molecule compound meant to treat symptoms of an overactive bladder, like incontinence and urgent frequent urination, including at night. Here Antares is getting a gel form of the drug, using its ATD Gel technology platform, allowing the patients to avoid an oral formulation, and thus bypassing some of the worst side effects with Oxybutynin.
Antares Pharma trades at a $284 million market cap mostly because of speculation with another product, LibiGel, a transdermal testosterone gel meant for the treatment of female sexual dysfunction. The approval of Anturol is mostly a sideshow, though if positive it might increase the confidence on the ATD Gel technology platform.
28th January 2012
Amylin (AMLN), Eli Lilly (NYSE:LLY) and Alkermes (NASDAQ:ALKS) seek approval of Exenatide extended release.
Exenatide is used in the treatment of diabetes type 2, the main benefit is having to inject Exenatide only once weekly versus twice daily.
Since Amylin has recently restructured its agreement with Eli Lilly regarding Exenatide, this approval can be very relevant for Amylin as Analytical Chemist explains in his "Amylin's Agreement with Lilly Will Not Lead It To Profitablity" article.
--------
AstraZeneca (NYSE:AZN) and Bristol-Meyers Squibb (NYSE:BMY) seek approval of dapagliflozin.
Dapagliflozin is to be used in the treatment of diabetes type 2. The diabetes type 2 field is getting somewhat crowded, with three drugs getting PDUFA dates in the next 2 months alone (the other, not talked about here, is thiazolidinedione by Takeda).
Since AstraZeneca and Bristol-Meyers Squibb are very large and diversified, an approval or rejection shouldn't have a large share price impact.
Disclosure: I have no positions in any stocks mentioned, and no plans to initiate any positions within the next 72 hours.