I'm very bullish on oil in the medium term. In the short term anything is possible, so I don't have much of an opinion there. In the long term (think decades), we have to get ourselves off oil so I am concerned with something replacing oil. But in the medium term (think ten to fifteen years), I think oil is going to continue higher in a roller coaster fashion.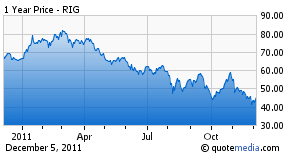 Why do I think this? Because we stopped discovering oil in major quantities in the 1960s, and we just can't bring enough on production fast enough these days to offset declines in production from our aging super giant oil fields. Oil has to go up to balance supply and demand (by killing off some demand).
That means the next decade should be very bright for a company like Transocean (RIG).
Why then is the stock selling for half the price it was a few months ago, and less than a third of its 2008 high?
The obvious answer would be Transocean's involvement in the Macondo spill. But given that the liability fallout fears from Macondo have been greatly diminished, and given that Transocean was over $80 (post Macondo) just a few months ago, I don't think that is the answer.
I think it is a combination of the following four things:
Investor Concern #1 – A Questionable Acquisition
On August 15, 2011 Transocean announced that it had agreed to purchase Norwegian driller Aker Drilling for $1.46 billion which was almost double the then market price of Aker stock.
Given that Transocean doesn't exactly have a Berkshire Hathaway (BRK.A) like balance sheet, and given that operations have not exactly been firing on all cylinders, the timing of this acquisition was not popular amongst shareholders.
Adding to the shareholder dislike was the fact that the price paid for Aker equated to about $800 million per Aker rig which most observers thought was at best fair and perhaps too high. Perhaps Transocean shareholders could understand a deal that was too good to refuse, but paying a fair price given the circumstances does seem a little questionable.
Investor Concern #2 – Credibility of Management
Transocean shareholders were likely displeased with the Aker drilling acquisition. How Transocean management then funded the deal only increased shareholder unhappiness.
At the time of the deal Transocean paid $1.43 billion in cash for Aker and assumed $800 million of debt.
Then last week Transocean announced an offering of roughly 30 million shares of Transocean stock which represents 10% dilution to shareholders. And that offering of shares is at a seven year low for Transocean's stock. Essentially, Transocean management has funded an acquisition that is at best being done at a fair price with Transocean shares which are at their lowest price (and I'm sure management would suggest severely undervalued) in recent memory.
Investor Concern #3 – Will Elevated Levels of Rig Downtime Ever Return to Normal?
Operationally, Transocean has been struggling with too much of its rig fleet spending too much time out of operation. There isn't a lack of interest or lack of need for the rigs. And Transocean isn't doing anything wrong operationally.
The problem is the result of heightened requirements that are the after effects for the entire industry. Transocean has an older fleet than some competitors and thus has more of its fleet being subjected to enhanced inspections, BOP recertifications and upgrades.
Investors are disappointed with this higher level of down time which eats into revenue and cash flows, and are left wondering if this is the new reality for Transocean.
Investor Concern #4 – Concern Over a Dividend Cut
This concern is one that I think investors usually have misplaced. Many investors bail on a company because they fear a dividend cut. In my opinion, a dividend cut is often a welcome event as it reduces the risk your invested capital is facing. The dividend cut improves cash flows available to a company and immediately starts improving the balance sheet.
In the case of Transocean, sporting a 7% plus dividend yield, I think the dividend should be eliminated. It makes no sense for Transocean to be issuing stock at a seven year lows (and very undervalued levels) and at the same time paying a dividend. Avoiding the dilution should be a much higher priority than paying a dividend.
Valid Concerns – But The Stock Price Is Still Tempting
I don't own Transocean and I never have. If I did I might be pretty upset with management. But since I have a fresh eye and no historical baggage, I'm actually pretty interested in Transocean as an investment. I need to do some more work, but a cheap enough price can offset a lot of concerns.
Disclosure: I have no positions in any stocks mentioned, and no plans to initiate any positions within the next 72 hours.