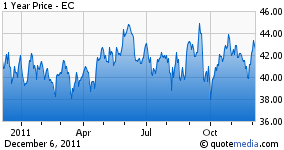 Colombian-based oil company Ecopetrol (NYSE:EC) recently announced its 2012 investment plans in a press release. According to Fortune Magazine's 2011 rankings, Ecopetrol is the 445th largest company in the world by revenues, placing it ahead of higher-profile companies like Aflac (NYSE:AFL), Alcoa (NYSE:AA), and Research In Motion (RIMM). After recording revenues of $21.743 billion in 2010, Ecopetrol is the first Colombian company to appear on the Fortune 500 list.
Ecopetrol is a company with strong growth prospects. The company's 2010 revenues marked a 52.8% percent over 2009 revenues. Even more impressively, after-tax profits increased by 75.7% over the same period. Value investors should take note: Ecopetrol's current P/E ratio of 14.45 is a five-year low, a remarkable fact considering its robust 2010 growth (source: ycharts.com). As recently as 2009, Ecopetrol traded at over 119 times earnings. While some investors will interpret this data as a sign of weakened investor confidence, it seems more like a broad-based overreaction to current global macroeconomic conditions. Ecopetrol can further its growth prospects by positioning itself early on as a major oil distributor to emerging South and Central American nations once their inevitable development occurs.
Following the well-documented and explosive growth of the BRIC countries, HSBC Global Asset Management coined a new acronym – and launched a fund – targeting the next set of emerging markets: CIVETS. The six CIVETS countries are Columbia, Indonesia, Vietnam, Egypt, Turkey, and South Africa. Based in Columbia, Ecopetrol should benefit greatly from the country's continued economic and sociological development. Per capita GDP in Columbia has doubled since 2002, largely due to increased investor confidence in the country's political stability. Columbia has seen a 90% drop in kidnappings and a 46% decline in murders over the past ten years.
Additionally, Ecopetrol will benefit from the country's large oil, coal, and natural gas deposits. Global markets have also shown recent signs of revitalization, with the S&P 500 posting its biggest weekly gain (7.4%) since March of 2009.
The recently released investment plan lays out some key elements of Ecopetrol's 2012 strategy. The company will reinvest $7.452 billion directly into Ecopetrol, 65% of which will be used to fund exploratory operations. Of the forty-two exploratory wells the company plans on drilling next year, thirty-six will be located in Columbia. Additionally, the oil giant will continue to pursue less traditional energy resources like shale gas. (sources: etrade.com and briefing.com)
Investors should be encouraged by the fact that funding estimates are based off a very conservative projection of $70 per barrel of WTI in 2012. The company plans to finance its activities primarily through internal cash generation (75%) and with WTI prices currently over $100/barrel, it should see easily surpass its internal estimates. Additional sources of funding include debt (16%) and primary share offerings (9%).
Increasing logistical capabilities is another strategic goal of Ecopetrol. The company plans to expand daily transport capacity to 1.7 million barrels per day and grow the refining capacity from 300,000 to 415,000 processed barrels per day.
Coupled with the company's recent hydrocarbon discovery in the Gulf Coast and remarkable three year stock performance, this well-crafted strategic plan should stir investors to take note of Ecopetrol in 2012.
Disclosure: I have no positions in any stocks mentioned, and no plans to initiate any positions within the next 72 hours.