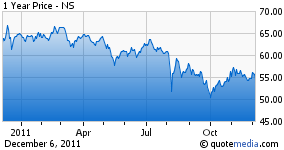 NuStar Energy (NYSE:NS) was falling during after hours Monday as the MLP announced an equity offering. NuStar announced it intends to sell 5.25 million common units under a previously filed shelf registration, with an over-allotment option of up to 787,500 additional units.
The press release also announces that William Greehey, the chairman of NuStar's general partner, NuStar GP (NYSE:NSH), will purchase approximately 185,000 common units in the offering. Proceeds of the offering will be used to repay borrowings from NuStar's revolving credit facility. With units falling almost 5% to $53.10 after hours, the offering should raise in the $300 million range, a significant amount of money for an MLP with a market cap of just $3.6 billion.
NuStar operates in three segments: Storage, transportation and asphalt and fuels marketing. The storage segment was the largest contributor to operating income in 2010, responsible for 43% of EBITDA, followed by transportation at 35%, leaving asphalt and fuels marketing to make up the remaining 22%. The company stores and transports crude oil and refined products, with 8,400 miles of pipelines, 90 terminal and storage facilities, and over 94 million barrels of storage capacity. In addition, NuStar has two asphalt refineries and a fuels refinery. The company expects only the storage segment to show EBITDA growth in 2011 due to organic growth projects being completed. The transportation segment is being negatively impacted by the shifting North American refinery market, and the asphalt and fuels business is being pressured by weak margins due to higher input costs.
While the subdued growth in EBITDA in 2011 is disappointing, there are some bright spots for NuStar. The partnership has ramped up spending on growth in 2011, forecasting $475 million for the year. That is up $213 million off 2010 spending and $311 million higher than 2009. All this spending should start showing up in results throughout 2012, as the expansion at the St. James Terminal, a train offloading facility at St. James to service EOG's Bakken oil, and new storage at St. Eustatius, all come online. The partnership is looking to expand pipeline service to the Eagle Ford Shale, as well as working on connecting other shale plays in the Mid-Continent to NuStar's system. In addition, asphalt prices should get stronger as the U.S. economy continues to slowly improve, and any stimulus toward the construction industry would benefit the segment.
With a nearly 8% yield, units of NuStar Energy have been pressured by lower transportation revenues and weaker than expected asphalt margins. These fears have overshadowed the ramped up spending this MLP has been doing this year, pushing the unit price down too far. Investors who scoop up NuStar on this equity offering have the chance to establish a position in the partnership before growth begins to pick up again toward the end of 2012, and get paid 8% as they wait.
Disclosure: I have no positions in any stocks mentioned, and no plans to initiate any positions within the next 72 hours.