The first thing you notice when you focus on the trucking industry is that it has mostly recovered from the Great Recession. Such is the read you get from looking at the ATA Truck Tonnage Index, which you can check over at Calculated Risk.
Click to enlarge images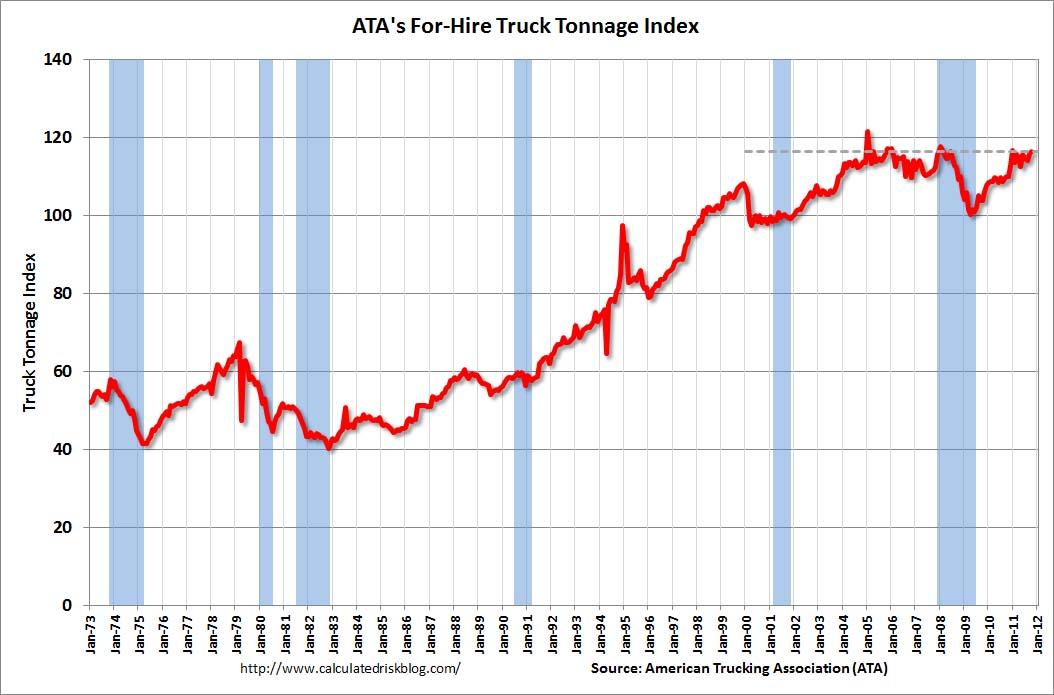 Then, if you turn your focus to the trucking stocks - namely those with a market capitalization over $300 million (which excludes those such as YRC Worldwide [YRCW], that went under because of the Great Recession), you notice a few more things:



Many of the trucking stocks have already recovered
Much as their Tonnage Index, there are trucking stocks that are already trading at or above where they traded before the recession. In this condition we find JB Hunt Transport Services (NASDAQ:JBHT), Old Dominion Freight Line (NASDAQ:ODFL), Werner Enterprises (NASDAQ:WERN), Marten Transport (NASDAQ:MRTN) and Echo Global Logistics (NASDAQ:ECHO) (which may be a bit unfair to list here, it was not trading back in 2008, and is not so much a trucking company as much as a transportation services company that establishes connections between transport companies and clients - it might need to be individually analyzed).
Some of the trucking stocks are still languishing well below their previous highs
Those highs made before the Great Recession still stand for: Landstar System (NASDAQ:LSTR) (more of a transport services company than a trucker, though), Con-way (NYSE:CNW), Knight Transportation (NYSE:KNX), Heartland Express (NASDAQ:HTLD), Arkansas Best Corporation (ABFS).
In a cheap market, truckers don't seem cheap
Not one of these 10 carriers has a forward PE below 10, and some have ttm PEs in the 20s and 30s. This is in a market (S&P) with a PE around 13, and where large cap tech with high quality earnings and some growth sells for a forward PE of around 11.
The truckers have illusive growth
The demanding PEs obviously come from the strong apparent growth many of these companies enjoy (have enjoyed in the past year, and are still expected to enjoy in the next few years as well). However, that growth is obviously the result of getting out of the Great Recession slump, and also from the bankruptcies and capacity paring that happened in this cyclical industry. It's not obvious that the growth is sustainable for much longer.
The truckers mostly have low to reasonable ROEs
It's a cyclical industry selling mostly a commodity – transport. It thus remunerates capital rather badly, as a consequence of those two factors (commodity service, cyclicality).
However, there are exceptions:
JBHT (ROE: 44.4%), which is explained by its low book value (hence, it trades at 10.8x book);
ODFL (ROE: 17.4%), no easy explanation, and maybe the reason why it's got one of the best share performances in the group;
LSTR (ROE: 37.6%), again, mostly due to very low book value (trades at 7.8x book);
WERN (ROE: 13.0%), no easy explanation;
HTLD (ROE: 20.3%), rather low book value (trades at 3.5x book).
Also, it should be noted that the trucking ROEs in general, while not outlandish, are already beginning to seem toppy for a cyclical industry that's heavily commoditized. The lack of a heavy debt load also reinforces this view – the ROEs are mostly unlevered.
In short
The trucking industry as a whole doesn't seem to have much in the way of obvious opportunities, unless the economy somehow lurches forward at a speed greatly in excess of expectations. The shares trade at multiples and expectations that are clearly optimistic (especially the 5 year earnings expectations).
ECHO might be worth a further look, as it might be sufficiently differentiated to really earn its higher valuation.
What if …?
But, what if there was a stock, trucking-related, that gained from the trucking industry recovery, which had plunged when the truckers themselves plunged, which hadn't recovered much yet its earnings and estimates were on an upward trajectory while carrying a very undemanding valuation?
Such stock might well exist. It's called TravelCenters of America (NYSEMKT:TA), is trading at a 2011 PE of 6.7, has increasing estimates, trades at an incredibly low EV/EBITDA and has no debt … obviously, the more truckers tonnage and mileage increases, the more they'll be stopping at TravelCenters.
Disclosure: I am long TA. My long in TA is through call options, I might add to the position. The position is medium to long term, unless fundamentals change.