When the economy enters a cyclical downturn and consumer confidence falters, discretionary items are particularly affected. Although Best Buy (NYSE:BBY) sells products that would fall under that category, the company powered through the near economic collapse of 2008 and emerged as the industry leader in consumer electronics. Looking at the chart below, two things are evident. First, an investment in Best Buy in 2001 has essentially gone nowhere if you had held it until today; and second, the company is currently trading near its 52-week low.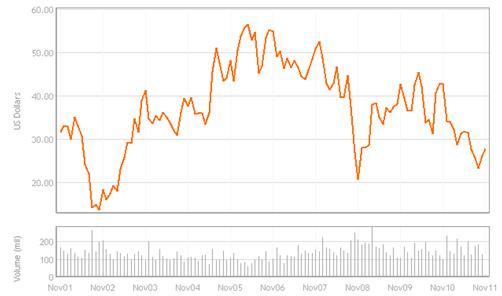 Click to enlarge
(Click to enlarge)
Source: The Globe Investor
Whenever a company trades below 10 times earnings and at or near its 52-week low it draws the attention of investors looking for value and a satisfactory margin of safety. So one begs the question, is there value in this company? I believe Best Buy is cheap at the current price of $27 per share because of four primary reasons:
Sales have increased substantially YOY; earnings have gradually increased
Proactive management and good business strategy
In-store shopping experience cannot be replicated by threats from discount retailers and online competitors
DCF model suggests business is worth between $35 and $43 per share today
From 2006 to 2010, Best Buy experienced exceptional sales growth averaging just over 11% per year. Sales growth flattened in 2011 and was just 1.2% from the year previous. Looking beyond these rosy figures, however, it is clear that the main source of revenue growth came through acquisition of new businesses internationally and new store openings domestically. Comparable store sales (stores operating for at least 14 full months) have only increased at an average rate of 2% since 2006 and even less than that recently (1.8% decline in 2011). Further, this considerable growth in sales has not translated into significant earnings growth as earnings have only increased at an average rate of 6% per year since 2006. From that year to 2011, Best Buy reported earnings of $1,140, $1,377, $1,407, $1,003, $1,317 and $1,277, respectively (in millions).
Taking a closer look at Best Buy's acquisitions, another red flag becomes apparent – Business purchases since 2006 have amounted to a substantial $2.514 billion. It is the $1.172 billion goodwill charges associated with those purchases, however, that is cause for concern.
Despite this, Best Buy is not a serial acquirer. Following dismal results in the companies' ventures into Turkey, the U.K. and China, Best Buy announced that they would close stores in these international markets and focus on expanding in the domestic market where margins are typically higher. Rather than respond with an escalation to commitment, management was able to realize their mistakes in short order and react accordingly. This is a positive sign for the company going forward.
Another proactive move by management was the development of the Best Buy Mobile Concept in 2007. Consumer tastes in electronics, and wireless devices in particular, are extremely difficult to anticipate. Not long ago, the Motorola Razor was the flavor of the week. Then it was the Blackberry, now it is the iPhone and next week it may be an Android device. Regardless of what device it is, one thing is clear – the smart phone market is growing. Best Buy Mobile allows the company to profit from that growth. Whether the iPhone reigns supreme or some Android device becomes the industry leader is irrelevant to Best Buy as Best Buy Mobile sells all of these products and will be able to take advantage of any new or existing popular device. Best Buy plans to expand this business segment throughout 2012 by opening approximately 150 small-format stand alone-stores in the U.S. This, and other plans to open almost 50 Five Star stores in China is good business, but that has not stopped the stock price from plummeting with the market.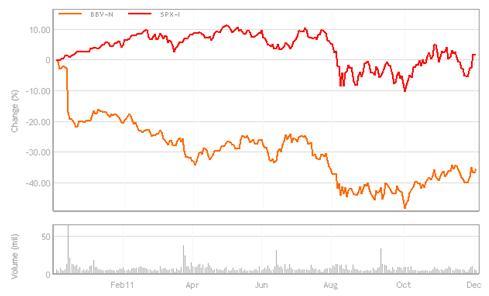 Source: Globe Investor
The recent decline in the market's valuation of Best Buy, however, is also related to the threats the company faces from online stores and discount retailers like Amazon (NASDAQ:AMZN) and Wal-Mart (NYSE:WMT). While both of these threats may be real, they are also completely exaggerated. Price is the consumer's main concern with respect to purchasing electronics and in many instances, online retailers provide the same products for slightly cheaper than Best Buy. This may force the company into lowering prices in the near term which will put downward pressure on earnings.
While increased competition in the future may be undeniable, Best Buy does still retain a competitive advantage over online stores and discount retailers. Those companies cannot replicate the in-store shopping experience and expertise offered by Best Buy.
With respect to online shopping, most consumers prefer to touch and feel the product they are going to purchase and have their inquiries answered on the spot. This is especially true when it comes to more expensive purchases. Of course, there is nothing to stop an individual from walking into any Best Buy store, having all his questions answered by staff and then returning home to purchase that same product online. This is why some are calling Best Buy 'Amazon's showroom', but it is my opinion that the threat is overblown. After spending time with staff and playing with all the bells and whistles of a product, most consumers would still rather walk out with that product in hand as opposed to returning home, ordering it online, and then receiving it many days later just to save a few bucks.
Discount retailers like Wal-Mart represent the biggest threat to Best Buy's market share. Exactly how well Wal-Mart is doing in the consumer electronics business is difficult to determine with any degree of certainty as this information is not disclosed in the company's annual reports. Regardless, Wal-Mart and other discount chains are not nearly as specialized and cannot offer the selection or expertise that Best Buy does. Other competitors, like Radio Shack (NYSE:RSH), have always been around and never threatened Best Buy's market share in the past. In fact, RadioShack's sales have been stagnate for over a decade. In the consumer electronics business, Best Buy is still the most recognizable brand and is best positioned to perform in the future.
Again, I am not suggesting that the aforementioned threats do not exist. However, I am proposing that the threat is exaggerated and does not justify the market's recent depression in the stock price.
Below is my valuation based on various projected free cash flows and discount rates. If it is assumed that sales have reached a plateau, which it appears they have, using a 10% discount factor results in a fair value of $39 per share (using 2011 annual sales figures). This produces a satisfactory margin of safety of about 44% when compared with the current price of $27 per share.
Sales Growth

Discount Rate

-2%

-1%

0%

1%

2%

3%

9%

35

39

44

49

56

66

10%

32

35

39

43

49

56

11%

30

32

35

39

43

49
The Market, it would appear, is anticipating a huge reduction in sales over the long-term. Even if it is assumed that Best Buy's sales decline by 2% in perpetuity the business is still worth $33 per share today. Although that does not offer an acceptable margin of safety, it provides a reference point for investors.
There are great companies at good prices and good companies at great prices. Best Buy would fall under the latter category as the market is offering Best Buy at a substantial discount due to various threats to the companies' market share as well as the recent decline in the market and economy as a whole. The company is in good financial condition, generates a considerable amount of cash from operations and has very low debt levels (total debt-to-equity is 0.42). Quarterly cash dividends (dividend yield is currently 2.4%) have grown at an average rate of 12% per year since 2004, and in 2011, Best Buy repurchased 32.6 million shares at a cost of $1.2 billion (average price of $37 per share).
Best Buy has performed admirably through a difficult economic climate. The above valuation is not dependent upon it, but should the economy recover, the potential upside is considerable for Best Buy.
Target price - $39
Disclosure: I have no positions in any stocks mentioned, and no plans to initiate any positions within the next 72 hours.