By Mark Bern, CPA CFA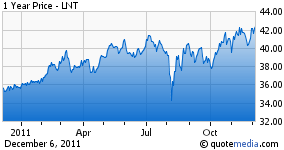 Alliant Energy (NYSE:LNT) supplies electricity, gas and other related services in Wisconsin, Iowa and Minnesota. The current dividend yield is 4.1% and the price as of the close on Monday, December 05, 2011, was $42.18. This utility has regulated utilities plus a non-regulated unit, RMT, which provides siting, permitting, engineering and construction services to the renewable energy industry.
Much of what I like about this company is the relative safety of the dividends which have increased for eight consecutive years, from $1.00 per share to $1.70. The rate of increase over the past five years has been a meager 0.5% but I expect the dividend increases to average closer to 6% per year going forward.
The long term debt is approximately 46% of the capital structure, which is slightly below the industry average of 50%. The payout ratio is 63%, which is essentially in line with the industry average of 61%. The net profit margin of 9% equals the industry average. So far, this seems pretty much like a boring utility with a good dividend.
What makes this utility stand out from others for me is the potential earnings growth. At 6%, earnings should grow faster than the industry average of about 3.5%. That 2.5% may not seem like much, but in utilities it's huge.
The non-regulated RMT has a healthy pipeline of wind and solar projects and should help this utility to outpace its peers in the next few years. I expect the total return for LNT to average about 9% annually over the next five years with about half of that coming from dividends. This isn't an exciting company but in today's roller coaster market, maybe a quiet, dependable utility with a nice yield isn't such a bad idea.
Disclosure: I have no positions in any stocks mentioned, and no plans to initiate any positions within the next 72 hours.